BCK KC4 Keyboard Dust Cover

Discontinued - new model Classenti CKC2
BCK KC4
A cover to protect your instrument from dust.

Suitable for:

Casio CTK700, CTK710, CTK800, CTK900, CTK451, CTK491, CTK496, CTK591, CTK691, CTK731, LK35, LK43, LK45, LK55, LK70S, LK70S XD, LK70SMC, LK90TV, LK93TV, LK100, LK200 (aka LK200S), LK300 (aka LK300TV).

Yamaha PSRE203, PSRE303, PSRE403, PSR170, PSR175, PSR275, PSR290, PSR293, PSR295, PSR300, PSR350, PSR450, PSR550, PSR1500, PSR3000, EZ150, EZ250i, PSRK1, PSRS500

Roland EM15 ,EM25, Juno 106
Acoustic Solutions keyboard (sold by Argos).

BCK KC4 Keyboard Dust cover

Width (left to right) 973mm / 38.9 inches
Depth (front to back) 266 - 398mm / 10.5 - 15.9 inches
Height (top to bottom) 60mm / 2.4 inches
A see through dust cover to protect your instrument.
Alternatives to the BCK KC4
Classenti CKC2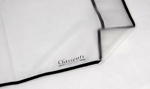 Anti-static keybpard cover -
fits 61 key keyboards. More...