Bohemia Upright Pianos

European pianos, warm sound, light and crisp action. The Bohemia upright pianos are easier to play than their Asian counterparts and much better quality too. Bohemia offer a fantastic range of models and colours from their smallest upright piano at 111cm in height to their biggest upright 132cm. With upright models starting from around £2,500 the Bohemia upright pianos are really terrific value for money.
>>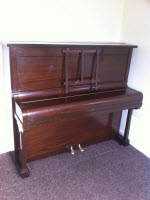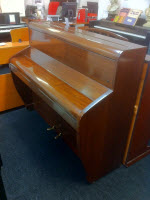 We Buy And Sell Second Hand Pianos –
Call UK Pianos on 020 8367 2080

Call UK Pianos for advice on: 020 8367 2080.

Ask me a question online…

"Graham Howard,
Piano Advisor"
Bohemia pianos are manufactured in the Czech Republic to very high standards. The upright pianos use the very best German hammers (Abel or Renner). If you buy a Bohemia piano you can be sure that you have chosen quality. To back this up, Bohemia offer a 10 year warranty on all upright pianos.
UK Pianos Shop, Enfield, North London – Telephone: 020 8367 2080
Open Monday to Saturday 10am to 6pm (8 parking spaces)
Upright & Grand Pianos For Sale | New & Used | Piano Rental | 0% Finance | Piano Lessons
Bohemia Upright Pianos


Great upright piano for beginners to intermediate players. This piano will take you through all the piano grades
---

The Bohemia 113 Menuet is a true Czech style piano. Compact upright piano with a traditional style cabinet.
---

The Bohemia 118 model upright piano is a modern style piano. The extra string length due to it's higher cabinet really makes a difference in tone.
---

The Bohemia chippendale upright piano not only has a nice sound due to its 122cm height, it also looks stunning
---

The Bohemia 122 demi-chippendale piano has the same qualities and dimensions as the chippendale version
---

This piano really looks the part with it's superb 'romantic' cabinet and a central oval wood panel.
---

We are getting in to the more serious pianos in the Bohemia range. The Bohemau 123 model has a good bass, controlled power and striking treble. Much cheaper than all other brands that share these qualities
---

The best of the Bohemia upright piano range. These pianos are sold all over the world and there really isn't another piano that shares the quality of the Bohemia 125 model that can compare against the price
---

The huge powerhouse. The Bohemia 132 Concerto model knocks out the whole Bohemia range with its huge power. This piano really is a an absolute monster!