Casio PX735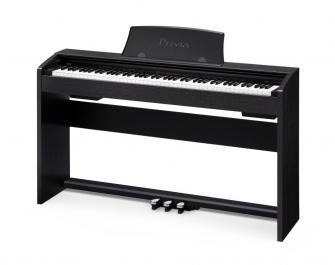 Colour: Black
(Includes music rest, stand and 3 pedals)

51.10, more info
"The rating system for digital pianos"
Discontinued November 2012.
See the new model PX750.


>>> Compare with Classenti CDP1


Buy a carry bag to protect your Casio PX735, more details
(Thick padding, large pockets, shoulder strap, nametag, 5 year guarantee)

FREE UK delivery

30 day money back guarantee
(You have 30 days to return it for a full refund)


3 year UK and European warranty
Description
The Casio Privia PX735 with integrated piano stand and Top-quality 3-pedal unit impresses with its natural sound quality in all three sound levels. Experience the exceptional fullness of sound and immerse yourself in your playing. The 88 touch-sensitive, weighted keys provide total response to dynamics and keying-action and combine with 128-note Linear Morphing AiF Sound Source technology to produce Top quality sound. A third sensor in the PX735's keyboard allows players to use particularly fast playing techniques. Authentic keyboard voices, high-quality DSP effects, 8 excellent digital effects and a powerful speaker system ensure playing the Casio PX735 is a unique experience.
• 18 AiF keyboard voices
• AiF lnear morphing
• 128-note polyphony
• Tri-sensor scaled hammer-action keyboard
• Sequencer (recorder)
• Piano setting key
• High-quality DSP effects
• 60 songs
• 8 digital effects
• 88 keys
• Duet function
• PANEL lock
• Metronome
• 2 headphone connections
• 3 pedals
• Powerful speaker system
• USB plug & play/song expansion
PX735 Specifications:
- Keyboard
88-key piano keyboard, with Touch Response
- Maximum Polyphony
128 notes
- Tones
18
Layer (excluding bass tones)
Split (Low-range bass tones only)
- Effects
Brilliance (–3 to 0 to 3), Reverb (4 types), Chorus (4 types), DSP, Acoustic Resonance
- Metronome
Beats: 0, 2, 3, 4, 5, 6
Tempo Range: 20 to 255
- Duet
Adjustable tone range (–1 to 2 octaves)
- Music Library
Number of Songs: 60, User Songs: 1 (memory capacity; up to 65KB )*
* Based on 1 KB = 1024 bytes, 1 MB = 10242 bytes
Song volume: Adjustable
Part On/Off: L, R
- Recorder
Functions: Real-time recording, playback
Number of Song: 1
Number of Tracks: 2
Capacity: Approximately 5,000 notes total
Recorded Data Protection: Built-in flash memory
- Pedals
Damper (with half-pedal operation), soft, sostenuto
- Other Functions
Touch Select: 3 types, Off
Transpose: 2 octaves (–12 to 0 to 12)
Tuning: A4 = 440.0 Hz ±99 cents (variable)
Temperament
Octave shift
Operation Lock
- MIDI
16-channel multi-timbre receive
- Inputs/Outputs
PHONES jacks: Stereo standard jacks × 2
Output impedance: 3Ω
Output Voltage: 1.5V (RMS) MAX
Power: 12V DC
USB port: TYPE B
Pedal connector
- Speakers
φ 12cm × 2 (Output 8W + 8W)
- Power Requirements
AC Adaptor: AD-A12150LW
- Power Consumption
12V = 18W
- Dimensions
Digital Piano and Stand: 137.4 (W) × 29.8 (D) × 79.2 (H) cm (54 1/8 × 11 3/4 × 31 3/16 inch)
- Weight
Digital Piano and Stand: approximately 30.6kg (67.4 lbs)
Pianos to compare with Casio PX735:
Assembly
The piano comes flat-packed and is very easy to assemble. The electronics and keyboard are fixed in.
Delivery
Free UK delivery.

FREE Digital Piano Buyer's Guide, by Graham Howard.

Click here to claim your free copy!

Do you have a question about the PX735?
Click the live chat link below for an immediate response:

Casio PX735 Reviews
I finely chosen Casio PX735. I liked the design and the price plus free stool
and the headphones. Playing the piano is my hobby. I am very happy with
this piano: the sound, size, design and price. I think it is perfect for home use.
Review by Elena, London, UK
Read more reviews of the PX735

Click here to write a review
Questions and Comments (Email your questions to grahamhoward

ukpianos.co.uk)
None yet
Useful Resources
1) Click here to read the report: "Which Digital Piano To Buy" by piano advisor, Graham Howard
2) Read all Casio digital piano reviews
3) Check out the 'ever expanding' piano questions section on this site .
4) The world's first and only dedicated digital piano forum. Check it out here
5) Click here to read the report: "7 Things You MUST Know Before You Buy A Digital Piano"
Have You Heard Of Piano Rental?
Not sure if your child will take to playing the piano?
Are you worried about the initial investment?…
Then check out our 'rent-to-own' programme!
Click here for details.
Browse similar pianos to the Casio PX735: More Casio digital pianos
Interest Free Finance About Us Business Services Comment on this post Composers Contact Us Warranty Affiliate Programme Privacy Policy Terms & Conditions