Classenti Crystal Digital Piano (Limited Edition)
88 full-size touch sensitive keys with fully-weighted, graded hammer action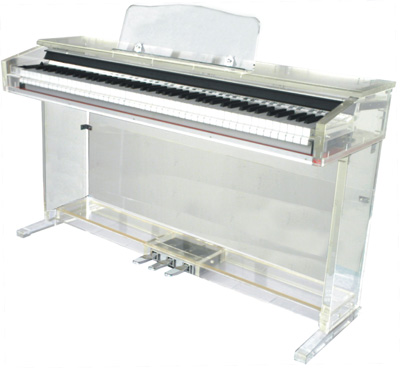 Crystal piano video
FREE 2 Year Warranty included
All parts and labour covered.
We come to your home to fix the piano, read more.
Colour: Crystal (Limited Edition)



Price £1,595
FREE Delivery anywhere in mainland UK.

(Interest Free Finance Available: 10% deposit, remaining balance interest free over 12 months)
Read more, or call 020 8367 2080 for more details. Printable forms: Standing order, Hire purchase
Availability: Sold Out — Second hand available — Call 020 8367 2080 for information.

?, more info
"The ranking system for digital pianos"

Call UK Pianos: 020 8367 2080
Need more info? Send an email to: grahamhoward@ukpianos.co.uk.
A completely see-through piano. All the mechanics, speakers and electronics can be seen through the transparent body. Even the piano stool is crystal.



Click on the link below to ask me a question…

Collect this piano from our London store: 83 Southbury Road, Enfield, Middx, EN1 1PJ. The piano comes in one box. It fits easily in most cars that have fold-down back seats. Our piano store is open Monday to Saturday 10am to 7pm.
You Get:

FREE 2 Year in-home Warranty (Covers all parts and labour for 2 years. Repairs carried out in your home). Read more

The Classenti Crystal piano comes with a 2 year 'at-your-home', parts and labour
warranty. This means a technician will come to your home if any repairs are needed.
There is no cost to you… And you won't have to send your piano anywhere.

60 Day Money Back Guarantee (If it's not as good as you expected then we'll collect it at no cost to you). Read more
More Pictures
All pianos in the Classenti range:
Classenti CDP1
Classenti CDP2
Classenti CDP3
Classenti P1
Classenti GR1
Classenti Crystal
Classenti Crystal Features
Sound
Digitally sampled in Japan.
88 Full Size, Fully Weighted Piano Keys
Represents the full 7¼ octave range of an upright or grand piano. The keys are exactly the same size as a real piano.
Touch Sensitive Keys
The harder you strike the key, the louder it sounds. Gives added expression to your music.
Touch Sensitivity Levels: 5. This allows you to play each note at 5 different volume levels (p, mp, mf, f, ff).
Graded Hammer Action Keyboard
With heavier key weighting in the bass, getting progressively lighter as you go up the keyboard. This mimics the exact feel of an upright or grand piano.
Sound Source
Japanese engineers created the Classenti sound by combining a multitude of tones from the world's finest concert grand pianos. These engineers didn't just take the sound from one grand piano they took the richest, most vibrant ones; enhanced them, then came up with a digitally sampled version that's quite unique. I don't know how they did this, but the result is a clean, piano sound that's incredibly realistic.
8 Instrumental Voices (In addition, each voice can be combined with another. This creates a total of 15 different sounds)
Piano 1, Piano 2 (Brighter sound. Good for jazz), Electric Piano 1, Electric Piano 2, Harpsichord, Organ, Strings and Vibraphone.
The instrumental voices, effects, reverb, chorus, metronome and other features are all accessed from just three buttons. These buttons are located on the left cheek, which is next to the bottom note on the piano.
Sliding Key Cover
The sliding key cover is the same colour as the piano. It protects your piano keys from getting chipped, prevents them from getting ruined by liquid spills, and stops dust from getting in-between or underneath the keys.
Built-in Speakers
2 x 20 watts – that's 40 watts stereo amplification! Big volume range.
Record and Play Back
This feature allows you to record your own music. All you need to do is press the 'record' button and start playing. When you've finished playing, press the 'play' button and it will play back your song. The recording feature is also compatible with PC music file formats. In other words, you can record yourself in a file format that can then be transferred to other media (CDs, MP3 etc.)
Built-in Metronome
No need to buy one, it's built-in. Essential for learning how to play in time. You can adjust the speed to suit the music you are playing.
Voltage Adjustment
The Classenti Crystal piano has a built-in transformer which allows you to use the piano in any Country. It automatically adjusts to your Country's voltage!
Power Adaptor
AC mains adaptor with UK plug included.
3 Pedals: Sustain, Soft and Sostenuto
Sustain pedal. This is the pedal on the right. On upright pianos it is sometimes referred to as a 'damper pedal'. This pedal allows you to sustain any note, or notes, without having to hold the key down.
Soft pedal. This is the pedal on the left. Pressing this down makes the sound a lot quieter. It's very useful when you're required to play something very delicate.
Sostenuto pedal. This pedal is in the middle. Used mainly by experienced pianists. The sostenuto pedal sustains only notes that are depressed at the time the pedal is depressed. More proficient players use it when a note, or notes need to be sustained without being disturbed when the right pedal comes into play.
Key weight Control
Prefer a heavier or lighter touch? No problem, just use the key weight control button to select from three settings: Standard, heavy and light. The piano's default setting is standard. The keys remain touch sensitive on all settings.
Cabinet
Beautiful, stylish, curved edge design. Places well in any home. The almost full backboard covers most of the piano's back. This gives the piano more stability. Both feet have solid plastic bottoms which prevents the piano from moving or rocking. The solid bottom feet also distribute the weight well, reducing wear and tear to your floor or carpet.
User Panel
Easy to use control panel that's tucked away neatly at the left hand end of the keyboard section.
Fixed Stand
The fixed stand with all 3 pedals built-in is included in the price. With just 4 hand-tight wing nuts to secure the stand to the keyboard section, the Classenti Crystal piano can be put together or taken apart with ease.
Music Desk (Folding)
Extra long (curved corner) music desk. This comes in really handy when having to spread out pages of sheet music. The music desk is on two hinges. It folds down if you need to store or transport your piano. And it can also be easily removed.
Headphones
2 x Headphone jacks to connect headphones. Two players can play with headphones at the same time.
64 Note Polyphony
This allows you to play up to 64 notes simultaneously (I know you only have 10 fingers, but this includes notes held down by the pedal).
MIDI In/Out
You can connect to your computer and other MIDI compatible hardware. Allows interaction with piano tuition PC software, and music notation software such as Sibelius, Finale, NotationComposer, MagicScore, MusicTime, QuickScore and many more. If you're into composing them the MIDI In/Out is a must.
AUX In (also known as 'Line in' or 'audio in')
The Aux-in (or auxiliary-in) allows you to connect external music sources (with RCA outputs) such as your PDA or MP3 player.
AUX Out (also known as 'Line out' or 'audio out')
If you want to give a live performance, connect your Classenti piano to your hi-fi system through the AUX-out (or auxiliary-out).
Transpose
Change your piano's pitch to play along with other instruments such as trumpet, clarinet, etc. Or make some musical pieces more comfortable for singers.
Reverb
This produces a slight echo on each note to mimic the sound a grand piano makes in a concert hall. The Classenti Crystal piano offers 4 levels of reverb.
Dual Voice With Layer Balance
Choose any two sounds and merge them together. A very nice combination is piano combined with strings.
Master Volume Switch
You can turn the sound right down for late night playing, or up to its maximum for loud performances.
Power Switch
You can turn your piano on or off without having to reach for the mains socket.
More Features:
8 demo songs
32 practice songs
2 track sequencer. Approximately 5,000 notes
Simplified user panel with only 3 buttons
What Else Is In The Box?
User Manual in English
AC input power adaptor
English 3-pin plug with cable
Pedal lead
Music rest
Piano Dimensions: Length 138cm (54.3 inches), Height 82cm (32.3 inches), Depth 42cm (16.5 inches)
Height With Music Rest: 100cm (39.4 inches)
Music Rest Width: 63cm (25 inches)
Floor to bottom of keybed (leg room): 65cm (25.5 inches)
Weight of keyboard section: 40kg (88 pounds)
Overall Weight: 50kg (110 pounds)
Assembly
Really easy to put together
Simple assembly instructions in English are included
Only 4 hand screws to connect the piano to its base
No electric knowledge required. No drilling, no wires to attach
Approximate assembly time 15 minutes (all you need is a screw driver)
All holes are pre-drilled. The keyboard section comes in one complete unit. In the assembly pack you get 4 screws to connect the legs and bottom board, 4 screws to attach the back panel, and 4 hand screws to secure the keyboard to its base (the pedals are already attached to the bottom board). That's all there is to it! The piano can be assembled on your own, but we recommend you get help to lift the keyboard section onto its base.
Storing The Piano Away
The Classenti Crystal digital piano can easily be taken apart and stored away. Just undo the 4 wing nuts and the keyboard section comes away from its base.
All Classenti Pianos
Classenti CDP1
Classenti CDP2
Classenti CDP3
Classenti P1
Classenti GR1
Classenti Crystal
Browse
Classenti Reviews
Classenti Digital Piano Questions
Classenti Crystal Video Demonstrations
Classenti Testimonials
See all Classenti digital pianos