Classenti EMS-210 Height Adjustable Double Strength Keyboard Stand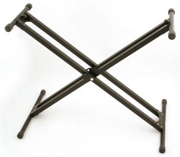 (Includes free carry bag)

Price: £39.97 inc. vat
Availability: In Stock (ships 1 to 2 working days)

Order by phone:

Call 020 8367 2080.
The Classenti EMS-210 keyboard stand is a universal, extra strength, stand and has 5 levels of height adjustment. You can also fold it together if you need to store it away.
The Classenti keyboard stand is suitable for all electronic keyboards, digital pianos and stage pianos. It will hold even the heaviest keyboards safely, with ease. The keyboard is gripped by 4 rubber stops on the top.
When using please make sure that the stand's long legs are at the bottom, not the top. The double braced keyboard stand is recommended if you have a large or heavy keyboard, or you have a portable piano. The extra strength of the double bars is need to hold the extra weight and to also stop your instrument from moving.
You Get:

5 Year Warranty

60 Day Return Policy
Dimensions:

Height at maximum adjustment: 99cm (39 inches)
Height at lowest adjustment: 56cm (22 inches)
Depth (front to back): 33cm (13 inches)
"Dear UK Pianos, thanks so much for my EMS-210
keyboard stand. It's strong and rigid and does the job!"
Bob Ward
Browse
More Classenti keyboard stands