Classenti GR1i Polished Ebony Digital Baby Grand Piano (Superior high gloss finish)
88 full-size touch sensitive keys with fully-weighted, graded hammer action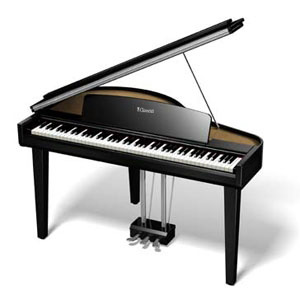 FREE 5 Year Warranty included
All parts and labour covered.
We come to your home to fix the piano, read more.

Colour: Polished Ebony (Pedals, hinges, prop,
lyre columns, stays and hardware are chrome)
-- The GR1i is also available in polished white --

Price £1,995 (including VAT) - or £83.12 per month interest free
(Delivery, assembly and installation by professional piano movers: £85 for UK. Republic of Ireland and Europe, please call for quote)

(Pay monthly, interest free: 50% deposit, remaining balance interest free over 12 months)
Read more, or call 020 8367 2080 for details. Printable forms: Standing order, Hire purchase
Availability: In Stock (Delivery 1-3 Days) -- Call 020 8367 2080 to order.
(We deliver to UK, Republic of Ireland and most of Europe)



Graham Howard, piano advisor: grahamhoward@ukpianos.co.uk

"The Classenti GR1i looks just like a real baby grand piano but takes up much less space. Its chrome pedals, columns, hinges and hardware look really smart against the high polished ebony or white finish. What's more, the piano tone is superb... its large stereo speakers give the sound extra depth and resonance. And the key touch is fully-weighted, so it feels the same as playing a real piano."