Classenti Keyboard Bag CKB1 – Thick Padding, Lightweight, Water Resistant, and Incredibly Tough!

Fits most 61 key keyboards (see list below)…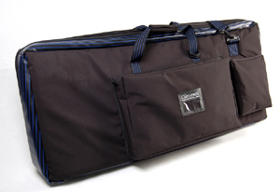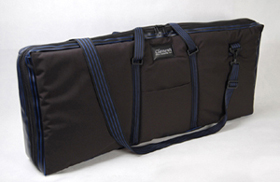 enlarge

Front view shows 2 large zip pockets & nametag Back view shows shoulder strap and small pocket
The World's Strongest Keyboard Bag!
Price: £44.97 including vat.
Availability: In stock (Next working day delivery)


Or order by phone:

Call 020 8367 2080.
Will It Fit My Keyboard?
All keyboard models listed on this page will fit in the Classenti CKB1 bag. We're 100% confident.
If it doesn't, then send it back for a full refund including carriage costs.
The Classenti CKB1 keyboard bag is exceptionally tough. The 20mm thick padding front and back, with reinforced edges and corners will protect your keyboard from knocks. It will also reduce the chances of getting damaged if dropped. It's also water resistant.
Comes with shoulder strap, nametag, double carry handles, 2 pockets (one zipped) and one pouch for holding accessories such as: power adaptor, foot pedal, music stand and key cover. What's more, it's really comfortable to carry and fits easily in the boot of your car.
Compared with all other soft keyboard bags, Classenti offers the BEST protection for your keyboard. (Over 30% thicker padding than most keyboard bags).
What Our Customers Say…
"Dear Graham
Just wanted to let you know that my new keyboard case has just arrived and it's perfect, thanks very much for suggesting it!"
Koko
"Would definitely buy from these guys again"
The keyboard case is great as it's so lightweight and the inner lining is nice and thick for protecting the keyboard. It is also easy to carry over the shoulder which is a bonus. I was very impressed with UKpianos.co.uk. Unlike a lot of websites, they actually respond to your enquiry! If you ask for advice like i did for the best case for my keyboard, they will come back to you with a suggestion/recommendation to suit you – would definitely buy from these guys again – thank you Graham!, Kiki Dugdale
"Excellent quality and a good, snug fit"
Hi Just wanted to say how impressed I am with your service. I ordered a Classenti keyboard bag for my Yamaha Piaggero np11 yesterday and it arrived today at 10:15, less than 24 hours later.
It has been difficult finding a bag to fit this very slim, compact keyboard until I saw this one on your website. It appears to be excellent quality and a good, snug fit.
I would definitely recommend you to friends and fellow musicians.
Review by Steven Ward, Sheffield (13/02/2014)
"It is every bit as good as you described"
Good Afternoon
Many thanks for the delivery of the CKB1 case for my keyboard
It is every bit as good as you described to me on the phone. Excellent , well done.
Review by Roger Bartram (17/07/2015)
You Get:

5 Year Warranty

60 Day Return Policy
Colour: Attractive black finish with smooth, blue lined edges and corners
Material: Extra strong 300D polyester
Padding Thickness: 20mm
Lightweight: Only 1.5kg (easy to carry around)
Internal Dimensions:
Length (Left to right) 101.6cm or 40 inches
Height (Top to bottom) 43.2cm or 17 inches
Depth 20.3cm or 8 inches.
Note: If your piano is slightly larger than the bag's dimensions then it will probably fit because the bag will stretch.
Dimensions of pockets
Large, zipped pocket: 48cm x 30cm
Velcro pocket: 23cm x 19cm
Pouch: 24cm x 22cm
Weight: 1kg (2.2 pounds)
Fits most 61-key keyboards including:
Yamaha EZ-150, EZ-200, EZ220, EZ-250i, Piaggero NP-11, PSR-E203, PSR-E213, PSR-E223, PSR-E233, PSR-E243, PSR-E253, PSR-E303, PSR-E313, PSR-E323, PSR-E333, PSR-E343, PSR-E353, PSR-E403, PSR-E413, PSR-E423, PSR-E433, PSR-E443, PSR-E453, PSR-175, PSR-275, PSR-290, PSR-293, PSR-295, PSR-300, PSR-350, PSR-450, PSR-550, PSR-1500, PSR-3000, PSR-A2000, PSR-A300, PSR-S500, PSR-S550, PSR-S650, PSR-S670, PSR-S710, PSR-S750, PSR-S770, PSR-S910, YPT-210
Casio CTK-700, CTK-710, CTK-800, CTK-810, CTK-900, CTK-1100, CTK-496, CTK-591, CTK-691, CTK-731, CTK-1300, CTK-2000, CTK-2200, CTK-3000, CTK-3200, CTK-3400, CTK-4000, CTK-4200, CTK-4400, CTK-5000, CTK-6000, CTK-7000, LK-45, LK-70S, LK-70SMC, LK-70S XD, LK-90TV. LK-93TV, LK-100, LK-110, LK-120, LK-200 (aka LK-200S), LK-300 (aka LK-300TV), LK-300TVAD
Roland EM15, EM15OR, EM25.
Acoustic Solutions (sold by Argos).
Evolution MK928 (sold by Argos).
Ashton keyboards: AK-250.
Kurzweil PC-361
Scroll down for the complete list.
Features:
Fits most 61 key keyboards
Shoulder strap with reinforced buckles for added strength
Double carry handles
3 pockets (1 large zipped, 1 zipped and 1 not zipped)
Nametag
20mm thick sponge padding with re-enforced bottom, sides and top to doubly protect your keyboard's keys and electronic parts.
Water resistant
Colour: Black with blue trimming
Weight 1.5kg (3 pounds)
Material: Extra strength 300D polyester
Fits most 61 key keyboards by Yamaha, Casio, Roland, Korg, Gem, Technics…
Double zip goes all the way around the bag
Fits most 61 key keyboards
Most 61 key keyboards fit in this bag; including popular makes such as: Yamaha, Casio, Roland, Korg, Gem, Technics, Hohner, Novation, Kurzweil and Kawai. See the complete list at the bottom of this page.
Adjustable shoulder strap
Fits comfortably on your shoulder – making carrying easy. You won't get blisters on your hand.
Double carry handles
Two, strong carry handles, with soft pad. Makes carrying easy. The soft pad that securely fastens the handles reduces damage to your hands.
3 pockets (1 large zipped, 1 velcro, 1 not zipped)
The largest of the three pouches is really LARGE. You can fit 11 music books, music stand, dust cover and mains adaptor with space still to spare. The large pouch has a single zip to secure your music books and accessories. The other pouch has velcro and is large enough to carry a set of headphones and any other small items that need to be secured. The smallest of the three pouches is not zipped, this can be used to carry a sheet music stand or medium sized accessory.
Easy open and close zips or velcro
The zips (3 in total: main and 2 pouches) open with ease, no catching. The bag's main zip is a double one and goes all the way around.
Nametag pouch
Reduce the risk of your child losing their keyboard bag at school by writing your child's name in the secure, waterproof nametag pouch.
20 mm thick padding
The Classenti keyboard bag has thick, 20mm padding front and back. All edges and corners are reinforced with thick material to reduce the likelyhood of impact damage if dropped.
Why not buy a Classenti dust cover to go with this?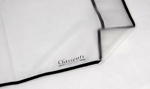 Here is a complete list of keyboards that will fit in this bag:
If you can't see your keyboard model here,

Call 020 8367 2080 for help.
Alesis
Fusion 6 HD
ION
CME
UF5
Casio
CPS300
CT390
CT420
CT470
CT6000
CT615
CT636
CT647
CT650
CT657
CT660
CT670
CT680
CT700
CT805
CTK330
CTK401
CTK411
CTK431
CTK451
CTK471
CTK480
CTK481
CTK485
CTK491
CTK495
CTK496
CTK500
CTK501
CTK510
CTK511
CTK519
CTK520L
CTK530
CTK531
CTK540
CTK541
CTK550
CTK551
CTK560L
CTK571
CTK573
CTK591
CTK601
CTK611
CTK630
CTK631
CTK650
CTK651
CTK671
CTK680
CTK691
CTK700
CTK710
CTK731
CTK80
CTK800
CTK810
CTK900
CTK1100
CTK1300
CTK2100
CTK3000
CTK3200
CTK3400
CTK4000
CTK4200
CTK4400
CTK5000
CTK6000
CTK7000
GK700P
GZ500
LK30
LK300TV
LK35
LK40
LK43
LK45
LK50
LK55
LK60
LK65
LK70S
LK90TV
LK93TV
LK100
LK110
LK120
LK200S
EMU
Xboard 61
Evolution
MK361
MK361C
MK461C
Farfisa
DE20
DK250
DP18
DPR22
TK616
TK73
TK75
TK84
General Music (GEM)
CD1
CD10
CD2
CD20
CD3
CD30
GK310
GK330
GK340
GK350
PK5
PK7
WK1
WK1000
Gold Star
GEK-S230
GEK-S330
Hohner
PSK40
PSK45
Kawai
FS630
FS640
FS650
FS680
FS730
FS750
FS780
PXG30
X20
X30
X40D
X50D
X55
X65
Korg
Control 49
K61
Kontrol 49
MS2000
MS2000B
Radius
X50
Kurzweil
K2661
PC161
PC361
M-Audio
Axiom 61
Oxygen 61
Novation
KS4
Remote SL61
X Station 61
X61
Orla
KX1
KX2
KX3
Peavey
DPM2
Quasimidi
Sirius
Roland
C180
E15
E16
E28
E35
E40/OR
EG101
EM10
EM15
EM150R
EM20
EM25
EP3
EP5
JP8000
JV30
JX3P
SH201
SK50
VP550
Technics
KC200
KC211
KC600
KC611
KN200
KN220
KN300
KN400
KN440
KN470
KN500
KN550
KN570
KN650
KN700
KN750
MB100
Yamaha
AN1X
CS1X
CS2X
DJX
DJXII
DX11
E200
EZ150
EZ20
EZ200
EZ220
EZ250i
EZ30
EZAG
MM6
Piaggero NP11
PSR1000
PSR140
PSR150
PSR1500
PSR160
PSR170
PSR172
PSR175
PSR18
PSR180
PSR185
PSR19
PSR190
PSR195
PSR200
PSR2000
PSR202
PSR206
PSR210
PSR215
PSR220
PSR225
PSR225GM
PSR230
PSR240
PSR248
PSR260
PSR262
PSR270
PSR273
PSR275
PSR280
PSR282
PSR290
PSR292
PSR293
PSR295
PSR300
PSR3000
PSR310
PSR320
PSR330
PSR340
PSR350
PSR36
PSR38
PSR400
PSR410
PSR420
PSR450
PSR48
PSR500
PSR510
PSR520
PSR530
PSR540
PSR550
PSR600
PSR620
PSR630
PSR640
PSR70
PSR720
PSR730
PSR740
PSR78
PSR79
PSR80
PSR82
PSR83
PSR84
PSR85
PSR90
PSRA1000
PSRA2000
PSRA3
PSRA300
PSRE203
PSRE213
PSRE233
PSRE243
PSRE253
PSRE303
PSRE313
PSRE323
PSRE333
PSRE343
PSRE353
PSRE403
PSRE413
PSRE423
PSRE433
PSRE443
PSRE453
PSRK1
PSRS500
PSRS650
PSRS670
PSRS750
PSRS770
PSRS910
S500
SY22
SY35
SY55
VL1
VL7
YPP15
YPP35
YPR20
YPR30
YPR7
YPR9
YPT200
YPT210
YPT300
Can't see your keyboard model here?

Call 020 8367 2080 for help.