At Last, a Portable Piano With Heavy-Weighted Key Touch,
Impressive Power and a Realistic Sound

Classenti P1 Portable Piano in Black Satin (Pedal included)
88 full-size touch sensitive keys with fully-weighted, graded hammer action
(includes pedal, music rest
and power adaptor)
Price: SOLD OUT (Check alternatives: Roland F-20, Yamaha P105, or Kurzweil MPS10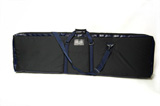 Get a carry bag for the Classenti P1. More details

"The Classenti P1 has a richer and clearer sound than all portable stage pianos under £600. It also has a proper hammer action (not a cut down, or reduced quality version), and a 4 way built-in speaker system totalling 20 watts. The Classenti P1 is a good compromise between poor sounding, light touch stage pianos and big, bulky digital pianos." Graham Howard – Piano Advisor.
Watch a video of the Classenti P1 by Russian pianist, Hatira Gurbanaliyeva
Other Options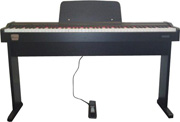 Classenti P1 Piano With Wooden Stand (Model P1ST in black satin)
Price: SOLD OUT – (Pedal included).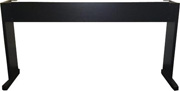 Wooden Stand Only (Model P1ST in black satin)
"It's more comfortable to play with the wooden stand"
Price: SOLD OUT

Click here to write a review
What our customers say…
"I think Classenti pianos are as good as the Yamahas on the same price range if not better"
I received my Classenti P1 without any troubles (just had to wait for it to come in stock), and it's exceeded my expectations. I bought the bundle offer from uk pianos and it saved me loads of money. The reason I chose the P1 is because of the heavily weighted keys, I feel it makes such a difference when playing digital pianos (also the sound is awesome).
I know Classenti aren't one of the most popular brands but I do think their pianos are as good as the Yamahas on the same price range if not better. Perhaps the reason why they're as cheap is because they're not as well known. For the price I think it's definitely worth it and I'm extremely happy with it. I recommend it to anyone buying a digital piano for the first time for under £500.
Ashley Gya, Northampton, Northamptonshire, UK (22/07/2010)
"The keys feel so realistic to an acoustic piano"
I bought the Classenti P1 as my first piano and I'm 100% satifsfied with it. The keys feel so realistic to an acoustic piano and it's simple to use. Brilliant!"
Also, piano arrived today. Thanks a lot for a pleasant transaction and will definitely recommend you to others.
Thanks again.
Jack Benton, Preston, Penwortham, UK (07/07/2010)
Why choose the Classenti P1 over other stage pianos?
1) Heavy-weighted keys (same mechanism as next model up, CDP1)
2) Hammer action, touch sensitive key mechanism.
3) 4-way, built-in, advanced speaker system totalling 20 watts! – that's enough amplification for events such as wedding receptions, dinners, church functions, or concerts in small to medium sized rooms
4) The Classenti P1 has a black satin 'wood-grain' type finish… it's not plasticky like other portable stage pianos
5) Can be used with or without the wooden stand
6) Easy to move around, store away, or put in the back of your car
7) Can be used on a table top (no stand needed)
Need more info? Send an email to: grahamhoward@ukpianos.co.uk
Click on the link below to ask me a question…


The main features of the P1 are listed down the page

All pianos in the Classenti range:
Classenti CDP1
Classenti CDP2
Classenti CDP3
Classenti P1
Classenti GR1
Classenti Crystal
Rent-to-Own This Piano
~ Not sure if your child will take to playing the piano?
~ Are you worried about the initial investment?
~ Why not consider our 'rent-to-own' programme…
Click here for details.
Classenti P1 Features
Sound
Digitally sampled in Japan.
88 Full Size, Fully Weighted Piano Keys
Represents the full 7¼ octave range of an upright or grand piano. The keys are exactly the same size as a real piano.
Touch Sensitive Keys
The harder (or faster) you strike the key, the louder it sounds. Gives added expression to your music.
Touch Sensitivity Levels: 4. This allows you to play each note at 4 different volume levels (p, mp, mf, f).
Graded Hammer Action Keyboard
With heavier key weighting in the bass, getting progressively lighter as you go up the keyboard. This mimics the exact feel of an upright or grand piano.
8 Instrumental Voices (In addition, each voice can be combined with another. This creates a total of 15 different sounds)
Piano 1, Piano 2 (Brighter sound. Good for jazz), Electric Piano 1, Electric Piano 2, Harpsichord, Organ, Strings and Vibraphone.
Built-in Speakers
4 x 5 watts – that's 20 watts stereo amplification!
Record and Play Back
This feature allows you to record your own music. All you need to do is press the 'record' button and start playing. When you've finished playing, press the 'play' button and it will play back your song. The recording feature is also compatible with PC music file formats. In other words, you can record yourself in a file format that can then be transferred to other media (CDs, MP3 etc.)
Built-in Metronome
No need to buy one, it's built-in. Essential for learning how to play in time. You can adjust the speed to suit the music you are playing.
Voltage Adjustment
The Classenti P1 has a built-in transformer which allows you to use the piano in any Country. It automatically adjusts to your Country's voltage!
Power Adaptor
AC mains adaptor with UK plug included.
1 Pedal: Real piano type sustain pedal in silver
Sustain pedal. On upright pianos it's sometimes referred to as a 'damper pedal'. This pedal allows you to sustain any note, or notes, without having to hold the key down.
Note: If you need 3 pedals then you can connect a universal 3-pedal unit. This unit connects to the pedal socket at the back of the piano. Currently we don't sell a 3-pedal unit.
Key Weight Control
Prefer a heavier or lighter touch? No problem, just use the key weight control button to select from three settings: Standard, heavy and light. The piano's default setting is standard. The keys remain touch sensitive on all settings.
Cabinet (Keyboard section)
Slim line, sleek, stylish, curved edge design. Satin black finish. Black control panel. Can easily be stored away.
Wooden Stand (Available as an extra)
The wooden stand is an extra and isn't included in the price. With just 4 hand-tight screws connecting the keyboard section with the legs, the P1 can be put together or taken apart, on your own, in less than a minute!
You might want the wooden stand because it:
Fixes the piano at the correct height (this is important, especially if your children are learning)
Will look like a piano rather than a keyboard
Keeps your piano away from potential damage (liquid spills, biscuit crumbs between the keys, knocks, scratches)
Looks tidy, sleek, and attractive
Folding Music Desk
The music desk is on two hinges. It folds down if you need to store or transport your piano. And it can be easily removed.
Sound Source
Japanese engineers created the Classenti sound by combining a multitude of tones from the world's finest concert grand pianos. These engineers didn't just take the sound from one grand piano they took the richest, most vibrant ones; enhanced them, then came up with a digitally sampled version that's quite unique. I don't know how they did this, but the result is a clean, piano sound that's incredibly realistic.
The sound of the P1 is a little on the bright side (like most Japanese pianos!) This is mainly to do with the size, power output and position of the speakers. Larger, more powerful speakers would certainly add more warmth to the sound. If you want a richer sound then check out the Classenti CDP1
Headphones
2 x Headphone jacks to connect headphones. Two players can play with headphones at the same time. Located on the left side underneath the keyboard section.
64 Note Polyphony
This allows you to play up to 64 notes simultaneously (I know you only have 10 fingers, but this includes notes held down by the pedal and combinations of sounds).
MIDI In/Out
You can connect to your computer and other MIDI compatible hardware. Allows interaction with piano tuition PC software, and music notation software such as Sibelius, Finale, NotationComposer, MagicScore, MusicTime, QuickScore and many more. If you're into composing them the MIDI In/Out is a must.
AUX In (also known as 'Line in' or 'audio in')
The Aux-in (or auxiliary-in) allows you to connect external music sources (with RCA outputs) such as your PDA or MP3 player.
AUX Out (also known as 'Line out' or 'audio out')
If you want to give a live performance, connect your Classenti piano to your hi-fi system through the AUX-out (or auxiliary-out).
Transpose
Change your piano's pitch to play along with other instruments such as trumpet, clarinet, etc. Or make some musical pieces more comfortable for singers.
Reverb
This produces a slight echo on each note to mimic the sound a grand piano makes in a concert hall.
Dual Voice With Layer Balance
Choose any two sounds and merge them together. A very nice combination is piano combined with strings.
Master Volume Switch
You can turn the sound right down for late night playing, or up to its maximum for loud performances.
Power Switch
You can turn your piano on or off without having to reach for the mains socket.
More Features:
8 demo songs
32 practice songs
1 track sequencer. Approximately 5,000 notes
Headphone jack to connect your headphones
Simple to use, sleek, black control panel. You can select any sound/function at the press of a button
What Else Is In The Box?
User Manual in English
AC input power adaptor
English 3-pin plug with cable
Piano sustain pedal with lead
Music rest
Colour: Black Satin
Black satin will look particularly good in your home when accompanied with dark wood furniture. Black is the most versatile (and safest choice) out of all wood colours. And it blends in well with most shades of brown or grey.
Piano Dimensions WITHOUT Wooden Stand
Length: 127cm (50 inches), Height: 11.5cm (4.5 inches), Depth: 34cm (13.5 inches)
Music Rest Height: 18cm (7 inches), Width: 51.5cm (20.25 inches)
Weight: 23kg (50.6 pounds)
Piano Dimensions WITH Wooden Stand
Length: 127cm (50 inches), Height: 73cm (29 inches), Depth: 34cm (13.5 inches)
Music Rest Height: 18cm (7 inches), Width: 51.5cm (20.25 inches)
Leg room (Floor to bottom of keybed): 62cm (24.5 inches)
Weight of Stand: 5kg (11 pounds)
Assembly Of Wooden Stand
Really easy to put together
Simple assembly instructions in English are included
Approximate assembly time of wooden stand: 5 minutes
Keyboard section fixes to stand with 4 hand screws
If you buy the piano without the wooden stand then just plug in and play!
All holes are pre-drilled. The keyboard section comes in one complete unit. In the assembly pack you get 4 screws to connect the side panels, and 4 hand screws to secure the keyboard to the base. That's all there is! The piano can be assembled on your own.
Storing The Piano Away
The Classenti P1 can be put together or taken apart in less than 1 minute. Just undo the 4 hand screws, and the keyboard section comes away from its base.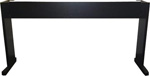 Classenti P1 Classenti Wooden Stand (P1ST) Pedal

Click here to write a review

Quick Glance Differences Between The P1 And The CDP1
P1
~ Brighter sound than CDP1
~ Can be used with or without a stand
(Speakers are built in to keyboard section)
~ Lightweight Base (wooden stand)
~ 1 pedal
~ 4 x 5 watt speakers (20 watts total)
~ 127cm length (Space saver!)
~ 34cm depth (takes up less room)
~ Weight 23kg (28kg together with stand)
~ Costs about £100 less than the CDP1
CDP1 (Next Model Up)
~ Warmer sound than P1
~ Can't be used without stand
(Speakers are built-in to wooden stand)
~ Strong, stable base (wooden stand)
~ 3 pedals
~ 2 x 15 watt speakers (30 watts total)
~ 133cm length
~ 36cm depth
~ Weight 45kg
~ Slightly larger music desk
Main Advantages Of The CDP1 (Next Model Up In The Range) Over The P1
The sound is a little warmer and more resonant
Larger speaker output (2 x 15 watts versus 4 x 5 watts)
Stronger, more stable base (wooden stand)
Nicer piece of furniture (but that's a matter of opinion)
3 pedals versus 1 pedal
Disadvantages of P1
The base (wooden stand) is lightweight (only 5 kg), which means it's not as sturdy as digital pianos with backboards.
The keyboard section is, on average, 5 kg heavier than most stage pianos under £1,000. This is because of the hammer action. Classenti chose to put a proper hammer action keyboard in their stage piano rather than a lighter, cut down version.
Questions and Comments
Graham: Many thanks for your prompt reply. I have looked at the Classenti on your web page and it looks as if it will be much easier to move around. We would need to buy the wooden stand as well – is this fixed to the keyboard so that the two units could be moved as one or does the keyboard drop into the base frame?
As a non-piano player, what is the difference between the signle foot pedal on the Classenti and the three pedals that are on the Yamaha?
One other thought: the piano will mostly be played by elderly pianists who have been used to the old-fashioned piano; so, we don't need lots of additional features (recording, etc) as we have already found that they dislike models with "lots of buttons". What we are looking for is something that sounds and plays like an ordinary piano but is easier to move around.
I also note that the Classenti is currently out-of-stock. We need to have a piano by mid-September so will it definitely be available by then?
Sorry to be coming out with even more questions – but we have to get this purchase right.
Many thanks for your help to date.
Jean
Reply/ Hi Jean
The Classent P1 wooden stand is a separate unit
that fixes to the keyboard with 4 hand-tight screws.
You can move the piano and stand as one, or unscrew
the keyboard from its base and move them separately.
A single (sustain) pedal is all you need as a beginner…
The soft pedal (this is the left pedal on the 3 pedal
pianos) will come in handy for grade 5 or 6 pieces.
The P1 will be available from the 1st or 2nd week of
September, so we should be able to deliver to you
in time.
I recommend reserving one now before we run out of them.
we have 25 coming in, but already 14 are sold.
We only require a £50 deposit to reserve one. You can
call me on 020 8367 2080 when you're ready.
Yours pianistically,
Graham Howard
—
Hi Graham,
Thank you for your quick response in regards the faulty power supply for the Classenti P1 piano.I have tried it in the piano and all seems ok.
Thanks again for your response
Kind Regards
Andrew Long
Chairman
Basingstoke Hospital Male Voice Choir.
—
Question/ Hi Graham
I am strongly considering the Classenti P1 but have to say the CDP1 has also caught my eye.
I am mainly interested in a piano that I can use both at home and possibly take to other places and maybe play gigs etc – is the CDP1 simple to take apart and assemble to achieve this aim? I know the P1 is a Portable Piano, whereas CDP1 is not necessarily labelled so, but can it be portable too? The reason it has also caught my eye is because a) it looks great and b) it has three pedals. I do think I would use the stand whether I bought the P1 or CDP1, so I'm in two minds really. Is the CDP1 really hard to take apart/assemble and take in the car? Also, is there much difference in the sound?
Thanks very much for the advice, Matthew
Reply/ Hi Matthew
The Classenti P1 would certainly be a better choice
than the CDP1 if you plan on transporting it frequently
in the car…
The P1 is designed for this… it takes less than a
minute to unscrew from the wooden legs by hand
(without need of a screwdriver or any tools).
The CDP1 is more cumbersome. You would need a
screwdriver to take it apart. And the base is much
heavier and bulkier than the P1.
The CDP1 has a slightly better sound than the P1.
Yours pianistically,
Graham Howard
—
Question/ Would you say the classenti p1 is the best, as I was confused as it said it is a stage piano and I think I read that with these the sound isn't as loud and that you need an amp?
Would you say it is the best when compared to other pianos as well?
Also could I have it delivered to the Enfield store for me to pick up instead of sending it to my house?
Thanks
Rupi
Reply/ Hi Rupi
Most stage pianos have a thin, weak sound. But this
is not the case with the Classenti P1…
Its advanced 4-way speaker system produces an
excellent volume level, even on the mid-way setting.
The P1 is certainly the best portable-type piano
under £700.
You are welcome to pick it up from our Enfield store.
Yours pianistically,
Graham Howard
—
Hi Graham,
I am looking into possibly getting the Classenti P1 for my tiny apartment.
I love playing the piano and have been without one for over a year now, I have decided that enough is enough.
My flat is small and I as I am renting, the possibility of moving is always upon me so the portable nature of the P1 seems suitable.
I wondered what your thoughts were for the P1. Is it good for the pressure of the keys to a real piano. From looking at reviews it seems the sound quality is very good, would you agree?
Also, as I live with someone else in my flat and have close neighbours, could I plug headphones into the P1?
I also notice you only have the 1 pedal on this compared to a digital pianos 3 pedals. Do you find this is a problem for staccato pieces or can you always acquire a second pedal later on.
Based on my situation do you think I should perhaps look at alternative digital pianos or do you think that the Classenti P1 can provide everything I need instead?
Kind Regards,
Eamon
Reply/ Hi Eamon
The Classenti P1 has a fully-weighted, firm
key touch that feels the same as playing
an acoustic piano.
It also has 4 dynamic volume levels. So
you're able to play a wide range of
dynamics (from pianissimo to forte).
The sound is also quite good. Its 4-way
speaker system adds clarity to the clean,
piano-like tone.
You can also plug headphones in. This
cuts out the sound completely so only
you will hear it.
One pedal is enough for up to about grade
5 or 6. You can plug in a 3 pedal unit anytime
if you feel you need an extra one.
Of course, the sound of any stage piano
isn't as good as a digital piano which has
a fixed wooden base.
The main reason is the speaker system.
There's more room to place larger speakers
and speaker boxes in digital pianos.
If you would like to look at one of these
then I recommend the Classenti CDP1.
Yours pianistically,
Graham Howard
Read more questions and answers
What our customers say…
"The piano has arrived yesterday. Thank you very much, it has a lovely sound!"
Kind regards,
Julia Lissenkova, Richmond, Surrey, UK (16/07/2010)

Call UK Pianos for advice on: 020 8367 2080.

"Graham Howard,
Piano Advisor"
Ask me a question online…

Related Accessories For The Classenti P1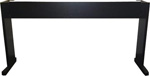 Classenti Wooden Stand (P1ST)

Click here to write a review
All Classenti Pianos
Classenti CDP1
Classenti CDP2
Classenti CDP3
Classenti P1
Classenti GR1
Classenti Crystal
Browse
Classenti P1 Reviews
Classenti Digital Piano Questions
P1 Video Demonstrations
Classenti Testimonials
See all Classenti digital pianos