Classenti XMS-219 Height Adjustable Single Keyboard Stand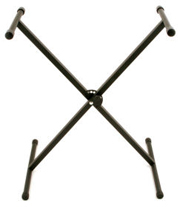 Price: £24.97 inc. vat
Availability: In Stock (Next Day Delivery anywhere in the UK)

Order by phone:

Call 020 8367 2080.
Classenti single cross keyboard stand with 5 levels of height adjustment. This is a universal keyboard stand and is suitable for all electronic keyboards and light to medium digital/stage pianos. Easy to fold away and store.
You Get:

5 Year Warranty

60 Day Return Policy
The keyboard is gripped by 4 rubber stops on the top.
Please make sure the stand's long legs are on the floor and the short legs at the top when in use.
The Classenti single keyboard stand is also popular among magicians (no I didn't mean musicians). They put a board on top of the stand, adjust it to the right height and they're ready to perform their magic tricks on stage.
Browse
More Classenti keyboard stands