The Piano Market Has Now Moved To marketplace.ukpianos.co.uk

Click here To List Or View Grand Pianos On This Site.
>>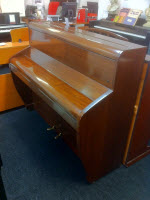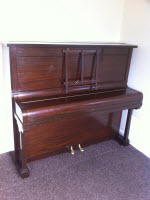 We Buy And Sell Second Hand Pianos – Call UK Pianos on 020 8367 2080
What is the Piano Market?

If you want to sell your secondhand grand piano – list it here for 90 days for only £9.95. Alternatively, if you want to buy a used grand then you can contact the Piano Market sellers directly and buy from them.
Free Digital Piano Buyer's Guide:
"7 Things You MUST Know Before Buying A Digital Piano", by Graham Howard




Click here to claim your free copy!
You get all this:

1) How to understand confusing terminology (Polyphony, graded hammer, etc.)
2) Common digital piano questions
3) The disadvantages of buying second hand versus new
4) 6 simple tests you can do in a piano store
5) The best digital piano brands: 1st) ? 2nd) ? 3rd) ?…
6) Top ten piano models: (a) under £500 (b) £500 to £1,000 (c) over £1000
7) Should you buy online or in a physical store?
Click here to claim your free copy!
Articles
Get Your Piano Valued – Find Out How Much it is Worth
Note from the UK Pianos.co.uk editor:
Do you want to learn how to play piano? I've just discovered a fantastic piano course you might me interested in.
Check out what I have to say about it here.
The Piano Market has moved to marketplace.ukpianos.co.uk.
To buy or list a piano from 13/10/2007 onwards click here.
Used Grand Pianos
13/10/07

I am a pianist and I have a Bechstein grand piano to sell. It is a model B 1898, 6ft 8in and has just been fully restored. It is located in Islington, north London.
---
03/10/07

We have a stunning Welmar 6′ grand which we want to sell. We have had it 8 years and it is in excellent condition and perfect playing condition
---
02/10/07

Collard and Collard Concert Grand Piano for sale. We are moving to a smaller house and very reluctantly have to sell.

Testimonial
Dear Graham

"Thanks so much for advertising my piano. I have recently donated the piano to a local organization who are delighted with it. With many thanks. I will shortly be looking for an upright piano and will no doubt be visiting your site again!"

With kind regards
Avril Johnson
---
01/10/07

Kawai Model GE20 in Mahogany polish. Purchased new in February 2005 for Guildhall/Trinity exams held in our home

---
18/09/07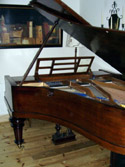 Bluthner 6'4 Rosewood grand piano 1898 complete restore eight years ago. Located in Southampton.
more info
---
23/08/07

Lovely old 1900 Steinway Model A Grand Piano. Completely refurbished earlier this year. Location Ashurst.
more info
---
19/08/07

Chappell boudoir grand piano manufactured approximately 1890, 5ft 11ins straight strung, white, lovely sound, selling only due to moving to smaller house.
more info
---
03/08/07

Bechstein Model 'C' Grand Piano. American Oak finish. Good condition, light domestic use only, lovely tone. Original hammers, pads and strings.
more info
---
28/07/07

Due to a house move I am, unfortunately having to sell my piano. It is a Pleyel and is approximately 100 years old. It is walnut and in good condition.

more info
---
23/07/07

Beautiful Brinsmead grand piano (6ft) for sale (circa 1900). Beautiful casing with sculptured curved legs and carved music stand. Perfect sound quality and a fabulous piece of furniture
more info
---
12/06/07

Seeger grand piano for sale in light wood.
more info
---
29/06/07
This is a high quality piano with excellent dynamics and superlative tone sound. Price also includes 5 year warranty!! Item will be shipped worldwide for free!

more info
---
23/06/07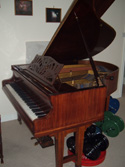 Walburg baby grand piano, excellent condition
Walnut colour. Shepshed, Leicestershire
more info
---
23/06/07

Yamaha GB1 Entry level baby grand piano, only two and a half years old. This is a lovely instrument that looks at home even in a smaller room. In good condition, and sounds great with the lid up. There are no scratches or marks whatsoever on the piano.
more info

---
02/06/07

Schiedmayer and Soehne Grand Piano
Schiedmayer & Söehne, Stuttgart, Modell 20 serial number is 27400 Approx year 1845.
more info
---
22/05/07

Broadwood Grand Piano
Piano's name or model: John Broadwood and Sons Boudoir Grand Piano. Plays well and all original ivories intact. Original key with both locks in good working order.
more info
---
17/05/07
Steinway Model A Grand Piano
I wish to sell my Steinway Model A Grand Piano. The piano is an ebonised black model and is 5ft 10″ long . It has very recently been completely refurbished.
(No picture)
---
16/05/07
Hansen Grand Piano
Approx 4ft, in light wood, good condition, has been tuned recently.
(No picture)
---
27/04/07
Danemann Grand Piano
Danemann Baby Grand mahogany piano. Serial number 74847. Key width: 7 octaves.
(No picture)
---
03/04/07

Kawai RX7 Concert Grand Piano
KAWAI RX7 Concert Grand Piano 7ft 6ins. This elegant concert platform piano is in pristine showroom condition, it has a wonderful resonant bass, warm even tone and responds to every nuance of touch.
---
03/04/07

Rogers Grand Piano
Good general condition, has a lovely tone, and has been regularly tuned, maintained and frequently played, it's a real musician's instrument.
---
10/03/07

Zimmermann Grand Piano
Very attractive used grand piano made in East Germany by Zimmermann.
---
03/02/07
Yamaha G1 Grand Piano
Yamaha grand G1 5′ 2″ Polyester finish. The piano is about 25 years old and was inherited from new. The piano was recently tuned and serviced and is in very good condition.
---
03/02/07

Collard and Collard Grand Piano
Burr Walnut case. Straight strung. Very good condition beautiful piece of furniture. Buyer collects. Lovely mahogany piano stool included.
---
19/01/07

Steck Baby Grand
Steck baby-grand piano in good condition but in need of tuning. Age: built circa 1930 Description: Walnut veneered cabinet, 88 notes, ivory keys.

---

Brinsmead Boudoir Grand
Dark colour – black rosewood – french polished. 2 owners – in the same family – since 1949. Played and maintained regularly regardless of cost. Last tuning and maintenance July 2006.
---

Chappell Grand piano
Condition first class, original features, unmarked keyboard.
---
Bechstein B Grand Piano
PIANOVA offers a wonderful rebuilt
BECHSTEIN B 6`8" with a perfect sound and touch.
---
22/08/06

Broadwood Baby Grand Piano
I have a Baby Grand Broadwood (dating 1808-1901) originally sold through Harrods with the serial number H48516. It has a Satin Rosewood finish and I purchased it in Feb 02.
---
01/08/06
Collard and Collard Baby Grand Piano – sold by Nancy
Collard and Collard baby grand piano with fluted legs and ornate music stand in a beautiful rosewood case.
Piano needs some attention hence price.
---
07/07/06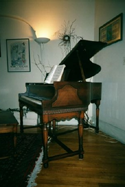 Hardman and Peck Baby Grand Piano
– sold by Kirsten Hommann
I would like to sell my baby grand piano, which was built in 1954. The
brand is Hardman and Peck, a New York based piano maker.
---
02/06/06
John Broadwood – sold by Richard Dacey
John Broadwood. 7′ 6″ Grand piano, 1911. Cast iron, barless frame.
More Pianos For Sale
Upright Pianos
Digital Pianos
Keyboards
Browse
Piano Market