JJ Hopkinson Piano
Completely reconditioned & repolished in 1998 overstrung , underdamped 1923 JJ Hopkinson upright piano
castiron frame
mahogany case
excellent condition, both in sound (retuned Aug '07) & in appearance
Must be seen !
Moira, East Midlands (5 mins from Ashby de la Zouch)

Buyer collects
Asking £699.00

Also available, matching duet bench £139.00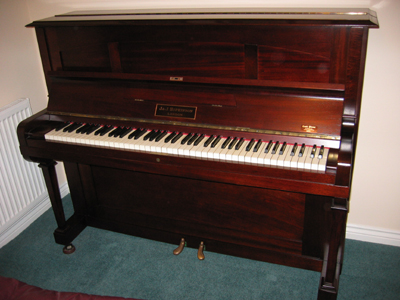 Picture: JJ Hopkinson Piano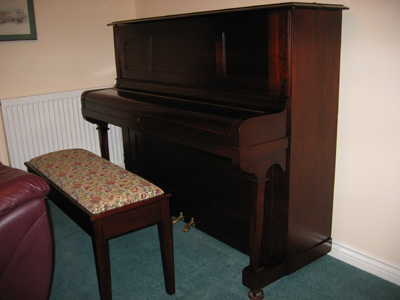 JJ Hopkinson Piano Lid Closed
Listed 28/10/07

Testimonial
Hello,

"After a few weeks on your website we have decided to withdraw our ad since someone within our family has decided to buy it from us.
Ironically, as soon as this decision was made, we did receive a call from someone interested in it who saw our ad on your website, but unfortunately it was too late.
Thank-you for your piano-advertising service, & if anything happens to put our piano back on the market, we would certainly use your website again."

Best regards,
Elaine Jephcott
Free Digital Piano Buyer's Guide:
"7 Things You MUST Know Before Buying A Digital Piano", by Graham Howard




Click here to claim your free copy!
You get all this:

1) How to understand confusing terminology (Polyphony, graded hammer, etc.)
2) Common digital piano questions
3) The disadvantages of buying second hand versus new
4) 6 simple tests you can do in a piano store
5) The best digital piano brands: 1st) ? 2nd) ? 3rd) ?…
6) Top ten piano models: (a) under £500 (b) £500 to £1,000 (c) over £1000
7) Should you buy online or in a physical store?
Click here to claim your free copy!
Do you have a secondhand piano for sale? Visit the page 'how to sell your piano' to find out how to list it.
Interest Free Finance About Us Warranty Affiliate Programme Privacy Policy Terms & Conditions