Kawai KDP90 – Premium Rosewood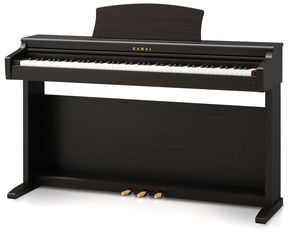 >> Buy from Gear4Music
Always in stock | Next day delivery
Finance available | Lowest Price


"The rating system for digital pianos" – Check this piano's rating out of 100 and compare other makes, more info
"The Kawai KDP90 is a budget piano for beginners only"
Reviews
1) Kawai KDP90 versus Yamaha YDP162
Hi Graham,
Thanks a lot for your excellent book! I was hesitating a lot to buy or not a Kawai KDP90, but finally I selected a Yamaha YDP162.
The touch of them is almost the same but the Yamaha sounds better for me.
I was also testing the Clavinova 525 but somehow the162 was more impressive and better in price of course.
But definitely you opened my eyes to see what is important really and what's not!
Review by János Varro (from Hungary) (08/09/2014)
Read more Kawai reviews
Alternatives to the Kawai KDP90:

Do you have a question about the KDP90?
Click the live chat link below for an immediate response:
Live Chat Offline

FREE Digital Piano Buyer's Guide, by Graham Howard.

Click here to claim your free copy!

>> Compare with the Classenti CDP1
Reviews
None yet…
Useful Resources
1) Click here to read the report: "Which Digital Piano To Buy" by piano advisor, Graham Howard
2) Check out the 'ever expanding' piano questions section on this site .
3) Click here to read the report: "7 Things You MUST Know Before You Buy A Digital Piano"