Korg C720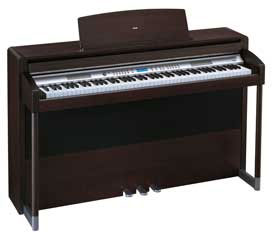 Discontinued. See new model Korg C540

Call UK Pianos for advice on: 020 8367 2080.

Ask me a question online…
"Graham Howard,
Piano Advisor"

FREE Digital Piano Buyer's Guide, by Graham Howard.

Click here to claim your free copy!
You also get:

30 day money back guarantee

3 year warranty (any faults will be repaired in your home or the piano collected and replaced)

Free delivery

Power adaptor
Delivery
Free delivery to UK, Ireland and most European Countries.
Korg C720 RW digital piano, RH3 graded hammer action keyboard with 88 keys, 40 sounds, 62 voice polyphony, reverb, chorus, brilliance, layer mode, split mode, 30 performance memories, metronome, 205 internal demo songs, 2 track recorder, LC display with backlight, 3 pedals, Midi IN/OUT, USB Midi jack, 2 headphone jacks, line in/out jacks, key cover, loudspeaker 2 x 47 Watt, dimensions L x D x H in mm: 1420 x 470 x 897, weight: 80,5kg, colour: rosewood.
Useful Resources
1) Click here to read the report: "Which Digital Piano To Buy" by piano advisor, Graham Howard
2) Read all Korg digital piano reviews
3) Check out the 'ever expanding' piano questions section on this site.
4) The world's first and only dedicated digital piano forum. Check it out here
5) Click here to read the report: "7 Things You MUST Know Before You Buy A Digital Piano"
Have You Heard Of Piano Rental?
Not sure if your child will take to playing the piano?
Are you worried about the initial investment?…
Then check out our 'rent-to-own' programme!
Click here for details.
Browse similar pianos to the C720: More Korg digital pianos
Interest Free Finance About Us Warranty Affiliate Programme Privacy Policy Terms & Conditions