Korg LP350

Colour: Black (also available in white)
(includes stand and 3 pedals)

53.00, more info
"The rating system for digital pianos"
Discontinued, Replaced by Korg LP380
Alternatives to the Korg LP350:
Other Colours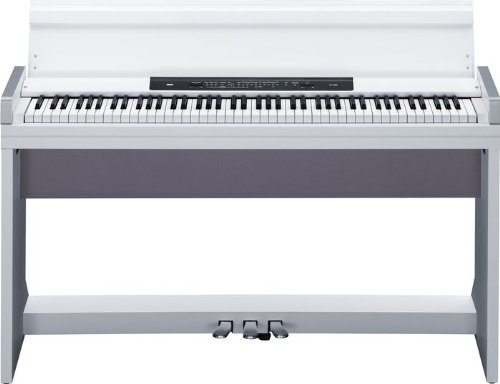 LP350 – White

Do you have a question about the LP350?
Click the live chat link below for an immediate response:
Description
Korg LP350 Digital Piano slimline, 88 weighted hammer action key´s (RH 3), 3 level touch control, 30 Sounds, sampled piano sound from a concert grand piano, polyphony 60 notes, 30 demo songs, transpose funktion, Reverb and Chorus Effects, Metronom, 3 pedals, output L/R mini-stereo jack, 2 headphone jack´s, Midi in/out, key cover, Lautsprecher System 2 x 11 Watt, dimensions in mm:W X D X H in mm: 1353 x 277 x 777, weight 42,5 kg
Rich, expressive sound combines with a sleek and modern body. Introducing the LP350 digital piano. This modern slim-line piano will enhance your home – not only with its deeply expressive sound, but also with its beautiful appearance.
Modern style digital piano that is pleasing to both the ears – and the eyes!
The LP350 is designed to visually complement nearly any living space. Less than 11 inches deep, the slim-line styling is both space-saving and efficient. When not in use, the thoughtful design leaves a smooth, flat top with absolutely no protruding hinges, allowing the LP350 to become part of your room's decor. Yet in spite of its slim-line profile, the LP350 is equipped to provide a robust and accurate piano performance, complete with a grand-touch action, all three pedals, and a powerful speaker system to deliver a rich piano sound.
The LP350 is available in two colors – chic and understated black, or restful and elegant white – each with metallic silver accents that add a modern touch.
Rich and refined piano sounds that convey every nuance
The piano sound of the LP350 was meticulously sampled – in stereo – directly from a concert grand piano to ensure a lavishly resonant tone. The samples were captured at multiple velocity levels, so subtle variations in expression will be naturally reflected in the piano sound you hear. The LP-350 extends beyond piano to include a rich variety of sounds – thirty in all! In addition, the Layer mode allows two sounds to be played simultaneously; and of course the balance between the two sounds is adjustable.
Korg's top-of-the-line piano action
The LP-350 features our finest piano touch and feel, using our RH3 (Real Weighted Hammer Action 3). Just as on a traditional grand piano, the keyboard provides a heavier playing touch in the lower register, becoming progressively lighter towards the upper keys. Refinements designed for capturing rapidly repeated strikes ensure that the pianist's expressive abilities will not be impaired even during fast passages. Three levels of touch sensitivity are available using the Key Touch Control function, allowing you to customize the dynamic response to your own playing style. As a measure of environmental responsibility, Korg does not use lead in the keyboard hammers.
Powerful speaker system generates rich, vibrant sound
The internal stereo sound system features two large 10 cm speakers powered by a pair of 11 watt amplifiers. These speakers are housed in a bass-reflex enclosure, providing extended low-end response for a deep, full sound. The position of the speaker enclosure below the keyboard allows the sound to envelope the entire piano, creating a more natural resonance.
Premium pedal performance
Pedals are an indispensible part of piano performance, and the LP350 provides the same three pedals found on a concert grand piano: damper, soft, and sostenuto. Both the damper and soft pedals support half-pedaling to allow more subtle expressive touches. The entire pedal unit can be repositioned on the piano, providing extra support when used free-standing, or offering a more compact footprint when placed against a wall or partition.
Additional features to enhance your performance enjoyment
- Effects: The LP350 features on-board effects to enhance the sound; reverb to add depth and ambience, and chorus to add motion and fullness. The depth for each effect is independently adjustable.
- Metronome: The metronome is convenient for practice and learning. The tempo can be set by the slider, or a specific tempo may be entered manually. In addition, the meter/time signature is also selectable, with a selectable accent (standard or bell) to mark the downbeat. The metronome volume can be freely set.
- Key Transpose: The musical key of the LP350 can be quickly set, to allow familiar fingerings while sounding different keys. This is helpful when working with singers with varying ranges (male/female etc.) or different instruments.
- Temperaments: In addition to equal temperament and piano stretch-tunings, you can choose from two historical temperaments (Kirnberger and Werckmeister) for period-correct performances.
- Demo songs: Thirty demonstration songs ranging from classical to originals can be individually selected, or listened to in series, showcasing each of the onboard sounds.
- MIDI connectors: The LP350 provides both IN and OUT jacks that support MIDI, the standard way to transfer performance data between electronic musical instruments and computers. This can be used for educational software, "edutainment" applications, MIDI recording or notation software.
- Dual headphone jacks: Two headphones can be connected simultaneously for student/teacher; parent/child; etc.
Specs
Keyboard: 88 notes (A0 ~ C8), RH3 (Real Weighted Hammer Action 3) keyboard
Touch Control: Light, Normal, Heavy
Sound Generation: Stereo Sampling System
Polyphony: 60 notes (max)
Programs: 30 sounds (5 Pianos, 7 Electric Pianos, Harpsichord, 2 Clavs, Vibraphone, Marimba, Acoustic Guitar, 3 Jazz Organs, 3 Church Organs, 3 Strings, 3 Choirs)
Effects: Reverb, Chorus (3 levels each)
Demo: 30 songs (10 songs in 3 banks)
Metronome: Tempo, Time Signature, Accent and Volume controls
Tuning: Key Transpose, Fine Tuning, Temperament (Equal, Kirnberger, Werkmeister)
Layer Function Pedal: damper**, soft**, (**half-pedaling supported), sostenuto
Connections: OUTPUT (L/MONO, R: mini-stereo), 2 x Headphones, Damper, MIDI (IN, OUT)
Main Amp: 2 x 11 Watt
Speakers: Speakers (2 x 10 cm) with bass-reflex speaker box
Power Supply: DC 12V (External AC adapter) 3.5A
Dimensions: 53.27" (W) x 10.91" (D) x 30.59" (H)
Weight: 93.70 lbs.
Color Options: Black (BK), White (WH)

>>> Compare with Classenti CDP1
Delivery
Free UK delivery.
Korg LP350 Reviews
"The deciding factor was its compactness"
Hi Graham
We went to listen to the Yamaha's, the CLP330 was very mellow, the CLP430 really did appeal and was going to be our choice.
The next day we went to see and listen to the Korg LP350, you may not agree but we found the sound compatible with the CLP430, the deciding
factor was its compactness, ok it wasn't so attractive as the CLP430 as a piece of furniture and didn't have all the bells and whistles.
At the end of the day my wife and her tutor did agree with the performance and sound and the bonus being the compactness, the tutor lady
drives a Yamaha Clavinova.
I must congratulate you on the very comprehensive booklet Choosing your Piano. Thank you for your assistance
Review by Richard Stone, Milton Keynes, UK (06/12/2011)
"Looks good, and sounds great"
I'm delighted with my LP350 piano. It looks good, and sounds great. I'm impressed too by the simplicity of putting it together out of the box.
Looks as if Korg have put a lot of thought into planning the electronics, so as to give a great variety of sounds without compromising a decent piano representation.
Review by Maurice Holtz (02/07/2012)
Read more reviews of the Korg LP350

Click here to write a review

FREE Digital Piano Buyer's Guide, by Graham Howard.

Click here to claim your free copy!
Questions and Comments (Email your questions to grahamhoward@ukpianos.co.uk)
None yet
Useful Resources
1) Click here to read the report: "Which Digital Piano To Buy" by piano advisor, Graham Howard
2) Read all Korg digital piano reviews
3) Check out the 'ever expanding' piano questions section on this site.
4) Click here to read the report: "7 Things You MUST Know Before You Buy A Digital Piano"
Have You Heard Of Piano Rental?
Not sure if your child will take to playing the piano?
Are you worried about the initial investment?…
Then check out our 'rent-to-own' programme!
Click here for details.
Browse similar pianos to the LP350: More Korg digital pianos
Interest Free Finance About Us Warranty Affiliate Programme Privacy Policy Terms & Conditions