Piano Makes B
Check out the complete list of piano makes beginning with the letter B. Find popular brands like Baldwin, Barnes, Bluthner, Barrat & Robinson, Bechner, Bechstein, Brinsmead and Broadwood. Some of these manufacturers produce upright or grand pianos, others make keyboards and digital pianos. We are currently in the process of compiling more information about these individual makes – we hope to have this info ready soon.
>>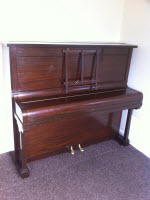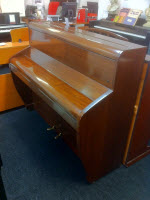 We Buy Second Hand Pianos - Call UK Pianos on 020 8367 2080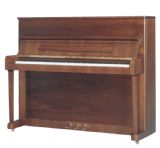 Barrat & Robinson
Barthol
Bluthner
Fine German pianos. Bluthner produce a small number of uprights and grands, but they concentrate on quality. The Bluthner action tends to be on the heavy side.
Bauer
Bechner
Bechstein
Bechstein pianos are made in Germany and are one of the leading piano manufacturers. Bechstein don't produce a lot of pianos, but the quality is considered to be of the highest level.
Baldur
Baldwin
Baltica
Barnes
Baumbach
Baumgardt
Bay
Becker
Behning & Son
Behr Bros
Bellman
Benj Curtaz
These pianos are no longer produced and in their day where not a popular piano. A Curtaz piano – because of its age – today is unlikely to be worth anything at all, perhaps only retaining a sentimental value.
Bentley
Berdux V.
Berger
Belarus
Bergmann
Berry
Betting
Bieger
Biese, W.
Blasius
Blenheim
Blondel
Blüthner
Bogs & Voigt
Bohemia
These pianos have been in production in Czech Republic since 1871. Bohemia know how to make a fine piano with a true European sound.
Böhme & Sohn
Bord, A.
Bosendorfer
Austrian pianos at their best. The true creme de la creme of pianos. Bosendorfer take absolutely ages to make each of their uprights or grands. Every detail must be perfect.
Boston
Breitkopf & Härtel
Bremitz
Brentwood
Billberg
Birke, Willy
Bishop
Brother
Browning
Brunner
Bulow
Burgasser
Bjur Bros Co
Brambach
Brinkmann & Goebel
Brinsmead
Bristol
---
Broadwood
Questions on Broadwood pianos
I stumbled upon your website and tips for piano evaluation. Our piano
has become a rarely played decorative piece of furniture. I was
wondering if you had any information on the value of it?
The piano is a John Broadwood & Sons Ltd London piano made between
George II and Edward VII, piano makers to the British Sovereign, Grand
Prix Paris, the serial number is 108626.
I appreciate any information you may send my way.
Thanks, Kind Regards, Martha Thomson
Hi Martha
Your piano was made around 1907. Broadwood pianos where
made to a very high standard. If it is in good condition then
you can expect to get betweem £700 – £1500.
The only way to get a proper valuation would be to ask a local piano
tuner to come and take a look at it.
The value of the piano depends on the condition of the parts inside.
You can find a list of piano tuners here:
http://www.ukpianos.co.uk/piano-tuners.html
You might also be interested in an article I wrote about how to value
your piano:
http://www.ukpianos.co.uk/get-your-piano-valued-find-out-how-much-it-is-worth.html
Yours pianistically,
Graham Howard
UK Pianos
Further comments/
Dear Graham,
Thank you for the information you sent it has been of great
enlightenment. I was just about to sell the piano for £30 and now
realise that this is to low a sale price.
Yes you may post my question. However, i have just read through it
and realised that there is a typo, where it reads 'rarely unplayed' it
should read 'rarely played'. I'd appreciate if this amendment could
be made.
Thanks again.
Kind regards From Martha Thomson
---
Brandtner, H.Rudolf
Bretschneider, Alexander
Briem
Burgdorfer
Burger & Jaccobi
Interest Free Finance About Us Warranty Affiliate Programme Privacy Policy Terms & Conditions