Rippen Carrilon Piano
Rippen Carillon three pedal overstrung upright piano with stool.
Used by musical son (to grade 8) and who has now his own musical instruments.
Manufactured by Rippen Painofabriek B.V. of Holland and purchased approximately 18 years ago.
Excellent tone having been regularly tuned. (Will require tuning following moving)
Excellent condition
Colour – light oak.
Location. Near Abingdon Oxon.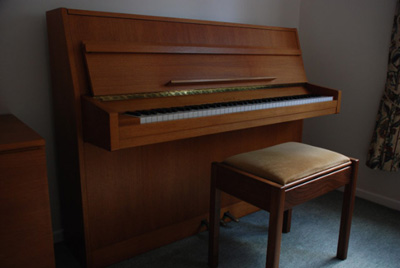 Picture: Rippen Carillon Piano
Listed 14/07/07
Sold! - View more pianos in the new Piano Market. click here.
Price: £600 ovno – Buyer collects
Free Digital Piano Buyer's Guide:
"7 Things You MUST Know Before Buying A Digital Piano", by Graham Howard




Click here to claim your free copy!
You get all this:

1) How to understand confusing terminology (Polyphony, graded hammer, etc.)
2) Common digital piano questions
3) The disadvantages of buying second hand versus new
4) 6 simple tests you can do in a piano store
5) The best digital piano brands: 1st) ? 2nd) ? 3rd) ?…
6) Top ten piano models: (a) under £500 (b) £500 to £1,000 (c) over £1000
7) Should you buy online or in a physical store?
Click here to claim your free copy!
Do you have a secondhand piano for sale? Visit the page 'how to sell your piano' to find out how to list it.
Interest Free Finance About Us Business Services Comment on this post Composers Contact Us Warranty Affiliate Programme Privacy Policy Terms & Conditions