Roland HP103
Find reviews and comparisons for the Roland
HP103. You can also view pictures and specifications of the HP103
digital piano. We try to keep the information on the UK
Pianos website as up-to-date as possible. If Roland
plan on bringing out any new models to replace their HP103
then you will be first the first to hear about
it.

The Roland HP103 is discontinued. Check out the new
model Roland HP204

Compare Roland HP103 with
Classenti CDP2
Or look here for a second hand
HP103:

Used Digital Pianos
Digital Pianos for
Rent
Digital Pianos
Interest Free Finance
Market Place

FREE Digital Piano Buyer's
Guide, by Graham
Howard.




Click here to claim your free
copy!

Ask me a question
online…


"Graham Howard,
Piano Advisor"
You get:
30 day money back guarantee
3 year warranty (any faults will be repaired in your home
or the piano collected and replaced. Read more…)
Free delivery
The HP103 is Roland's popular standard model, offering fine
piano sound and touch, refined design, and excellent performance
features to satisfy all players
With its strikingly real grand piano and other instrument
sounds, its authentic acoustic piano touch, graded hammer action,
and host of features to make playing and practicing more fun, the
HP103 is built to satisfy. Its refined but contemporary upgraded
cabinet and stand offer the dignified and stately air of an
acoustic upright piano. You'll love the metronome, 2-track
recorder, and numerous internal songs, as well as the Grand Space
and other digital sound enhancement features. For beginners and
seasoned players alike, it's the ideal blend of craftsmanship and
technology.
Damper Resonance
Grand Space: magical 3D sound
Impressive harmony with Dynamic Emphasis
The expressive touch of an acoustic grand
Keyboard customize features
Meticulously crafted, designed for convenience
Headphone hook
Practice with the internal songs
A variety of instrument tones
Metronome and 2-track recorder
Appealing new Demo function
Damper Resonance
On the HP103, there is Damper Resonance function, which
re-creates the rich sympathetic string resonance sound when the
damper pedal is pressed.
Grand Space: magical 3D sound
At the touch of a button, suddenly the sound takes on a
three-dimensional depth and presence, as if it were coming from
somewhere farther in front of you. That's the magic of Roland's
all-new Grand Space feature, which adds richness and a gorgeous
grand piano resonance to your playing. This function is just as
amazing through headphones, making it seem as if the sound is
coming from somewhere beyond them—like from the long soundboard of
an acoustic grand. You have to experience it to believe it!
Impressive harmony with Dynamic Emphasis
This feature, employing advanced DSP technology, instantly
enhances the lower and upper range of the piano sounds. The high
and low notes become more clearly delineated, and each note of the
harmony stands out crisply and powerfully, for richer tones,
sweeter harmony, and dynamic sound that you can feel as you
play.
The expressive touch of an acoustic grand
All three models in the HP-Series incorporate one of Roland's
acclaimed Progressive Hammer-Action Keyboards, for the natural
touch and playing performance of an acoustic grand piano. The
keyboards use real hammers rather than springs, providing a lighter
touch in the upper range, a heavier touch in the lower range,
lighter resistance when playing pianissimo, heavier resistance when
playing fortissimo, and a vast touch difference between pianissimo
and fortissimo—exactly like an acoustic grand. The HP-Series will
faithfully respond to each delicate nuance of your fingers.
Keyboard customize features
The keyboard offers a number of key touch adjustment features
for greater expression. With the Touch control, you can customize
the key touch (Light, Medium, Heavy, or Fixed) on any model in the
HP-Series to suit your finger strength and playing style.
Meticulously crafted, for convenience
The HP-Series' cabinets were carefully designed with the little
details in mind. Their elegant, eye-catching mahogany finish and
keyboard covers make them a welcome addition to every interior. And
with a large, adjustable music rest with handy music clips, and a
control panel slanted for ease of operation, they're also
convenient and easier to play. Plus, since they have no protruding
power cord in back, they are flatter and more compact. The new
HP-Series is the perfect balance of beauty and func-tionality.
Headphone hook
The HP103 has two headphone jacks in the front. Each model also
has a handy hook in front for the headphones.
Practice with the internal songs
The HP103 offers 66 popular internal practice songs, so you can
start playing the day you bring it home. These songs are ideal for
piano practice. You can listen to them, change their tempo, or mute
either hand's part and play along. The HP103 also come with
Roland's 60 Classical Piano Masterpieces music book, containing the
scores of most of the internal songs.
A variety of instrument tones
You can choose from 20 realistic instrument tones on the HP103,
such as fabulous piano, electric piano, harpsichord, organ, strings
and many others—plus an additional 4 tones exclusive to Acoustic
Layering. For more performance fun, select a different instrument
for each hand with the Split function, or combine two sounds for
Dual mode play.
Metronome and 2-track recorder
All three models in the HP-Series have a metronome function to
help you develop a sense of rhythm and tim-ing. On the HP103, there
is also a 2-track recorder, so you can record your performances and
play them back to check on your progress as you improve.
Appealing new Demo function
The advanced Demo function lets you switch the Piano Resonance,
Grand Space, and many other onboard functions on/off while the
dedicated demo phrases play, so you can immediately hear how each
function sounds—and discover just how powerful and expressive the
new HP-Series really is.
Other finishes: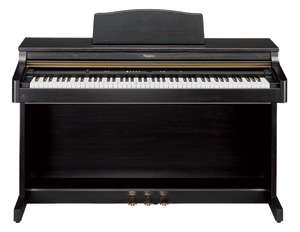 Roland HP103ERW
The Roland HP103ERW is discontinued. Check
out the new model Roland
HP-204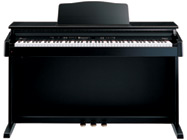 Roland
HP103EPE

The Roland HP103EPE is discontinued. Check
out the new model Roland
HP-204
Related Links
Similar pianos to Roland
HP103