Roland HP505
Colour: Rosewood

73.60, more info
"The rating system for digital pianos"
In stock (Delivery 1-2 days)
-> Includes FREE piano stool, headphones and book of classical pieces <-

Price: £2,025 (including VAT) -- Delivered FREE in the UK
>> Call 020 8367 2080 to order.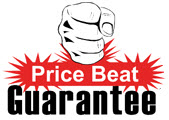 Seen a lower price? We will beat it! - email details to admin@ukpianos.co.uk
Call 020 8367 2080 to order.
Other Colours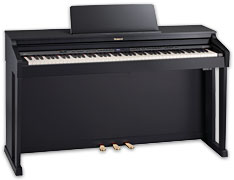 Satin black
Price £2,025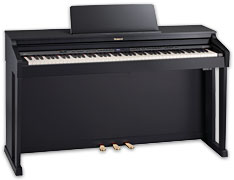 Polished ebony
Price £2,475


Do you have a question about the HP505?
Click the live chat link below for an immediate response:


FREE UK delivery



30 day money back guarantee
(You have 30 days to return it for a full refund)


3 year UK and European warranty
Free with this purchase: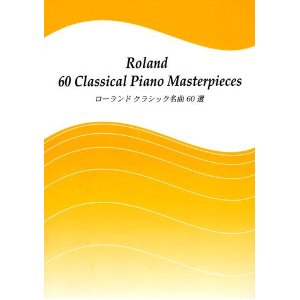 FREE Book of Classical Piano Pieces
Alternatives to the Roland HP505
Description
Coming soon
Delivery
Free delivery to UK, Ireland and most European Countries.
Assembly
The piano comes flat-packed and is very easy to assemble. The electronics and keyboard are fixed in - all you have to do is assemble the stand. We advise two people to do the job because of the keyboard's weight. It's safer to have a helping hand when lifting it on to the stand.
Roland HP505 Reviews
1) "We love the sound and touch"
Dear Graham
Thank you for your help in selecting and purchasing our Roland HP505 digital piano.We love the sound and touch but are still exploring its possibilities.It has certainly rekindled an interest in music playing in our family.It was most definitely worth paying a bit more than we had intended to.It was easy to assemble but at first we put the back board on the wrong way round!
Review by William (26/06/2012)
--
2) "In this day and age to get personal advice on an issue in a timely and professional manner is very unusual and highly appreciated"
Hi Graham,
Sorry for not coming back to you earlier, been mad with getting ready for Christmas.
Anyway I decided to go with your advice and selected the Roland HP505. I have to say I am very satisfied with it. The key weighting and feel are excellent. I was amazed at the quality of the sound especially in the bass.
I ordered the piano from Thomann and it came quite swiftly considering where it had to be shipped from.
As regards you and your site I really can't say enough.
Firstly I found "The Howard Score" really informative and helpful in narrowing down the vast choices available for a digital piano. Even then I was still between a couple of pianos and to get personal advice from yourself on selecting the best one for me was what really made up my mind for me. I must say in this day and age to get personal advice on an issue in a timely and professional manner is very unusual and highly appreciated. Especially when I had indicated to you that I lived abroad and still you had the good grace to come back to me with answers even though you knew that I would not be purchasing the piano directly from yourself.
Kind Regards
Aidan
Read more reviews of the Roland HP505

Click here to write a review
Lowest price available by phone...

Call 020 8367 2080 or email admin@ukpianos.co.uk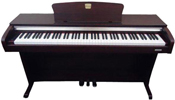 >>> Compare with the Classenti CDP2
Questions and Comments (Email your questions to grahamhoward@ukpianos.co.uk)
Hi Graham,

I visited a music store and tried out a few pianos. Having played with the Roland HP505, now its got a bit tricky as it is just in another league in comparison to the others.
I want the piano for two reasons, the first is to teach as my old acoustic is not good enough for some pupils who are into their grade six and seven exam stuff.
I also want to get compositions down through connecting to pc with cubase. I tried out the trial version and though it was just through using a rubbish old keyboard that I had as a youngster, the virtual piano sounds were ok.
Can you suggest one at a lower price that has good touch sensitivity and also sounds strong enough for the higher grade pupils that will have their lessons here.
Many thanks in advance
Debbie
Reply/ Hi Debbie
The Roland HP503 is also worth considering.
Also the Yamaha CLP440.
I'm not sure if you'd be happy with a piano
below £1,000. The key touch and sound just
won't good enough for you.
Yours pianistically,
Graham Howard
--
"We need a piano that won't break the bank but that will have longevity"
Hi
I wonder if you can help.
My son is 14 and currently working towards his Grade 2 piano and would like a new digital piano that will take him through to Grade 8. (He is also working towards his Grade 6 violin and would like to study music at university so we can be quite confident that he will continue with his studies).
We have looked at some pianos in stores nearby and there is such a variety of options. We have a fairly limited budget and would prefer not to have to take 0% finance to buy but equally we want to buy the best value.
I suppose the question is...can you suggest which would be the best compromise? We need a piano that won't break the bank but that will have longevity and will be suitable for meeting the ABRSM requirements.
Help!!
Philip
Reply/ Hi Philip
For your son to reach grade 8 you will need
to provide him a digital piano that has a
fully-weighted key touch with a minimum
of 5 dynamic levels.
That's the most important requirement.
Secondary to that is a good sound. The tone
should be vibrant and as natural as possible.
The tone should be even throughout, with
no harshness to it.
And note decays should be long. This is
particularly important in the keyboard's
central to mid-treble area. Also the bass.
Two pianos that meet the above criteria
quite well are the Roland HP505 and
Yamaha CLP470.
You can see these pianos here:

http://www.ukpianos.co.uk/roland-hp505.html
http://www.ukpianos.co.uk/yamaha-clp470.html
Yours pianistically,
Graham Howard

FREE Digital Piano Buyer's Guide, by Graham Howard.



Click here to claim your free copy!
Useful Resources
1) Click here to read the report: "Which Digital Piano To Buy" by piano advisor, Graham Howard.
2) Read all Roland digital piano reviews
3) Check out the 'ever expanding' piano questions section on this site.
4) The world's only dedicated digital piano forum. Check it out here
5) Click here to read the report: "7 Things You MUST Know Before You Buy A Digital Piano"