Second-Hand Classenti CDP2 Digital Piano (Dark Rosewood)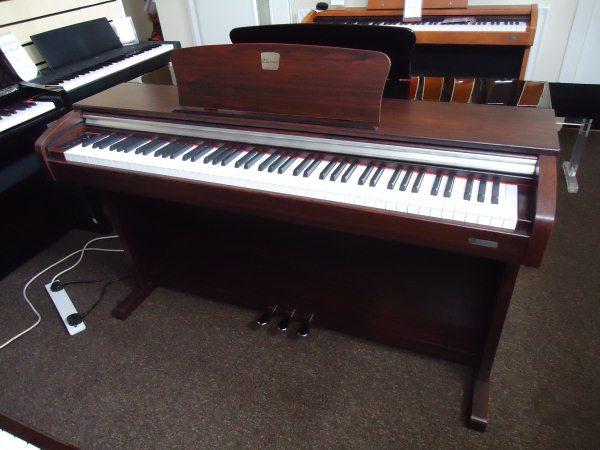 Call 020 8367 2080
2 Year Warranty Included
New Price £999
Price £595 (including vat)
Delivery: £45 within 100 miles of London, £65 other areas of UK (or collect from UK Pianos in Enfield, North London)
Age: 16 months
Colour: Dark Rosewood
Type: Second Hand
Condition: Very Good
Warranty: 2 Years
Questions? Call 020 8367 2080 or email admin@ukpianos.co.uk
Dimensions:
Length 138cm (54.3 inches), Height 82cm (32.3 inches), Depth 42cm (16.5 inches)
Music Rest Height: 17cm (7 inches)
Music Rest Width: 63cm (25 inches)
Floor to bottom of keybed (leg room): 65cm (25.5 inches)
Weight of keyboard section: 40kg (88 pounds)
Overall Weight: 50kg (110 pounds)
Delivery Time
Greater London and surrounding areas within 2-3 days.
Rest of the UK within 1 week.
View this piano in our Enfield Store or call 020 8367 2080 to reserve it.
This piano is on display in the UK Pianos showroom: 83 Southbury Road, Enfield, EN1 1PJ (8 free parking spaces on forecourt)
"The most important thing you need from a digital piano when you're learning is a realistic touch. A good piano sound and a minimum of 4 touch sensitivity levels (pp, mp, mf and f) are also important. Other factors such as: dimensions, weight, colour, and 'bells and whistles' shouldn't really be a deciding factor in your purchase",
Graham Howard, Piano Advisor and Author of "The Digital Piano Bible", Get your free copy here
If you need advice on buying a digital piano you can either send me an email: grahamhoward@ukpianos.co.uk or call 020 8367 2080.
Browse
All second hand digital pianos
Digital piano reviews