Second Hand Roland HP103 Digital Piano (Maple)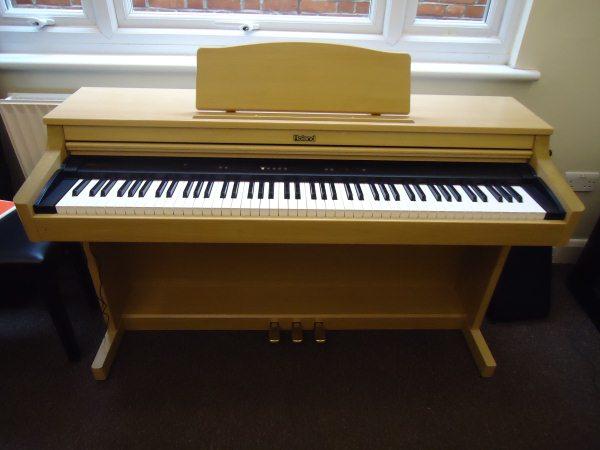 Read specs
FREE 2 year 'At-Home' warranty (parts and labour included)
Price £895
Rent-to-Buy: £45 per month, more info
Interest Free: Pay over 12 months, read details
>> To buy or rent this piano call 020 8367 2080.
Delivery: £45 anywhere in the UK (or collect from UK Pianos in Enfield, North London)
Age: 5 years
Colour: Maple
Type: Second Hand
Condition: Fair (veneer missing from ends, also some minor scratches and marks)
Warranty: 2 year 'at-Home' (parts and labour)
Dimensions:
Width 139cm (55 inches)
Depth 42cm (17 inches)
Height 84cm (33 inches)
Weight kg
Delivery Time and Cost
London and surrounding areas within 2-3 days.
The rest of the UK usually within 1 week.
Delivery £45 anywhere in the UK, or collect from our North London store.
View this piano in our Enfield store or call 020 8367 2080 to reserve it.
This piano is available on Rent-to-Buy
Rental Forms to print:
Rental
Standing order
Terms & conditions

Call 020 8367 2080 for more information.
This piano is on display in the UK Pianos showroom: 83-85 Southbury Road, Enfield, EN1 1PJ.


"The most important thing you need from a digital piano when you're learning is a realistic touch. A good piano sound and a minimum of 4 touch sensitivity levels (pp, mp, mf and f) are also important. Other factors such as: dimensions, weight, colour, and 'bells and whistles' shouldn't really be a deciding factor in your purchase", Graham Howard, Piano Advisor and Author of "7 Things You MUST Know Before Buying A Digital Piano"
If you need advice on buying a digital piano you can either send me an email: grahamhoward@ukpianos.co.uk, call 020 8367 2080, or click on the link below to chat with me online…


Get a FREE 75 page report by piano advisor, Graham Howard…
"7 Things You MUST Know Before Buying A Digital Piano"
1) How to understand confusing terminology (Polyphony, graded hammer, etc.)
2) Common digital piano questions
3) The disadvantages of buying second hand versus new
4) 6 simple tests you can do in a piano store
5) The best digital piano brands: 1st) ? 2nd) ? 3rd) ?…
6) Top ten piano models: (a) under £500 (b) £500 to £1,000 (c) over £1000
7) Should you buy online or in a physical store?
Click here to claim your free copy!
Browse
All used digital pianos
Digital piano reviews