W H Barnes Piano
W H Barnes upright piano in good condition, has been well looked after throughout its life. Helped my wife through grade 7 over 25 years ago and has been played regularly ever since.
Age: Believed to be built around 1935 but have no evidence to support this claim.
Colour: Dark wood.
Location: Northamptonshire NN9.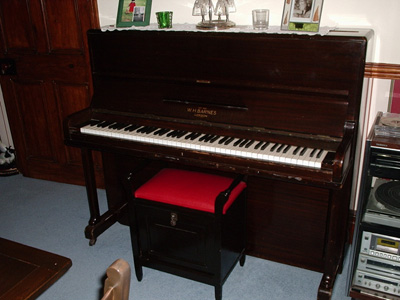 Picture: Barnes Piano
Listed 09/05/07
Sold! - View more pianos in the new Piano Market. click here.
Price £395/offers – Buyer to collect
Free Digital Piano Buyer's Guide:
"7 Things You MUST Know Before Buying A Digital Piano", by Graham Howard




Click here to claim your free copy!
You get all this:

1) How to understand confusing terminology (Polyphony, graded hammer, etc.)
2) Common digital piano questions
3) The disadvantages of buying second hand versus new
4) 6 simple tests you can do in a piano store
5) The best digital piano brands: 1st) ? 2nd) ? 3rd) ?…
6) Top ten piano models: (a) under £500 (b) £500 to £1,000 (c) over £1000
7) Should you buy online or in a physical store?
Click here to claim your free copy!
Do you have a secondhand piano for sale? Visit the page 'how to sell your piano' to find out how to list it.
More Barnes Pianos
Barnes Piano
Interest Free Finance About Us Warranty Affiliate Programme Privacy Policy Terms & Conditions