Yamaha CLP240 – Dark Rosewood

Available in four colours: dark rosewood, cherry, mahogany or polished ebony.
The Yamaha CLP240 is discontinued. Check out the new model CLP340

Call UK Pianos: 020 8367 2080

FREE Digital Piano Buyer's Guide, by Graham Howard.

Click here to claim your free copy!

Compare Yamaha CLP240 with Classenti CDP2
Look here for a second hand CLP240:
Digital Pianos Interest Free Finance

Call UK Pianos for advice on: 020 8367 2080.

Ask me a question online…
"Graham Howard,
Piano Advisor"
You get:

30 day money back guarantee

3 year warranty (any faults will be repaired in your home or the piano collected and replaced)

Free delivery
You also get:
Free Music Book – 50 Greats For The Piano

The CLP240 is a medium-class digital piano with professional sounds.
GH-3 Keyboard with 88 Keys

28 Voices, 64-voices polyphonic

LED-Display

Chorus/Effect

Reverb

Dual-/Split-Voice

Internal Flash-Rom for Songs

USB to Host

USB to Device

Metronom

14 Demo Songs

MIDI In/Out/Thru

2 Headphone-PlugIns and Headphone-Rest

Amp with 2 x 40 Watt

Free Music Book – 50 Greats For The Piano
Delivery
Free delivery to UK, Ireland and most European Countries.
Assembly
The piano comes flat-packed and is very easy to assemble. The electronics and keyboard are fixed in – all you have to do is assemble the stand. There are only 4 screws that fix the stand to the keyboard and 4 more to fix the stand together.
I do advise two people to do the job though – purely because of the keyboard's weight – It is heavy and safer to have a helping hand when lifting it on to the stand.
Other finishes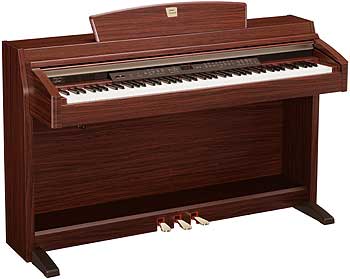 Yamaha CLP240 M. Discontinued. Check out the new model CLP340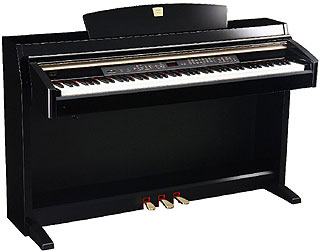 Yamaha CLP240 PE. Discontinued. Check out the new model CLP340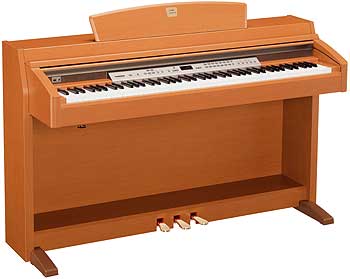 Yamaha CLP240 C. Discontinued. Check out the new model CLP340
View all Yamaha CLP pianos
Browse similar pianos to the Yamaha CLP240: more Yamaha Digital Pianos
Questions and Comments
I've run across your site today after a bit of shopping locally for a digital piano here in the United States.
I went to two main local piano shops; one carried Roland and the other Yamaha. I was impressed by both (though my expectations were low) and the Yamaha CLP 240 impressed me the most in terms of sound and action. However, even that has more bells and whistles than I need, and is already at the upper registers of my price range.
I need a digital piano ONLY because an acoustic won't do for the next several years of my life (price, sound, maintenance). I don't care for any bells and whistles other than a faithful reproduction of acoustic nuances (as best as can be expected) and keyboard touch/action. All I want to pay for is quality construction and a very high quality sound module (note decay, sympathetic resonance, sustain samples, etc). I thought maybe you would have some recommendations on
what is available to someone in the USA…?
cheers,
Ethan Young
Reply/ Hi Ethan
The Yamaha CLP240 has a better sound and touch over all the Roland digital pianos.
If your budget allows, you may also want to check out the CLP270, or the CLP280.
You get a slightly better sound quality with these two models.
Yours pianistically,
Graham Howard
UK Pianos