Yamaha CLP265 GP Digital Baby Grand Piano – Polished Ebony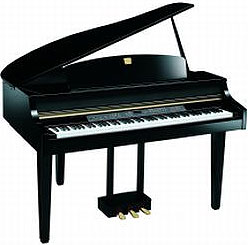 The Yamaha CLP265GP is discontinued. Check out the new model Yamaha CLP465GP.
Alternatives to the Yamaha CLP265GP
You Also Get:


FREE Yamaha piano stool (value £62.99)


FREE headphones (value £29)

FREE Book of 50 Popular Classical Pieces

FREE UK delivery

30 day money back guarantee (You have up to 30 days to return it for a full refund)

3 year UK and European warranty

Ask me a question online…

"Graham Howard,
Piano Advisor"
An absolutely fantastic piano! The Yamaha CLP265 GP is digital, but you wouldn't believe it! The sound is superb (better than some acoustic baby grands). If you can't afford the expensive Rolands (£4,500 +) then the CLP265 is for you.
Yamaha CLP265 GP grand piano cabinet, 88 keys with GH3 graded hammer keyboard, 14 sounds, 64 voices polyphone, dual voice, reverb, chorus, LE-display, internal Flash Rom Memory, 2 track recorder, Midi IN/OUT/Thru jack, Line IN/OUT, USB to Host jack, 2 headphone jacks, key cover, 2×40 watt speakers,
Dimensions: 1434mm x 1146mm x 931mm
Weight: 97 kg

FREE Digital Piano Buyer's Guide, by Graham Howard.

Click here to claim your free copy!
Delivery
Free delivery to UK, Ireland and most European Countries.
Assembly
The piano comes flat-packed and is easy to assemble (instructions in English provided). The electronics and keyboard are fixed in – all you have to do is screw the legs together. The screw holes are pre-drilled and no gluing is needed.
I do advise two people to do the job though – purely because of the keyboard's weight – It is heavy and safer to have a helping hand when attaching the legs.
Useful Resources
1) Click here to read the report: "Which Digital Piano To Buy" by piano advisor, Graham Howard
2) Read all Yamaha digital piano reviews
3) Check out the 'ever expanding' piano questions section on this site.
4) The world's first and only dedicated digital piano forum. Check it out here
5) Click here to read the report: "7 Things You MUST Know Before You Buy A Digital Piano"
Have You Heard Of Piano Rental?
Not sure if your child will take to playing the piano?
Are you worried about the initial investment?…
Then check out our 'rent-to-own' programme!
Click here for details.
Browse all Yamaha digital pianos
Interest Free Finance About Us Business Services Comment on this post Composers Contact Us Warranty Affiliate Programme Privacy Policy Terms & Conditions