Yamaha DGX-620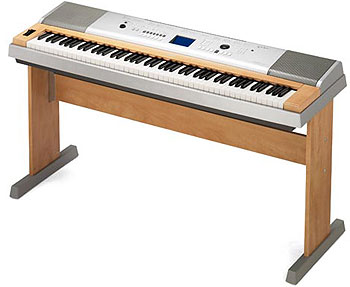 Yamaha DGX620 keyboard – 88 graded hammer-action keys with touch response, 500 sounds, 3 live voices, 5 cool voices, 8 sweet voices, 135 styles, lyrics and score display, internal music database, performance assistant, reverb, chorus, master EQ, internal 6 track recorder, Yamaha Education Suite version 4, pitch bend wheel, USB-device & USB-host connections, sustain pedal input, headphone/line out (stereo jack), 2x 6W speakers. Dimensions: 139.8 x 45.7 x 15.3cm. Shipping weight: 35kg. Colour: Silver.
Specifications:
88-key GHS (Graded Hammer Standard) weighted action
Wood grain stand, sustain pedal and adapter included
USB connection
Bitmap screen displays score and lyrics
Large wave ROM features "Live" stereo grand piano sample
Full keyboard and multi fingering modes
Five types of master EQ
Music Database includes 267 keyboard set-ups by song title
USB MIDI & PC button
500 XGlite/GM voices including 8 Sweet, 3 Live and 5 Cool voices
Yamaha Education Suite interactive lessons
32 note polyphony
Performance assistant
Dual and Split modes
150 styles plus user
30 internal songs, 70 more on CD
Blue backlit display and panel lights
Pitch bend wheel
6-track sequencer
Headphone and sustain pedal output jacks
Two-way stereo speaker system with bass ports
Music rest
Questions and Comments about the DGX620
Re your article regarding private lessons, i fully recommend them. i would
also suggest that the teacher be of mature years as i had and they stood no
nonsense. sorry about the delay re youre e-mail but ive just come out of
hospital.everything ok.i have just purchased a yahama dgx 620 and love it to
bits.please warn potential buyers that the base frame is rather weak. i
made a new base myself and its all go.
Roy
---
What are your reviews on the Yamaha DGX620.??? Do you have any other suggestion that i could buy…

My teacher said i should buy weighted digital paino as it is good to learn on a weighted piano..

would love some advice from u

Thanks

Gary Chillack's
G.Fernandes
Reply/ Hi Gary
I don't advise on buying the Yamaha DGX620. The keys are weighted buy not enough. You really need to look at a digital piano such as the Yamaha YDP131 or (for even more money) the Yamaha CLP220.
You can check these both out here:
http://www.ukpianos.co.uk/yamaha-ydp131.html
http://www.ukpianos.co.uk/yamaha-clp220.html
It is essential to get a piano that has heavily weighted keys so if you want to play a real piano at a later time you will be able to make the transition much easier.
The key weight on all keyboards is too light and I advise you to spend a little more money on a digital piano.
Regards,
Graham Howard
UK Pianos
Interest Free Finance About Us Warranty Affiliate Programme Privacy Policy Terms & Conditions