Yamaha PSR-E243 Keyboard
Yamaha PSR-E243
61 Key Beginner's keyboard
Retail Price £145
Discontinued, replaced by PSR-E253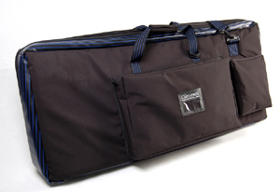 Buy a carry bag for the Yamaha PSRE-243 digital keyboard, more details
(Thick padding, large pockets, shoulder strap, nametag, 5 year guarantee)

(Includes music rest, mains power adapter, FREE 3 year warranty & FREE delivery anywhere in UK)
Colour: Black | Product Code: PSR-E243
3 Year Warranty Included
> Buy this keyboard online or over the phone: Call 020 8367 2080.
> Come and try the Yamaha PSR-E243 in our North London store (8 parking spaces on forecourt).
Included:
FREE UK Delivery (we deliver anywhere in the UK for free)

Music Rest

Mains Power Adapter

FREE 3 Year UK Warranty (all parts and labour covered)

60 Day Trial Period (If it isn't as good as you expected, we collect the keyboard at our cost and give you a full refund)

Safe Shopping (UK Pianos are an authorised Yamaha main dealer, check here)

Peace of Mind (see reviews of UK Pianos shop on Trustpilot: the number 1 review site)

Owner's Manual (operating guide in English & other languages, computer related operations, how to use MIDI/USB, more)
See all features and specifications.
Delivery
Free delivery anywhere in the UK.
See the PSR-E243 in our showroom…
Plenty of parking (8 spaces on forecourt)
Come and try the Yamaha PSRE243 in our North London piano showroom.
Address: 83 Southbury Road, Enfield, EN1 1PJ, see map
Opening times: Monday to Saturday 10am to 7pm
Telephone: 020 8367 2080 | Email: admin@ukpianos.co.uk
Items Included:

Music Rest

Mains power adapter

3 Year UK Warranty, read more
Yamaha PSR-E243 Reviews
None yet.
Read more reviews of the PSRE-243
Click here to write a review
Questions and Comments (email your questions to grahamhoward@ukpianos.co.uk)
None yet.
Useful Resources
1) See all Yamaha piano keyboard reviews
2) Read piano and keyboard questions
3) Article: "Should you learn on a keyboard or piano?"
4) Click here to read the report: "Which Digital Piano To Buy" by piano advisor, Graham Howard
All Yamaha Keyboards
PSR-E243
PSR-E343
PSR-E443
EZ-220
PSR-A300
PSR-S650
PSR-S750
PSR-S950
PSR-A2000
Tyros 5 (61 keys)
Tyros 5 (76 keys)
NP11
NP31
NPV60
NPV80
Browse similar keyboards to the Yamaha PSR-E243: More Yamaha keyboards
Specifications
Description
"The PSR-E243 is the ideal keyboard for beginners on a tight budget"
Primarily geared towards learning musicians, the Yamaha PSRE243 offers the built-in Yamaha Education Suite, which enables students to teach themselves piano as well as built-in accompaniment styles that make it possible to sound like full bands.
USB TO HOST connectivity makes interfacing with personal computers and Apple iPad/iPhone/iPod touch easy.
For more seasoned music makers, these versatile models can also be used as MIDI controllers for computers and high performance sound sources for XG-lite music software applications.
The PSRE243 keyboard has built-in speakers featuring the Ultra-Wide Stereo DSP button that creates greater separation and a more spacious sound. Both models also provide players with more sounds and Styles to explore than ever before.
It has 385 voices and 100 Styles.
In addition, Yamaha offers iOS/Apple music apps for iPhone/iPad and iPod Touch that extend and enhance the music-making experience. Connections to iOS devices require the optional i-UX1 USB MIDI interface cable.
In addition to great sound, the PSRE243 has easy learn-to-play features, a built-in library of songs, connectivity and support for iOS devices and computer music programs.
Additional features of the PSR-E243 include the Yamaha Education Suite – built-in lessons that let users teach themselves to play, a new power-saving mode and 61 full-sized keys. This affordable keyboard also lets users play along with a band or use the dedicated Portable Grand button to instantly call-up a great sounding grand piano.
"Y.E.S" Lesson Functions
Practice at your individual level with the Yamaha Education Suite lesson functions. Now, the playback of the selected song is continuously adjusted to the tempo of the player's performance.

Connection with iPhone, iPad and iPod touch
Extend and enhance your keyboard experience by connecting to your iPhone/iPad/iPod. Requires optional accessory, i-UX1.

Master EQ
You can optmize the overall sound with different EQ settings on the instrument. Tailor the overall output for optimal sound in different listening situations.

Ultra Wide Stereo
Creates a stereo image wider than the speakers using Yamaha's digital signal processing technology.
Dimensions
Width: 945mm (37-3/16")
Height: 117mm (4-5/8")
Depth: 347mm (13-11/16")
Weight: 4.0kg
Number of Keys: 61
Touch Response
Display type: Custom LCD
Language: English
Tone Generating Technology
AWM Stereo Sampling
Number of Voices: 385
GM voices
XGlite
Reverb
Chorus
Master EQ

Ultra-Wide Stereo
Panel Sustain (in menu)
Accompaniment Styles
Number of Preset Styles: 100

Fingering: Multi
Style Control: ACMP ON/OFF, SYNC START,
User Styles
Music Database: 100

One Touch Setting (OTS)
Number of Preset Songs: 102

Compatible Data Format
Playback: SMF

Recording: No (Original File Format)
Lesson/Guide
Listen & Learn, Timing, Waiting, Chord Dictionary, A-B Repeat
Yamaha Education Suite
Metronome

Tempo Range: 32 – 280

Transpose
-12 to 0, 0 to +12

Tuning
PIANO Button
Connectivity
DC IN
DC IN 12V

Headphones
PHONES/OUTPUT x 1

AUX Pedal
1 Footswitch (optional)
USB TO HOST
Amplifiers: 2.5W + 2.5W

Speakers: 12cm x 2
Power Supply
Adaptor (PA-3C/PA-130), or batteries (Six "AA" size, LR6 or Ni-MH rechargable batteries)

Power Consumption
8W (with PA-130)
Included Accessories
Music Rest
Power Adaptor
See the Yamaha PSR-E243 in our showroom…
Plenty of parking (8 spaces on forecourt)
The Yamaha PSR-E243 is on display in our North London store.
Address: 83 Southbury Road, Enfield, EN1 1PJ, see map
Opening times: Monday to Saturday 10am to 7pm
Telephone: 020 8367 2080 | Email: admin@ukpianos.co.uk
>> Any Questions? — email grahamhoward@ukpianos.co.uk
Read more about Yamaha PSR-E243 on the manufacturer's Website.