Yamaha Upright Pianos

Your piano teachers recommend Yamaha upright pianos, your school recommends Yamaha uprights, and so do your friends - what's going on here?

Yamaha have positioned themselves at the forefront of upright and grand piano manufacturing worldwide. The power of the Yamaha brand is difficult to compete against, and practically everywhere you visit in the UK you'll see Yamaha pianos; concert halls, clubs, hotels, shopping centres, restaurants, schools, churches...
>>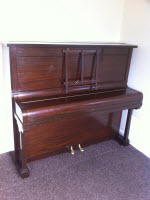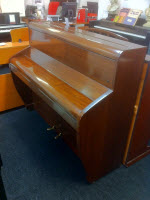 We Buy And Sell Second Hand Pianos - Call UK Pianos on 020 8367 2080

Call UK Pianos for advice on: 020 8367 2080.

Ask me a question online...

"Graham Howard,
Piano Advisor"
UK Pianos Shop, Enfield, North London - Telephone: 020 8367 2080
Open Monday to Saturday 10am to 6pm (8 parking spaces)
Upright & Grand Pianos For Sale | New & Used | Piano Rental | 0% Finance | Piano Lessons
How good are Yamaha upright pianos?
Yamaha pianos are unique in themselves. Here are the main reasons why people buy Yamaha pianos:
immense, controlled power

clear sounds

bright treble

strong bass notes

even and responsive action

huge variety of colours

lots of models to choose from
All this looks great, but why wouldn't I buy a Yamaha upright piano?
Yamaha upright pianos do sound quite bright, they originated from Japan and the Japanese like their pianos to sound on the bright side. A lot of UK musicians prefer the warmer sounding pianos from Germany or Czech Republic.


The cheaper Yamaha upright piano models are made in Indonesia and China. The build quality and sound quality is not as good as the Yamaha pianos assembled in England or the Yamaha pianos made in Japan. If you want to buy a good quality upright piano then it is recommended to spend at least £2,500. This excludes the Yamaha pianos that are produced in China and Indonesia.
Yamaha Upright Pianos

Call For Price

The Yamaha B1 upright piano is one of the best budget model pianos at its Retail Price point.
---
Call For Price
The Yamaha B2 upright piano is very popular amongst beginners and intermediate players.
---
£POA
The Yamaha P114M is a student line upright piano. For a small piano it has a remarkably good tone.
---
£POA
The Yamaha P114 is a student line upright piano. For a small piano it has a remarkably good tone.
---
The Yamaha P112N upright piano has become very grown-up compared with its predecessors. It's smooth modern design fits perfectly into any home.
---
The Yamaha P112NT is a great acoustic piano to learn on and the quality of sound and action is enough for even the more advanced piano player.
---
The P116NT has an astonishing sound potential, which will be hard to be matched by another piano in this class.
---
The Yamaha P121NT upright piano is commonly known as the British version of the U1.
---
The Yamaha V114NT is the smallest of the V series upright pianos. For a small upright acoustic piano, the Yamaha V114NT has a very nice tone and a tremendous bass.
---
Yamaha V118 upright piano. A pleasant sounding acoustic piano that seems to be a popular height for home use.
---
Yamaha V124NT upright piano. Superior performance with a European flair.
---
Brand new casework design with flowing lines. Superior sound quality.
---
Same piano as above with the addition of chrome fittings.
---
The Yamaha U1 upright piano is the most sold acoustic piano in the world. The U1 is popular piano amongst professional players and music teachers.
Yamaha U1 Price Reduced!

The world's most popular piano now available secondhand for £1849. Read more
---
---
Yamaha U3N upright piano. A large acoustic piano that produces power and resonant tone.
---
Yamaha U3S upright piano. A large acoustic piano that produces power and resonant tone.
---
Yamaha U5 upright piano. Outside of the handbuilt pianos the Yamaha U5 is the top of the range.
---
Call For Price

Yamaha YUS1
---
Call For Price
Yamaha YUS3
---
Call For
Price
Yamaha YUS5
---
Handcrafted superior quality Yamaha upright piano at the top of the Yamaha range. The Yamaha SU118C is the ideal instrument for the serious piano player.
---
The new flagship of the SU-series is the SU7. It is the perfect display of timeless craftsmanship and new technical details.
---
Yamaha Silent Upright Pianos
Yamaha silent pianos are great if you want to plug in headphones. You can play late at night without worrying about neighbours.
The silent system used in Yamaha silent pianos is outstanding and extremely reliable.
The P112NS is Yamaha's basic model silent piano.
---
Similar to the above but with a traditional style cabinet.
---
If you need a richer tone, the P116NTS certainly delivers.
---
Big sound, a truly great silent piano.
---
A silent piano for the professionals or top amateurs.
---
Same as above with chrome fittings.
---
The most popular piano in the world now available in the silent version.
---
Huge sound and excellent action. At 131cm tall the Yamaha U3 is the tallest silent piano in the range.
---
Yamaha Silent Disklavier Upright Piano
The ultimate Yamaha upright piano. You can plug in headphones like the silent pianos, the DU1A also plays itself and you can also buy disks with any type of music you choose. Ideal for restaurants.
Questions
---
Please let me know the difference between a Yamaha U3 Upright used piano and a Yamaha U30 Upright used piano and the pros and cons between the 2 machines.
Many thanks
Renuka
Reply/ Hi Renuka
I believe the Yamaha U30 is similar to the U3. The U30 being
a piano made for the Japanese domestic market and not for
export.
If you have seen a U30 in the UK, it must have been exported
illegally.
Yours pianistically,
Graham Howard
UK Pianos
---
Any advice on buying second-hand Yamahas? The only new piano I liked (a lot) was the Yamaha U3 but this is possibly out of my price range. New U1s, P121s sounded very loud/bright/harsh. I know that pianos can be voiced.....but CWP did not have any examples of this in store.

My only remaining doubt is that this second-hand piano is 20 years older than a new one and could therefore last potentially 20 years less than a new one - it did sound very nice though. It has a 1 year guarantee.

Regards,
David
Reply/ Hi David
All modern Yamaha pianos are very bright. For something a bit more mellow you might like to try out a Petrof, Klima or Bohemia.
These pianos are made in the Czech Republic and have a warm, European sound.
The 20 year old Yamaha should be OK. 20 years is nothing for a piano and will last another 40-60 years as long as it is tuned regularly and kept in a room with a constant temperature (not too hot!).
Regards,
Graham Howard
UK Pianos
---
Other Yamaha Pianos
Yamaha Grand Pianos
Yamaha Clavinova
Previous Model Yamaha Upright Pianos
Yamaha C110A
Yamaha C109
Yamaha C113T