Classenti Keyboard Bag CKB10 – Thick Padding, Lightweight, Water Resistant, and Incredibly Tough!
Fits many 88 key stage and digital pianos (see list below)…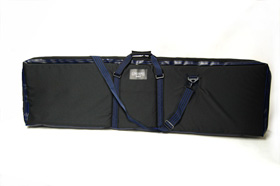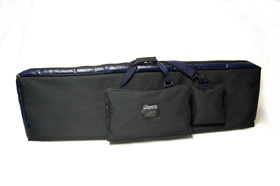 Rear view showing shoulder strap Front view showing pockets and nametag
The World's Strongest Keyboard Bag!


Or order by phone:

Call 020 8367 2080.
Price: £59.97 including vat.
Availability: In stock (Next working day delivery)
Will It Fit My Keyboard?
All keyboard and piano models listed on this page will fit in the Classenti CKB10 bag. We're 100% confident. If it doesn't, then send it back for a full refund including carriage costs.
The Classenti CKB10 keyboard bag is lightweight, thick, and exceptionally tough. This bag has 20mm thick padding front and back, reinforced edges and corners. The possibility of your keyboard/piano being damaged, scratched, or marked is greatly reduced. It's also water resistant.
Comes with shoulder strap, nametag, double carry handles, 2 pockets (one zipped) and one pouch for holding accessories such as: power adaptor, foot pedal, music stand and key cover. What's more, it's really comfortable to carry and fits easily in the boot of your car.
Compared with all other soft keyboard bags, Classenti offers the BEST protection for your piano or keyboard. (Over 30% thicker padding than most keyboard bags. It's also water resistant.
You Get:

5 Year Warranty

60 Day Return Policy
3 Large pouches to carry your accessories
Colour: Attractive black finish with smooth, blue lined edges and corners
Material: Extra strong 300D polyester
Padding Thickness: 20mm
Lightweight: Only 1.5kg (easy to carry around)
Internal Dimensions:
Length (left to right) 144.2cm (56.75 inches)
Depth (top to bottom) 39.4cm (15.5 inches)
Height 17.8cm (7 inches)
Note: If your piano is slightly larger than the bag's dimensions then it will probably fit because the bag will stretch.
Dimensions of pockets
Large, zipped pocket: 48cm x 28cm
Velcro pocket: 23cm x 19cm
Pouch: 24cm x 22cm
Weight: 1kg (2.2 pounds)
Fits these popular keyboards/pianos:
YAMAHA CLP-80, CLP-153S, CP-33, PFP-100, PF-85, P-150, P-200, P-300, PDP-400, S-80, S-90, S-O8, W-5, YDP-113, YDP-123, NP-31, P-35, P-45, P-60, P-60S, P-70, P-70S, P-80, P-85, P-85S, P-90, P-95, P-95S, P-105, P-115, P-120, P-120S, P-140, P-140S, P-155, P-155B, P-155S, P-255, and more
CASIO PX-100, PX-110, PX-120, PX-130, PX-135, PX-150, PX-160, PX-200, PX-300, PX-310, PX-320, PX-330, PX-350, PX-360, PX-400, PX-410, PX-500, PX-560, PX-5S, PX-700, PX-720, PX-735, PX-750, PX-760, PX-770, PX-780, PX-800, PX-830, PX-835, PX-850, PX-860, PX-3, PX-7, CDP-100, CDP-120, CDP-130, CDP-200, CDP-220, AP-33, PL-40R, PS-20, WK-8000ST, and more
CLASSENTI P1
KAWAI ES-3, ES-4, ES-5, ES-6, ES-7, ES-8, ES-100, and more
KORG i-2, x-2, Trinity Pro, Trinity V-3 pro, N-264, SP-100, SP-170, SP-200, SP-300, SP-500, and more
KURZWEIL PC-3X, SP-2X, and more
ROLAND A-80, EP-880, F-30, FP-30, F-50, FP-80, FP-90, F-90, F-100, FP-2, FP-3, FP-4, FP-4F, FP-5, FP-7, FP-7F, FP-50, FP-80, RD-100, RD-150, RD-170, RD-300SX, (NOT RD-300GX, NOT RD-300NX), and more
BROADWAY BR-1
TECHNICS P-30, P-50, SP-30, and more
BENTLEY Stage Pro
GEAR4MUSIC SP5100, SP5500, and more
THOMANN SP5100, SP5500, and more
SUZUKI SE200
If you can't see your keyboard model here,

Call 020 8367 2080 for help.
What our customers say…
"Thank you for the bag i ordered for less than 48 hours i received it just now, i am so glad and would like to share this with whosoever want to know the quality of your services. i would like to buy more things from you when next i needed to."
Thanks a lot, Prince McCollins
—
Many thanks for your excellent service. The parcel came this morning,despite the snow. The bag is just what I need. Thankyou, Nancy Davidson
—
Dear UK Pianos
Just to say what splendid service you provided with my order for the CKB10 case which arrived by courier a few minutes ago!
Very impressed and have a great weekend!
Barry Jordan
—
Just a note to thank you for your excellent service.

I ordered a keyboard bag last Monday afternoon and the parcel arrived 0930 on Wednesday. I think 'brilliant' sums up your service to the customer.

Many thanks,

Maureen Henneveld.
Go to the bottom of this page to see the complete list of pianos that fit in this bag.
Features:
Ideal for many popular stage pianos, compact digital pianos and large keyboards (see list)
Shoulder strap with reinforced buckles for added strength
Double carry handles
3 pockets (1 large zipped, 1 zipped and 1 not zipped)
Nametag
Water resistant
20mm thick sponge padding with re-enforced bottom, sides and top to doubly protect your keyboard's keys and electronic parts.
Colour: Black with blue trimming
Weight 2kg (4.4 pounds)
Material: Extra strength 300D polyester
Fits many popular stage/digital pianos and large keyboards by Yamaha, Casio, Roland, Korg, Gem, Technics…
Double zip goes all the way around the bag
Fits many popular stage pianos. Also some slimline digital pianos. (see list)
Popular makes such as: Yamaha, Casio, Roland, Korg, Gem, Technics, Hohner, Novation, Kurzweil and Kawai. See the complete list at the bottom of this page.
Adjustable shoulder strap
Fits comfortably on your shoulder – making carrying easy. You won't get blisters on your hand.
Double carry handles
Two, strong carry handles, with soft pad. Makes carrying easy. The soft pad that securely fastens the handles reduces damage to your hands.
3 pockets (1 large zipped, 1 velcro, 1 not zipped)
The largest of the three pouches is really LARGE. You can fit 11 music books, music stand, dust cover and mains adaptor with space still to spare. The large pouch has a single zip to secure your music books and accessories. The other pouch has velcro and is large enough to carry a set of headphones and any other small items that need to be secured. The smallest of the three pouches is not zipped, this can be used to carry a sheet music stand or medium sized accessory.
Easy open and close zips or velcro
The zips (3 in total: main and 2 pouches) open with ease, no catching. The bag's main zip is a double one and goes all the way around.
Nametag pouch
Wether you're gigging frequently or flying, there is always the worry of losing or mis-placing your keyboard bag. With the handy nametag pouch, you can reduce this risk. It's also waterproof.
20 mm thick padding
The Classenti CKB10 keyboard bag has thick, 20mm padding front and back. All edges and corners are reinforced with thick material to reduce the likelyhood of impact damage if dropped.
Why not buy a Classenti dust cover to go with this?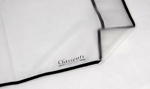 Here is a complete list of keyboards/pianos that will fit in this bag:
Alesis
Alesis Fusion 8 HD
Alesis Photon 25
Broadway
BR1
Casio
AP33
CDP100
CDP120
CDP130
CDP200
CDP220
PL40R
PS20
PX100
PX110
PX120
PX130
PX135
PX150
PX160
PX200
PX300
PX310
PX320
PX330
PX350
PX360
PX400
PX410
PX500
PX560
PX-5S
PX700
PX720
PX730
PX735
PX750
PX760
PX770
PX780
PX800
PX830
PX835
PX850
PX860
PX3
PX7
WK8000ST
Classenti
P1
SP1
Fatar
Fatar SL880
Fatar SL990
Fatar SL990XP
Fatar STU110
Fatar STU2001
Fatar STU90+
Fatar STU900
Fatar VMK188
Gear4Music
SP5100
SP5500
General Music (GEM)
General Music PRO1
General Music PRP7
General Music PRP700
General Music PRP800
Kawai
Kawai CL20
Kawai ES1
Kawai ES3
Kawai ES4
Kawai ES5
Kawai ES6
Kawai ES7
Kawai ES8
Kawai ES100
Kawai L1
Kawai SLB110
Ketron
Ketron GP10
Korg
Korg N264
Korg SP100
Korg SP170
Korg SP200
Korg SP300
Korg SP500
Korg Trin.Pro
Korg TrinV3PRO
Korg Triton Extreme 76
Korg X2
Korg i2
Kurzweil
Kurzweil PC1X
Kurzweil PC3X
Kurzweil SP88
Kurzweil SP88X
Kurzweil SP2X
M-Audio
M-Audio Keystation 88ES
M-Audio ProKeys 88SX
Nord Lead
Nord Lead Stage 88
Orla
Orla C35
Orla C55D
Roland
Roland A80
Roland EP880
Roland F100
Roland F30
Roland F30E
Roland F50
Roland FP50
Roland FP80
Roland FP90
Roland F90
Roland FP2
Roland FP3
Roland FP30
Roland FP4
Roland FP4F
Roland FP5
Roland FP7
Roland FP7F
Roland RD100
Roland RD150
Roland RD170
Roland RD300SX
Studiologic
Numa
SL880
SL990
SL990XP
STU110
STU2001
STU90+
STU900
VMK188
Suzuki
SE200
Technics
Technics P30
Technics P50
Technics SP30
Thomann
SP5100
SP5500
Yamaha
Yamaha CP33
Yamaha NP31
Yamaha P35
Yamaha P45
Yamaha P60
Yamaha P60S
Yamaha P70
Yamaha P70S
Yamaha P80
Yamaha P85
Yamaha P85S
Yamaha P90
Yamaha P95
Yamaha P95S
Yamaha P105
Yamaha P115
Yamaha P120S
Yamaha P140
Yamaha P140S
Yamaha P155
Yamaha P155B
Yamaha P155S
Yamaha P255B
Yamaha P255WH

If you can't see your keyboard model here,

Call 020 8367 2080 for help.