Yamaha offer the biggest range of grand pianos: Baby grand up to concert grand, Silent and Disklavier options, digital and AvantGrand. They're available in a whole variety of colours.
Always consistent and high quality.
DEAL OF THE MONTH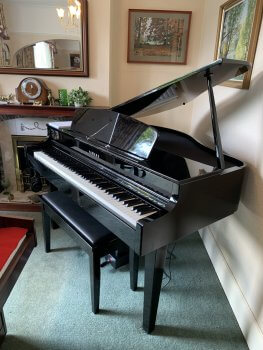 Yamaha CLP565GP Baby grand digital piano
Was £4,995

Special Offer £3,995
(Rent to Buy £149 per month)
UK Pianos Shop in Enfield, North London – Call 020 8367 5107. (Free parking outside)
Broadway offer a selection of baby grand acoustic and digital pianos. The MK11 model has a self-playing feature, so it can be played, or set to play all by itself (keys move up and down on their own). You can even control it remotely. It has 1000's of built-in songs: classical, jazz, blues, pop, rock, gospel, ragtime and more…
There are two pianos in the Kurzweil range: KAG100 and MPG100. The MPG100 looks stunning and has one of the most realistic piano sounds from all digital pianos.
Roland make only digital pianos. If you want something compact with a great sound and authentic key touch then these pianos are worth considering.
"Grand pianos take up more space than uprights, but if you're serious about learning piano and you have the room for it, there's nothing more enjoyable than playing a real acoustic grand. A grand piano will give you the best sound, touch and musical enjoyment", Graham Howard, piano adviser.
Sound Quality
The sound of a grand piano is usually better than its vertical partner due to it's longer strings and larger soundboard. The bass in particular produces a full, resonant sustaining sound. The general rule is; the longer the length of the grand piano, the better and richer the sound will be. Please note that baby grand pianos have the same string length as tall uprights so their sound quality is often similar.
Size (Dimensions)
Size is important when it comes to grand pianos. When we talk about size we usually mean length (front to back). A minimum size you should consider is 4'9″ or 145cm. Grand pianos that are shorter than this tend to have a poor sound quality.
Baby grand pianos
The term "baby grand piano" usually refers to instruments with a length of 5'3″ or less.
Digital Grand Pianos
Broadway
Classenti
Kurzweil
Yamaha
Questions and Comments
My name is Ronwin, I live in South Africa. Recently I acquired an Otto Bach baby grand piano and I would like to know the approximate age/quality of it if possible. I found a number on the frame stamped as "Patent 429809". Any help in finding information on this piano would be greatly appreciated.
Many thanks.
(pianist for 30 years)
Reply/ Hi Ronwin
The Otto Bach pianos were made by the Dietmann piano in
Wellington, Republic of South Africa,
The parts were made in Germany, shipped to South Africa
and assembled there.
Your piano was made in 1977.
I personally fell in love with a Dietmann upright piano that
I played around 7 years ago. I have not had the pleasure
of trying the baby grand out, but can imagine it to have
a very nice sound and a joy to play.
Yours pianistically,
Graham Howard
UK Pianos
—
Hi Graham
Yamaha make a well respected range of digital pianos. Their 'flagship' ones are shaped like baby grand's.
Apart from appearance (looks more impressive), are there any musical advantages for the 'grand' style
in a digital piano? Do they produce a better sound? Does the form of the case behave like a hi-fi speaker
enclosure, which can make a huge difference to the performance of a speaker.
In other words, what's the point?
Reply/ Dear Mike
What you say is correct to some extent…
The larger acoustic body of the digital grand piano
does enhance the sound quality.
What's more, the speakers are usually larger in
digital grands than in standard digital pianos.
Of course, you are paying quite a bit more for
the looks of the digital grand. It's a lot more
costly to produce the grand cabinet.
Yours pianistically,
Graham Howard
UK Pianos
Further/
Many thanks for your most useful explanation. Someone I know has recently bought a Yamaha digital grand piano. It will be interesting to compare it to my just purchased and yet to be installed Yamaha grand piano (non-digital!)  Being able to practice silently is a big advantage of digital instruments. I also have a Roland XP30, which I find useful if I want to practice late at night, or try out different instruments. But my piano teacher has advised not spending too much time with the Roland as the action and touch and completely different. I am studying at a fairly low level later in life, not having had much tuition when I was a child and she is busy correcting all my inbuilt errors in technique.
Presumably one could play a digital keyboard through a high grade hi-fi system to enhance the sound quality if necessary. I must see if I can play the Roland through my Exposure amps. Kinds regards, Mike