1) UK Pianos Main Piano Store – Enfield, North London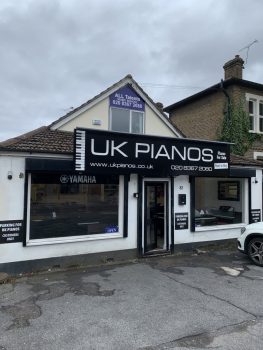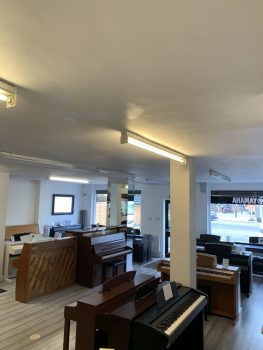 Address
UK Pianos
Cedar Park Road, Enfield, EN2 0HE
Call 020 8367 5107
Email: admin@ukpianos.co.uk
Free parking.
A selection of acoustic pianos and digital pianos.
See list of pianos on display here
Enfield Piano Shop Opening Times:
Open 7 days, 10am to 7pm (by appointment)
Call 020 8367 5107
~Selection of upright, grand and digital pianos on display
~Delivery anywhere in mainland UK
~Types of pianos sold: Upright, Grand, Stage, Digital Pianos and Keyboards for sale or rent-to-buy
~Brands for sale or rental: Gewa, Broadway, Kurzweil, Classenti and Hadley
~New and Second Hand: Yamaha, Clavinova, Roland, Kawai, Casio, Korg, Kemble and more…
~Rent to Buy
~Free parking
See list of pianos displayed in our Enfield piano shop here
2) UK Pianos – Daventry, Northamptonshire, East Midlands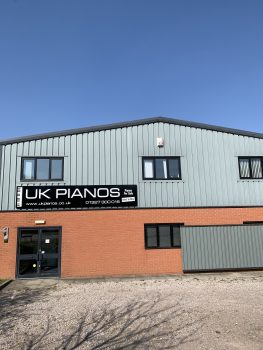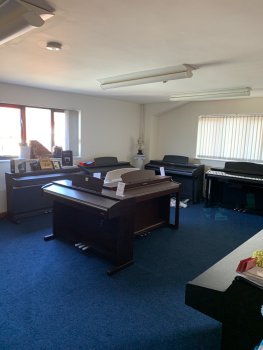 Largest range of digital pianos in the UK (new and second hand)
Free parking on forecourt (30 spaces)
Unit 1 Baird Close
Drayton Fields Industrial Estate
Daventry
Northamptonshire
NN11 8RY
Tel: 01327 300 016
Email: admin@ukpianos.co.uk
Daventry Piano Shop Opening Times:
Open 7 days, 10am to 7pm by appointment.
~Huge selection of digital pianos on display (new and second hand)
– Hundreds of second hand piano stools for sale (all styles and colours)
~Delivery anywhere in mainland UK
~Types of pianos sold: Digital Pianos, Stage Pianos and Keyboards for sale or rent.
~Brands (brand new): Broadway (complete range), Gewa (complete range), Hadley, and Classenti
~Second Hand: Yamaha, Clavinova, Roland, Kawai, Kurzweil, Casio, Korg and more…
~Free parking on forecourt
3) Mobile Piano Shop (anywhere in the UK)
"The Piano Shop That Comes to You"
Try any digital piano in your home before buying or on the Rent to Buy programme.
Feel the keys… Listen to the sound… See how it looks and fits into your space.
Change the piano for a different one within 30 days.
Find out when we're next in your area – just send us an email (admin@ukpianos.co.uk) or call 020 8367 5107.