1) UK Pianos – Enfield, North London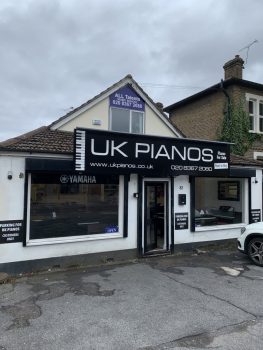 Free parking on forecourt.
Large selection of digital and acoustic pianos.
See list of pianos on display here
83 Southbury Road
Enfield, Middx (North London)
EN1 1PJ
Freephone 0800 358 8880
Email: admin@ukpianos.co.uk
Enfield Piano Shop Opening Hours:

Thursday: 10am to 4pm (no appointment necessary)
Saturday: 10am to 4pm (no appointment necessary)
Other days by appointment, please call Freephone 0800 358 8880
~Large selection of pianos on display
~Free delivery anywhere in the UK
~35+ digital pianos and 15+ acoustic pianos on display
~Types of pianos sold: Upright, Grand, Stage, Digital Pianos and Keyboards for sale or rent-to-buy
~Brands: Gewa (complete range), Broadway (complete range), Kurzweil, Classenti, Hadley, Casio, Korg, Yamaha
~New and Second Hand
~Rent to Buy
~Free parking on forecourt (more parking in Tesco, 2 minutes' walk away)
See list of pianos displayed in our Enfield piano shop here
2) UK Pianos – Daventry, Northamptonshire, East Midlands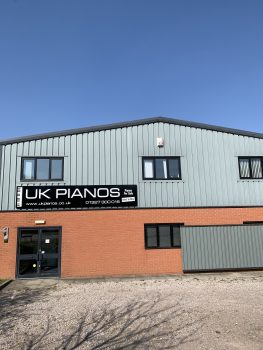 15 Free parking spaces on forecourt.
Large selection of digital and acoustic pianos.
Shop open by appointment only.
Unit 1 Baird Close
Drayton Fields Industrial Estate
Daventry
Northamptonshire
NN11 8RY
Tel: 01327 300 016
Email: admin@ukpianos.co.uk
Daventry Piano Shop Opening Hours:
Monday to Wednesday 10am to 7pm (call to book an appointment) – 01327 300 016
~Selection of digital and upright pianos on display
~Free delivery anywhere in the UK
~Types of pianos sold: Upright, Grand, Stage, Digital Pianos and Keyboards for sale or rent.
~Brands: Kurzweil, Broadway, Gewa, Hadley, and Classenti
~New and Second Hand
~Free parking on forecourt
3) UK Pianos Lessons and Shop – Hackney, East London
Very small selection of digital pianos on display.
16 Stoke Newington High St
London
N16 7PL
Phone: 020 7254 7445
Email: admin@ukpianos.co.uk