Keyboard and Piano Stands

Want a stand for your keyboard or stage piano? Check out the range we have on offer below. You can find single or double braced universal stands, adjustable height or fixed. Most of these piano and keyboard stands fold away easily.
Order by phone:

Call 020 8367 2080 or online.
Sorted by popularity
Classenti XMS-219 Height Adjustable Single Keyboard Stand
Availability: In stock (Next working day delivery)

Universal , single cross over keyboard stand with 5 levels of height adjustment. Suitable for all electronic keyboards and light to medium digital/stage pianos. Folds away. Very strong! Read more…
---
Classenti EMS-210 Height Adjustable Double Strength Keyboard Stand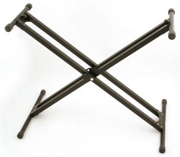 £39.97 inc. vat
Availability: In stock (Next working day delivery)

Suitable for all electronic keyboards and digital/stage pianos, no matter how heavy! This incredibly strong and durable keyboard stand has 4 rubber stops that grip your keyboard or stage/digital piano firmly in place. Read more…
---

---
£39
inc. vat

Quik Lok Single Cross Keyboard Stand T9B

The Quik Lok T9B single cross keyboard stand is made to a very high standard and will take the weight of all keyboards. It can also be used with the lighter stage pianos. This Italian keyboard stand has many different levels of height adjustment so you are able to adjust the keyboard's playing level exactly right. This is a universal keyboard stand and is suitable for all electronic keyboards and digital/stage pianos. The keyboard is gripped by 4 rubber stops on the top. You will need to adjust these rubber stops by moving them in or out depending on how big your keyboard is. More information

In Stock (ships 1 to 2 working days)

---
£39
inc. vat

Quik Lok Stand Single Cross Keyboard T9TI

The Quik Lok T9TI single cross silver keyboard stand is made to a very high standard and will take the weight of all keyboards. It can also be used with the lighter stage pianos. This Italian stand has many different levels of height adjustment so you are able to adjust the keyboard's playing level exactly right. This is a universal stand and is suitable for all electronic keyboards and digital/stage pianos. The keyboard is gripped by 4 rubber stops on the top. You will need to adjust these rubber stops by moving them in or out depending on how big your instrument is. More information

(usually ships 3 to 5 working days)
---
£79.99
inc. vat

Quik Lok Keyboard Stand Double Cross QL-646

The Quik Lok double cross keyboard stand is made to a very high standard and will take the weight of all keyboards and even the heaviest digital pianos. This Italian keyboard stand has many different levels of height adjustment so you are able to adjust the keyboard's playing level exactly right. More information

(usually ships 3 to 5 working days)

---
---

Designed for the Yamaha P60S Stage Piano. More information
(out of stock)
---
Yamaha fixed height keyboard stand for the following: Yamaha PSR 350, PSR 550, PSR 1000, PSR 2000, PSR 340, PSR 540, PSR 640, PSR 740. More information

(out of stock)
---
---
Yamaha Stand for Keyboard L120S

Yamaha fixed height keyboard stand for the Yamaha P-120S stage piano. Please note this stand is designed for the P-120S (silver version) but will not fit the P-120 (black version). More information

(out of stock)
---
---
Special black wooden fixed height stand for the Yamaha P-250, P-200 and P-150 digital/stage pianos. Dedicated to home use, not recommended for transportation (not foldable). More information

(out of stock)
---
---
This wooden stand in cherry finish is designed as a fixed stand for the Casio PX-300 model only. More information

(out of stock)
---
---
Yamaha fixed height keyboard stand compatible with the Yamaha PSR-K1, PSR-295, PSR-290, PSR-275, PSR-175, PSR-170, PSR-125, EZ-250i and EZ-150. More information

(out of stock)
---
---
Yamaha fixed height keyboard stand for the Yamaha stage pianos: P-120, and P-60. Please note this stand is designed for the P-120 and P-60 (black versions) but will not fit the P-120S and P-60S (silver versions). More information

(out of stock)
---

Stagg Keyboard Stand KXS-A4 Single Cross
Stagg single cross keyboard stand. Has 4 levels of height adjustment. Suitable for all electronic keyboards.
More information
(out of stock)
---

Stagg Stand for Keyboard Double Cross KXS-A6
Universal double braced stand with 4 levels of height adjustment. Suitable for all electronic keyboards and digital/stage pianos.
More information
(out of stock)