Korg SP250 Reviews



"The following reviews are from owners of the Korg SP250. The most
recent review is at the bottom of this page", Graham Howard, Piano Advisor
1) "The touch is very similar to my acoustic piano"
I bought a Korg SP250 with which I am delighted. The touch is very similar to my acoustic piano but it is in tune!
The sound is excellent too – I try and use headphones so as not to disturb the rest of the household, and of course
it is very small only being just larger than the size of an 88 keyboard.
The big problem with it which I can see is that it is heavy – about 20kg and being 88 keys just a little large for
my boat, so when we go off sailing in the summer, I hope to have reached a standard where I may buy a smaller,
lighter inferior keyboard to keep up the lessons without it giving me too many bad habits.
Reviewed by Neil Eccles
2) "Very satisfied with the quality of the sound"
I am thankful to Graham to help me choose a Home piano to second my Stage piano.
I was the owner of a Korg SP250 and very satisfied with the quality of the sound of it with the Korg speakers or when amplified and also with the touch feeling.
I was looking for a Home piano to second it. Finally, with the help of Graham I decided for a Korg SP 170 to my satisfaction. Of course, the difference in price does justify a small difference in quality, sound touch and use of the keyboard, but compare well with other brands. However, I suggest ,if you have the money, to stick to the 250 model.
Review by Jean Nuyens (23/11/2012)
For Korg SP250 info, specs and prices > Click here
Pianos to compare with Korg SP250: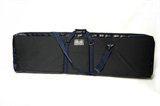 Get a carry bag for the Korg SP250 >> More details
Where to buy your piano?


"Read my free digital piano buyer's guide for a list of:"
The top ten digital pianos
Recommended (and the most trustworthy) internet retailers
Recommended high street piano shops


Free Digital Piano Buyer's Guide
"7 Things You MUST Know Before Buying A Digital Piano", by Graham Howard…

You get all this:
1) How to understand confusing terminology (Polyphony, graded hammer, etc.)
2) Common digital piano questions
3) The disadvantages of buying second hand versus new
4) 6 simple tests you can do in a piano store
5) The best digital piano brands: 1st) ? 2nd) ? 3rd) ? 4th) ?…
6) Top ten piano models: (a) under£500 (b)£500 to£1,000 (c) over£1000
7) Should you buy online or in a physical store?


>> "Click here to claim your free copy!"

Read more digital piano reviews or see all piano reviews


To write a review of your Korg SP250, Click here