Piano Valuation

Get your piano valued instantly over the phone for £25 –
Call 020 8367 2080 for details.
You get advice on the following:
1) Recommended selling price if you sell it privately
2) Price you could expect to receive from a piano dealer
3) Price you could expect to receive from a piano dealer in part-exchange
4) Valuation for insurance purposes (replacement for similar brand new piano)
5) The best places to sell your piano
>>Call 020 8367 2080 for details.
UK Pianos also offer a home-visit detailed valuation service for £95.
If you live in North London, East London, South London or Central London. Just give us a call on 020 8367 2080 to book an appointment with a specialist piano valuer.
As part of the valuation, our valuer will:

Examine your piano thoroughly

Tell you exactly how much you piano is worth

Advise you on a selling price (if you wish to sell of course)

Advise you if it can be tuned, repaired or restored

Recommend the best places to sell your piano

Provide you with a valuation certificate that will be valid with any Insurance Company

What's more, the valuation fee is refunded if you purchase a piano from us within 3 months of your valuation.
Call 020 8367 2080 to book a valuation. North, East, South and Central London only.
>>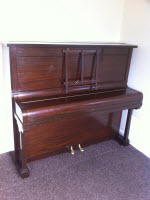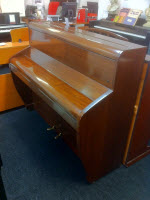 We Buy Second Hand Pianos - Call UK Pianos on 020 8367 2080
What our customers say…
"Thanks for your email and valuation which I've only just picked up as I've had problems with my PC.
Great services, thanks. I'll be in touch."
Kind regards
Jane
A guide on how to value your piano. Here are some of the most common questions we get asked almost everyday.
How much is my piano worth?
This article sums it up perfectly: http://www.uk-piano.org/piano-gen/valuation-of-pianos.html
How or where can I get my piano valued?
My piano is old, does the value go up as it gets older?
Will I be able to get more for my piano if i sell to a dealer or privately?
Do you recommend selling my piano on ebay or in my local piano shop?
Articles
Get Your Piano Valued - Find Out How Much it is Worth
Read questions on valuing pianos