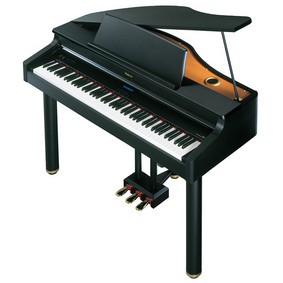 Roland RG-3 Reviews


"The following reviews are from owners of the Roland RG-3. The most
recent review is at the bottom of this page", Graham Howard, Piano Advisor
1) "It has a very dull and booming bass and the tones sound artificial"
After trying RG-3 I decided that the Roland is not realistic in its sound.
It has a very dull amd booming bass and the tones sound artificial. Even though it has the new "supernatural" sound. The RG-3 was a special offer from the store (5900 Euro): they had to get rid of it since its successor RG-3F was coming.
I found the action sluggish (but of course it was the "older" PHA-II action. At first sight the sound was impressive:
using many loud chords and the pedal you might get the "woow" feeling. But playing a chromatic scale across the keyboard revealed many deficiencies. Notes that were too loud, too sharp or just plain ugly.
Reviewed by Paul Provoost 02/08/2010
For Roland RG3 info, specs and prices > Click here
Pianos to compare with Roland RG-3:
Where to buy?


"Read my free digital piano buyer's guide for a list of:"
The top ten digital pianos
Recommended (and the most trustworthy) internet retailers
Recommended high street piano shops


Free Digital Piano Buyer's Guide
"7 Things You MUST Know Before Buying A Digital Piano", by Graham Howard…
You get all this:
1) How to understand confusing terminology (Polyphony, graded hammer, etc.)
2) Common digital piano questions
3) The disadvantages of buying second hand versus new
4) 6 simple tests you can do in a piano store
5) The best digital piano brands: 1st) ? 2nd) ? 3rd) ? 4th) ?…
6) Top ten piano models: (a) under £500 (b) £500 to £1,000 (c) over £1000
7) Should you buy online or in a physical store?

>> "Click here to claim your free copy!"

Read more digital piano reviews or see all piano reviews


To write a review of your Roland RG-3, Click here