Roland RP201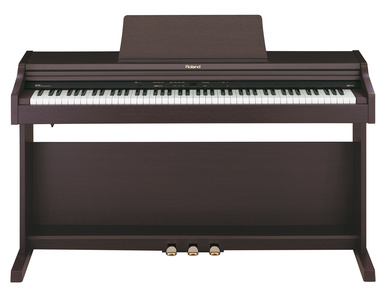 Price: £1,079 (including VAT)
(includes wooden stand, 3 pedals, power adaptor)
Availability: Discontinued, now RP301
Colours: satin black, rosewood
Discontinued February 2012. Replaced by RP301
You Get:

FREE UK delivery

30 day money back guarantee (You have up to 30 days to return it for a full refund)

3 year UK and European warranty
Alternatives to the Roland RP201
Description
Roland RP201 digital piano – new PHA-II ALPHAkeyboard, 88 touch-responsive keys with hammer-action, 306 Sounds; GM2/GS/XG lite-kompatibility, 128 polyphonic voices, transpose, reverb, song recorder, metronome, 65 internal songs, line in/out, MIDI in/out, 2 headphone jacks, Energy Saving Technology amping, 2x 12watt speakers, 105dB; 24W;. Dimensions: 1379 x 424 x 834mm (with music stand), Weight: 43kg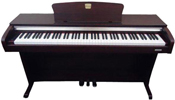 >>> Compare with the Classenti CDP2
Delivery
Free delivery to UK, Ireland and most European Countries.

Ask me a question online…

"Graham Howard,
Piano Advisor"
Roland RP201 Reviews
"The build quality is excellent and the keys do not slip beneath the fingers"
I am retired so cost was a consideration when chosing this digital piano. I opted for the RP201 model from Roland instead of the HP201 due to the ease in which the various features can be accessed. Rather than having to press certain notes on the keyboard there are dedicated buttons for metronome etc. I have had the keyboard for 2 weeks now and have few complaints. One way digital pianos which do not mimic the real thing is how the action becomes lighter when the damper pedal is pressed as the dampers are are not being moved by the fingers. The Roland has a graded hammer action with the bass keys feeling heavier than the treble but this always feels the same. The string resonance makes music by Debussy sound fairly flat without the shimmer associated with a real piano even though it has 128 note polyphony.
However, the sound is warm, not as thin as the Yamahas I have heard, and easily fills the moderately sized room in which it stands. It does not give that extra umph sometimes needed at the end of crescendos but for a keyboard of this price I am not surprised. The build quality is excellent and the keys do not slip beneath the fingers. I have spent most of my adult life playing an old Broadwood baby grand with ivory keys and I must say, for the price, the Roland has so far given me hours of satisfaction.
The stand came as a flat pack but was easy to assemble. However, it does take two people to manoever the pieces into place.
I bought my RP201 digital piano from Compact Music in Sudbury, Suffolk. They offered the cheapest price in the area and also on line, being just less than £1000.00. James, the proprietor, is knowledgeable with over 30 years experience and is more than helpful. Should you prefer a Yamaha he can also supply you with your choice.
Reviewed by David Heslop, Antibes, France
Read more reviews of the RP201

Click here to write a review

FREE Digital Piano Buyer's Guide, by Graham Howard.

Click here to claim your free copy!
Questions and Comments (Email your questions to grahamhoward

ukpianos.co.uk)
None yet
Assembly
The piano comes flat-packed and is very easy to assemble. The electronics and keyboard are fixed in – all you have to do is assemble the stand.
I advise two people to do the job because of the keyboard's weight. It's safer to have a helping hand when lifting it on to the stand.
Useful Resources
1) Click here to read the report: "Which Digital Piano To Buy" by piano advisor, Graham Howard
2) Read all Roland digital piano reviews
3) Check out the 'ever expanding' piano questions section on this site.
4)

The world's first and only dedicated digital piano forum. Check it out here
5) Click here to read the report: "7 Things You MUST Know Before You Buy A Digital Piano"
View all Roland digital pianos