Yamaha DU1 E3 Disklavier Piano
Yamaha DU1 E3 Disklavier Piano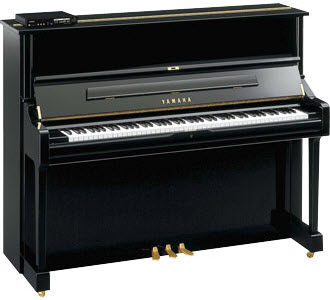 Colour: Polished Ebony | Item Code: DU1 E3
Availability: Not for sale
> Come and see a range of upright pianos in our North London store…
– Address: 83 Southbury Road, Enfield, EN1 1PJ (8 parking spaces available).
All Colours Polished White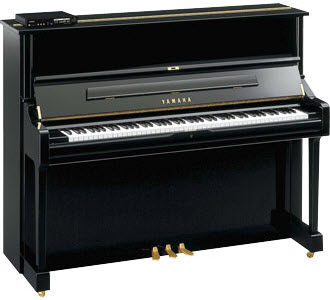 Polished Ebony
You Get:

FREE UK mainland delivery (We deliver anywhere in the UK for free. You can choose the day)


FREE 10 year UK Home warranty (5 years manufacturer, extended to 10 years by UK Pianos)


Safe & Secure Shopping (UK Pianos are an authorised UK Yamaha main dealer: check here)
Alternatives to the Yamaha DU1 Disklavier
Do you have a question about the DU1 Upright Disklavier Piano?
Click the live chat link below for an immediate response:

>> For advice, call 020 8367 2080 or email grahamhoward@ukpianos.co.uk
Description
Relax to the sounds of the world's greatest music
1 Start listening the same day it arrives in your home
There is no special software to install, and you don't need to purchase any music – special music CDs come included with the Yamaha DU1 Disklavier. You can literally start listening as soon as it 's delivered to your home. With over 400 songs prepared for you by Yamaha, all you have to do is sit back and let the DU1 turn your living room into a concert hall.
2 Hear subtle sounds with crystal clarity
The volume on the DU1 can be adjusted to meet your particular needs and ensure that your entertainment never disturbs. With the volume set at its lowest levels, it can play whisper-soft sounds while retaining all of the clarity you expect from a Yamaha acoustic piano.
3 The convenience of Disklavier Radio
With the DU1's Internet Direct Connection (IDC), you can listen to DisklavierRadio by "streaming," receiving radio-type broadcasts from the Internet. DisklavierRadio offers uninterrupted streams of music on over 11 different channels full of tunes to match your mood.
Let Disklavier DU1 help you create your own music
1 Simple and easy controls
Sleek and elegant controls employ a minimum of buttons to keep things simple. The clear and logically laid-out remote is designed to be easy to read as well as easy to use; anyone can quickly and effortlessly enjoy all the DU1 has to offer.
2 Built-in amplified speaker system
The DU1 is more than just a top-quality piano. With its genuine Yamaha speaker system, it is truly an all-in-one entertainment system. Each speaker is angled to create a spacious overall sound that beautiful complements the sound quality of the acoustic piano. Whether playing the piano yourself of listening to recordings, the DU1's state-of-the-art speaker system will bring your music to life like never before.
3 Bright and clear Display
The DU1 features a cutting-edge, easy-to-see display panel called an organic electro-luminescent display. Not only is it bright and easily readable from any angle, but it can be seen clearly from a distance as well.
Preserve your musical memories
1 Easy recording and ample storage space
The DU1 also comes with enough built-in digital storage to hold literally hundred of hours of music and still have room to spare. So feel free to record whatever and whenever you want, all with just the touch of a button.
2 Listen to music directly from USB memory
Listening to your favorite music is as easy as plugging a USB memory stick into one of the USB ports. Transfer music from anywhere and listen to it on your DU1 E3, or replay your own performances for friends and family.
3 CD synchronized recording
The DU1 E3 allows you to effortlessly record yourself playing along with commercial CDs of your favorite artists, bands, and symphony orchestras. Your entire performance, including all key presses, pedal movements, and dynamics, will be recorded as MIDI data and stored in its internal memory. Then, your recorded piano performance will play back in perfect time with the music from your audio CD.
Size/Weight
Dimensions
Width
153 cm
Height
121 cm
Depth
61 cm
Weight
251 kg
Control Interface
Keyboard
Number of Keys: 88
Key Surfaces – White
Acrylic Resin
Key Surfaces – Black
Phenolic Resin
Pedal
Type
Sound Muting System operation
Sensor/Driver
Hammer Sensors
Noncontact optical fibre shutter sensing system*Only for Europe area
Key Sensors
Non-contact optical fiber/grayscale shutter sensing system for 88 keys(senses the key position, keying velocity, and key releasing velocity)
Pedal Sensors
Sustain & shift pedals: Incremental, optical position-sensing system
Key Drivers
DSP servo drive system (servocontrolled solenoids)
Pedal Drivers
DSP servo drive system (servocontrolled solenoids)
Silent System
Piano Silencing Mechanism
Motor-driven hammer shank stopper*Only for Europe area
Voices
Tone Generation
Tone Generating Technology
Advanced Wave Memory 2 (AWM2)
Polyphony
Number of Polyphony (Max.): 32
Preset
Featured Voices
Normal Voices: 676Drum Voices: 21 kits total
Functions
Overall Controls
Tuning
Set at A=440, tunable ±50 cents in 1-cent increment
Storage and Connectivity
Storage
Floppy Disk Drive
3.5" 2DD (720 KB) or 2HD (1.44 MB) floppy diskPossible for optional floppy disk drive
CD
Audio CD (ISO 9600-compliant), Data CD (ISO 9600-Level1-compliant)
Connectivity
MIDI
In/Out
Power Supply
Power Requirements
Local AC current, 120V, 60Hz
Accessories
Included Accesories:
Control Unit (1), control unit suspension bracket (1), remote control (1), battery for remote control (2), sample Pianosoft CD software (2), quick reference (1), operation manual (1)
Get the

brochure
Delivery
Free ground floor delivery anywhere in mainland UK. If delivery is upstairs or downstairs then please call us on 020 8367 2080 for a quote.
Assembly
The piano comes as you see it in the photo. Just ask the piano movers where you want it in your home.
See a range of Yamaha pianos in our North London showroom…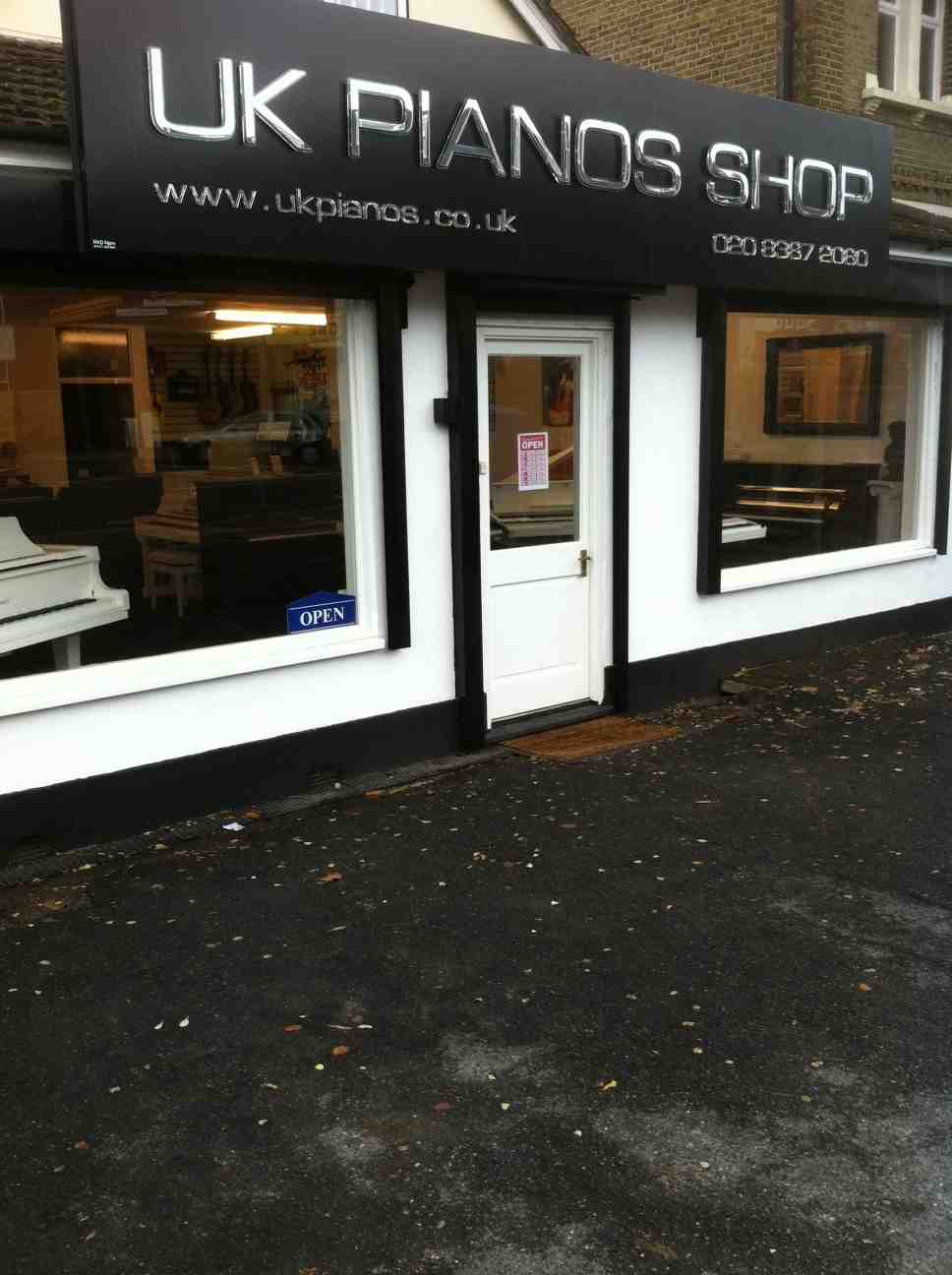 Plenty of parking (8 spaces on our forecourt)
Address: 83 Southbury Road, Enfield, EN1 1PJ, see map
Opening times: Monday to Saturday 10am to 6pm
Telephone: 020 8367 2080 | Email: admin@ukpianos.co.uk
---
Included: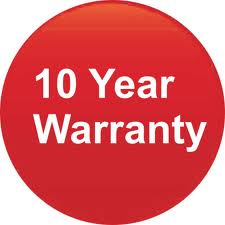 You get a free 10 year 'at-home' parts and labour warranty. This means we send a qualified Yamaha technician to your home. There is no cost to you.
---
Yamaha DU1 Disklavier Reviews

None yet
Read more reviews of the Yamaha DU1 Disklavier piano

Click here to write a review
Questions
None yet
Alternatives to compare:
Browse similar pianos to the Yamaha DU1 Disklavier: More Yamaha upright pianos
Useful Resources
1) Check out the 'ever expanding' piano questions section on this site
2) Read all Yamaha upright piano reviews
Specifications