Bohemia Pianos

Bohemia pianos are fast becoming one of the most desirable pianos to own. The Bohemia piano's price point is somewhere in between your typical Chinese piano and the very popular Yamaha pianos. If you get the chance to play a Bohemia and compare it with other brands, you will realise that the sound is really something quite special. The key touch is neither too light or too heavy and the range of different piano sizes, finishes, and styles that Bohemia offer is quite astounding.
>>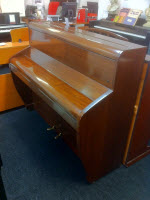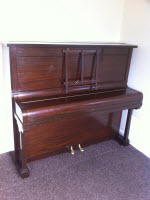 We Buy Second Hand Pianos – Call UK Pianos on 020 8367 2080

Bohemia News
Bohemia has sold the remaining 51% shares of Bohemia Piano s.r.o. to the major shareholder C. Bechstein CZ s.r.o. The respective contract was officially undersigned on April 3, 2007.
The Bohemia Piano s.r.o. is renamed to C. Bechstein Europe s.r.o. with headquarters in Jihlava, Czech Republic. Both production facilities in Jihlava for the Upright Pianos and in Hradec Králové for the Grand Pianos will continue to produce the full line of Bohemia Pianos as previous.
The company C. Bechstein Europe s.r.o. will honor the current relationships with the Bohemia suppliers and customers in the Czech Republic as well as other countries abroad.
Stanislav Křemenák and Marcela Schramlová will continue to work in their positions as the Directors for Production and Sales with full responsibility for the Bohemia Piano line and are members of the new board of management together with Mr. Leonard Duricic, Mr. Karl-Heinz Geishecker and Mr. Gunther Streubel.
The cooperation between the C. Bechstein and Bohemia technicians and the expansion of the production in Hradec Králové will strengthen the presence of the Bohemia brand worldwide in the future.
No changes have occurred regarding Bohemia contact information, such as telephone, fax, mobile phone numbers, e-mail addresses and web sites in Praha, Jihlava, Hradec Králové.
We are looking forward to serving you in the future.
Bohemia Piano,
Jihlava, 17th April 2007
Types of pianos that Bohemia sell
Upright pianos
Grand pianos
Country or origin
Czech Republic
Bohemia Piano History

The production of Bohemia pianos began as early as 1871 in the town of Jihlava when Josef Bělohlávek, a skilled piano maker, opened his small workshop and gave work to several local craftsmen who were to become the first of many generations of piano builders.

The oldest preserved picture
Country or origin: Czech Republic.

In 1924, a local entrepreneur named Josef Breitner started producing pianos in a former textile factory. Later on, he expanded the production in collaboration with the Viennese piano manufacturers Hoffman & Czerny, employing some 50 workers. Three years later Breitner established a joint venture called "Jihlavská Továrna, a.s.", obtained necessary licenses and started producing instruments under the name of "Hofmann & Czerny".

Factory modernisation and piano selection expansion continued until 1944. In 1945, with its manager and chief clerk escaping to Austria, the factory was placed under so-called state management and a couple of years afterwards finally nationalised and incorporated into the newly established company "Piano and Organ Factories", with its headquarters situated in Hradec Králové. Unfortunately, after more than 40 years of this centralisation, all specific construction and sound characteristics of pianos made by different producers were inevitably lost. The Velvet Revolution in 1989 opened new opportunities for private enterprise, allowing the company to escape the giant and find again some of its former individuality. Bohemia Piano, spol. s.r.o. (limited company) was founded in 1993 after purchasing a manufacturing plant in Jihlava from the Czech state. After 45 years, piano-making in Jihlava was in private hands again. The new owners even managed to revive the original specific attributes of individual products.

The Bohemia name


The name "Bohemia" is derived from the original term used by the Romans for the territory which many centuries later became the Czech Republic. The town of Jihlava is a colourful place, founded in 13th century close to rich silver mines, and belongs to the oldest mining towns in our country. It is located in a romantic countryside dominated by the hills of Českomoravská vrchovina, on the border of Bohemia and Moravia, not far away from the Austrian border. Jihlava can be rightly proud of its beautifully preserved architectonic monuments, such as its fair-designed square dating back to 1270, to the times of the king Přemysl Otakar II, surrounded by old stone houses with arcades. The romanticism of this place seems to be more than suitable for piano makers building instruments destined to express the beauty of musical harmony.

The shortage of legally available trademarks resulted in the introduction of several brands allowing the company to meet specific requirements of different world markets. The following brands are currently manufactured by the Bohemia Piano Company: Bohemia, Schlogl, Rieger-Kloss, and Hofmann & Czerny.

The Bohemia Factories

| | |
| --- | --- |
| The Bohemia grand piano and digital piano factory in Hradec Kralove, Czech Republic | The Bohemia upright piano factory in Jihlava, Czech Republic |
The Bohemia Piano Company is following up the pre-war tradition and thanks to the outstanding Czech engineer Miroslav Tauchman – succeeding in developing completely new construction models of Bohemia upright pianos in an extremely short time. With some 3,000 instruments produced annually, Bohemia Piano is amongst the largest European piano manufacturers. The number of piano models offered has increased from 5 to 12 since 1993. All Bohemia pianos are produced either in gloss or matt finish using polyester or polyurethane respectively.

The lack of space in the original factory in Jihlava has been solved by moving a part of Bohemia's production to its new premises in Hradec Králové. The production of Bohemia concert grand pianos is based on perfect collaboration between the designer and highly skilled piano builders. Their perfect workmanship and the best components used result in unique quality of our instruments sought after by professional pianists, music schools and concert halls alike.

Bohemia Piano Models


During the recent years, the Bohemia Piano Company gradually introduced 4 different models of grand pianos, starting at 158 cm in the case of the smallest instrument and including versions 185, 210 and 272 cm long respectively, with the last one intended for professionals performing in concert halls. The quality of Bohemia pianos is monitored on an ongoing basis and individual products are innovated in accordance with specific requirements of Bohemia piano's customers and new materials or procedures introduced to this otherwise predominantly conventional handicraft.

Worldwide Distribution


Instruments manufactured by the company are exported to the whole world, satisfying customers everywhere. Exports represent some 97% of the overall production. Because of different geographical zones, it is necessary to pay extra attention to the protection of pianos from excessive humidity, i.e. to so-called tropicalisation. Thanks to high-quality materials used in the production process, the Bohemia pianos can also resist very dry conditions specific for some areas of Canada or the USA.

Bohemia Digital Pianos


In 1998, Bohemia Piano introduced digital pianos, suitable for modern music-making. Our production programme includes even special products, such as for example sound muting devices allowing the player to hear his performance only in headphones, thus not disturbing neighbours, or classical grand or upright piano mechanics electrically amplified (ES-88, FUTURA).

Bohemia's Future plans


The Bohemia Piano Company has plans for the future and shall certainly keep informed both its customers and the public. Its young team of employees (35 years of age in average) is indeed very well suited for the challenging goals. In addition, Bohemia Piano organises and supports training of another generation of piano makers which is to follow the tradition successfully started in 1871.
Visit the Bohemia piano website