Chase Digital Piano
Read all about Chase digital pianos here. Read reviews, questions and find out how these pianos rate.
>>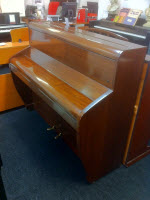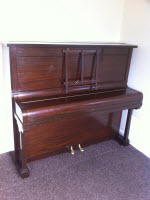 We Buy Second Hand Pianos – Call UK Pianos on 020 8367 2080
Reviews
None at present
Comments
None at present
Questions on the Chase Digital Piano Make
My 13 year old son has asked for a digital piano for Christmas and as a non-playing parent could I please ask for your advice/guidance.
He has passed his Grade 2 and is currently working towards Grade 3 exam.
Our budget is around £350 which I appreciate in piano terms isn't a great deal.
We have been looking at the following:
Casio PX700
Chase Digital C8826
Would it be possible for you to advise which would be the better option. If you are of the opinion that there is a better digital around for the price we are looking to pay your comments would be appreciated.
Many thanks
Lynne Beeston
Hi Lynne
With a budget of £350 the Casio PX110 is really your
best option….
… Besides, the PX700 has been discontinued and the
new model (PX720) is selling for around the £600+ mark.
I haven't yet seen the Chase digital pianos, so cannot comment on them.
Regards,
Graham Howard
UK Pianos
---
Graham,
What is your opinion of Chase Pianos?
http://chasedirect.co.uk/PIANOS_&_KEYBOARDS.asp?Cat_Code=31&Subcat_Code=265&categoryname=PIANOS%20&%20KEYBOARDS%20DIGITAL%20PIANOS
Regards, David
Hi David
The Chase digital pianos are very cheap, which is usually an indication that something is amiss.
I recommend the following digital pianos:
Casio PX110 http://www.ukpianos.co.uk/casio-px110.html
Good points: cheap.
Not so good points: The sound is a little on the thin side, and the touch is too light and spongy.
Classenti CDP1 http://ukpianos.co.uk/classenti-cdp1.html
Good points: Excellent sound and touch; feels just like a real piano.
Not so good points: Doesn't have many additional instrument sounds or features.
Yamaha YDP131 http://www.ukpianos.co.uk/yamaha-ydp131.html
Good points: Good sound and realistic touch.
Not so good points: The speakers are quite small and the sound is not as full as the more expensive Yamahas.
Regards,
Graham Howard
UK Pianos