Do You Want To Ask Graham Howard A Question About Digital Pianos?…
Send your question to: admin@ukpianos.co.uk

>>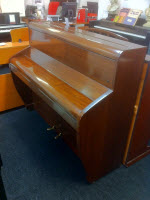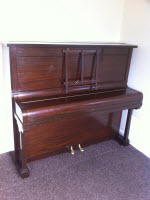 We Buy Second Hand Pianos – Call UK Pianos on 020 8367 2080
** Most Common Question **
"What's the difference between a keyboard and a digital piano?"
A KEYBOARD usually has 61 keys. It's much smaller
and lighter than a digital piano. And you can carry
it under your arm.
The key touch is much lighter compared to an acoustic
or digital piano.
You also get hundreds of instrumental voices, percussion
sounds and effects.
A DIGITAL PIANO is designed to replicate the sound
and touch of an acoustic piano.
A digital piano's key touch is heavier and has more
resistance than a keyboard.
Most digital pianos have a substantial wooden cabinet.
This cabinet holds the keys, music rest, electronics,
speakers and pedals…

So the overall weight is substantially more than a
keyboard. But still 3-5 times lighter than an
acoustic piano.
Resources:

| Which digital piano to buy
—
20/04/2012
"Which digital piano for a concert pianist?"
Hello Graham,

I'm concert pianist standard and wish to buy a digital piano. However I only have £1,000 to spend, therefore can you suggest the best digital piano you have in stock (ie. best tone & hammer action) for this price.

Also, do you have any of these models for rental? How does the rental work – for example, can you rent for one month only? And do I have to pay the £45 delivery to return the piano to you?

Many thanks,
Alva
Relpy/ Hi Alva
I don't believe you would be happy to play any
digital piano around this price point. There is
simply nothing that has a good enough feel
and tone.
However, if this is the most you have budgeted
for then you might consider these to:
Roland RP301
Yamaha YDP161
My first choice is the Roland.
This has the nicer sound.
Let me know if you would like a price quote.
Yours pianistically,
Graham Howard
—
"Which digital piano to buy?"
Hi Graham.
Thank you for the email.
I am still thinking between a few models. Read a lot of the reviews on your website and others.
Before I got the piano guide from you. I thought Roland FP4f would be the one all along, after
reading a bit more and the list of top ten piano… I have noticed F110 which is similar and the
good thing is with cover and stand already.
Roland RP201 is also came in to my mind…now i have added on Kawai CN33 on my list!!!
Do you think you can give me some advice?
Just want to tell you something about this 'new' piano, we have got a acoustic piano at home already.
It would be for my son 11yr (on grade 5) and daughter 8.5 (on grade 3) an extra piano to play and
practise. He likes to play in silence sometimes and other extra functions on a digital.
I think i will keep my budget on around £1000.
Best regards,
Jacqueline
Reply/ Hi Jacqueline
The pianos you mention are all popular ones. But
they do vary considerably in sound and feel…
The FP4 is a stage piano. This has been designed
to be easily portable. It weighs about 25-30kg less
than a standard digital piano. Its overall dimensions
are much smaller too.
But, the disadvantages outweigh the advantages
if you plan on using it mainly in your home…
It has smaller speakers than standard digital pianos,
this results in a thinner, less vibrant piano sound.
Also, the key touch is lighter. This is mainly due to
the shorter overall key length.
If you want a digital piano that feels like your
acoustic piano, and sounds as close to it as possible
then the Yamaha CLP430 is the one I recommend
for you. The cost is about £300 over your budget
though.
As a second choice, the Kawai CN33 is a safe bet.
Yours pianistically,
Graham Howard
—
"The piano teacher is quite insistent that we shouldn't choose a digital piano"
Hi Graham,
Thank you so much for the exhaustive buying guide, it helped clear up a lot of questions we had especially around the terminology. My 8yr old is just starting lessons and based on your guide and information online, we've narrowed down on the new Yamaha Arius YDP 162 as the one to buy.
The problem is that the piano teacher is quite insistent that we shouldn't choose a digital piano and instead go directly for an upright. She has a poor opinion of digital pianos and thinks that they may not last beyond a couple of years max. This is of course subjective and her opinion, but the real issue is that she also suggested that if we insisted on going with the digital then it would only be suitable up to Grade 2 and we'd need to buy an upright then.
The sales person at the shop we visited suggested that they'd be fine up to Grade 5. My question is which of them are correct or is this also a matter of personal preference? And, if there is this limitation with the Arius range, should we look at the clavinovas (440/470) as a one stop solution that will potentially take you to at least Grades 5-6 if she gets there. Or is she right and are we better of investing in an upright right from the start (although this is personally not something I'm in favour of for the reasons you mention in your guide)?
Unfortunately, my wife and I have no idea around the exams or the pianos beyond sound and aesthetics and feel quite helpless at the moment.
Thank you for taking the time to read this and I hope you might be able to help us with our quandary.
Kind Regards
Rahul
Reply/ Hi Rahul
Many piano teachers are anti digital pianos.
I do understand the way some of them think,
because years ago digital pianos were really
quite poor…
I remember what digital pianos were like
20 years ago. Most of them had a key touch
that was too light… the keys made a
clickety-clackety sound. And the piano tone
was a really awful replication of a real piano.
But things have changed drastically since then!
Nowadays most digital pianos are a pretty
good replication of the real thing. Only
the cheap end of the market has some of
those old problems.
If you want a digital piano to take your
daughter up to grade 5 or 6 then I recommend
either the Classenti CDP1 or Broadway B1
as being the best options. These are both
lovely pianos and good value for money.
You can see these here:
http://www.ukpianos.co.uk/classenti-cdp1.html
http://www.ukpianos.co.uk/broadway-b1.html
If you're willing to spend more, then the
Yamaha Clavinovas are the very best digital
pianos.
The CLP440 or CLP470 will take her up
to grade 8.
You can see these here:
http://www.ukpianos.co.uk/yamaha-clp440.html
http://www.ukpianos.co.uk/yamaha-clp470.html
Yours pianistically,
Graham Howard
—
"What is the best piano for around £700?"
I don't know which one really and need advice here. Personally, for me, there is nothing like an acoustic piano, and if I only had myself to consider, then it would definitely be a real piano. Apparently about 5,000 parts, and such workmanship. It's funny that I don't see the same skill and workmanship in a digital piano and think them overpriced. In fact I think that there was far more involved in the electric organs, Technic and others, which could perform the most amazing feats with a simple touch
but I am evading the issue again, so back to the point and digital pianos. It's quite clear that I am not sold on this digital business but I want a nice instrument for my home and my first thoughts were not mdf with a keyboard, so I suppose I am disappointed at what is available, so Howard I don't know what I want but I will when I see it. I can spend as much as I like on the right item, meantime the scores per price list may be helpful and, incidentally, if you find me the right item I will most definitely buy it from you. The fact is I don't just want notes for over £700. I want something better for which I will pay more.

Your help to everyone is really something Howard, and this is customer service second to none. It is very much appreciated and your patience with us all. Thanks. Audrey
Reply/ Hi Audrey
Most digital pianos are way over-priced.
I completely agree with you!
For £700, there isn't anything amazing out there.
The one that's best value for money is the Broadway B1.
You can see this here:
http://www.ukpianos.co.uk/broadway-b1
It has a fully-weighted, touch sensitive key touch.
Its 4 dynamic levels allows you to put feeling into
your playing without struggle.
It also has a nice tone.
Yours pianistically,
Graham Howard
—
10/03/2015
hi graham
thank you for offering the chance to ask you questions (and indeed for being so sharing with your vast knowledge and enthusiasm regarding anything 'piano')
my question is basically:
which digital piano is going to sound and feel most like my piano?

we bought a Zender (7octave) new about 30 years ago. a luxury we could not really justify, though looking back, one of the best things of course.
my children play, one of them extremely well, and in turn have pianos in place for their children.
i am about to move to a flat that is surrounded by other flats and really need to go digital so the sound can be controlled through headphones.
i need to therefore somehow sell my beloved Zender and find a close digital version
could you please advise me?
marjo
Reply/ Hi Marjo
The Yamaha AvantGrand range sounds and feels closest
to the real thing… but the price is high.
Do you have a budget in mind so I can recommend
something good that fits within that?
Kind regards,

Graham
—
16/01/2012
"I'm confused as there seems to be so many options"
Hi there,

I have been looking at your articles about digital pianos (along with a range of other information) a lot recently and am becoming more and more confused as there seems to be so many options. I am also finding many conflicting views – some people say Yamaha aren't reliable and the quailty is poor, while others say Roland is the best. I am taking piano lessons and currently only have a keyboard which I am finding it hard to practice on given my lessons are on pianos, so I decided to buy a portable piano (I haven't got much room). The problem is that I don't want to be in a position where I need to get something better in a year or two, so would rather just pay a little extra now and have it for ever! I was wondering if you could offer me any advice on this – my budget is probably from £500 up to £1200 maximum. The following are a few models that I've been looking at but I'm no longer sure given all the mixed feedback i've had:

Roland F120
Foland FP4f
Yamaha YDP161
YDP181
Yamaha P95 (though one shop told me not to waste my money on this!)

The problem I have is that I liev in Orkney so can't access any shops to try these out, so I am really depending on what others say when it comes to this. I would really appreciate any advice you could give me on this as I am at a bit of a loss!

Many thanks.

Mharee Rendall
Reply/ Hi Mharee
Your short list contains portable pianos.
If it's mainly for home use then I recommend
getting a digital piano that has a fixed wooden
stand with three pedals.
A piano with a fixed base is more sturdy, usually
has much larger speakers (better sound) and a
firmer, more realistic key touch.
This leaves the following models:
Roland F120
Yamaha YDP161
Yamaha YDP181
The YDP181 has a slightly richer piano sound
and a few extra voices. It is a better piano than
the YDP161, but it's not worth all that extra money.
The Roland F120 has a nice sound and smooth
feel to the keys, but I would give the edge to
the YDP161.
This is the order I rate them based on value for money:
1) YDP161
2) f120
3) YDP181
Yours pianistically,
Graham Howard
—
"Piano for 5 year old daughter"
Hello Graham,
I want to buy a digital piano for my 5year old daughter who has been having keyboard classes and absolutely loves playing piano.
My budget is very limited (350 – 400), but I would like to have a dig.piano with pedals( as I would like my daughter to work
towards her Gardes later), and a cover ( at the moment we have a Casio Celviano AP-220 to practice on, but that is going soon).
What I have found so far are these models: DP10 Digital Piano by Gear4music; Hemingway DP-501; Axus D2. Would you please give
your opinions on these? Thanks.
Kind Regards,
Sanita
Reply/ Hi Sanita
If you could nudge your budget up to £450
or £500 then you have the choice of a better
range of better pianos.
Here are some I recommend:
Broadway EZ101
Korg SP170S
Classenti P1
The Broadway EZ101 is the best value. It's a
nice sounding piano with a fully-weighted
key touch. Ideal for children learning to play.
The Korg SP170S also has a nice key touch.
But, being more of a portable-type piano,
the speaker system isn't so nice.
The Classenti P1 has a very nice, fully-weighted
key touch – a tad more responsive than the
Broadway. Its speakers are also bigger. This
results in a richer, more vibrant piano tone.
You can see these pianos here:
http://www.ukpianos.co.uk/broadway-ez101.html
http://www.ukpianos.co.uk/korg-sp170.html
http://www.ukpianos.co.uk/classenti-p1-portable-piano.html
Yours pianistically,
Graham Howard
—
"We need a digital piano with USB for writing songs"
Hi Graham,

My daughter has just tried out a Korg SP250 in a shop, which she really loved. Although she is very musical and sings, this is our first digital piano, hence needing advice! On further inspection she realised that this model does not have a recording facility or a USB port. It is a reasonable price for me, so we were dissappointed. I would appreciate it if you could offer me any advice, as she is currently writing her own songs, I feel she needs to be able to record easily.

Thank you,

Jackie
Reply/ Hi Jackie
If you're looking for a piano that has a USB port
then I recommend the Roland RP301.
The Roland has a lovely piano sound. The key
touch is also nicely weighted and responsive.
This piano is ideal for your daughter to learn
and progress on.
You can read more about it here:
http://www.ukpianos.co.uk/roland-rp301.html
Yours pianistically,
Graham Howard
—
"Why is the sound quality better through headphones?"
Hi Graham,
I have a question for you if you are able to answer it. I noticed that when I play my digital piano,
the sound quality seems to be better than when when the sound comes through the speakers of the piano.
I noticed that with my old piano too. I was wondering if the speakers were a limiting factor with
regard to the sound quality, and that if it was played through different, and better, speakers
then the overall sound might be better. Any ideas on that?
regards, Ian
Reply/ Hi Ian
All digital pianos sound better when played
through headphones. This is because you
are listening to the original sound source.
When played through the speakers of the
piano the sound quality is significantly reduced.
Connecting to larger, external speakers
will improve the sound markedly.
Yours pianistically,
Graham Howard
—
"Could you advise me how many Dynamic Levels each of the following"
Dear Graham,
Thank you for sending me the '7 things you must know..' booklet – it's a very useful read.
Could you advise me how many Dynamic Levels each of the following has:
Yamaha CLP470
Roland HP507
Classenti CDP3
Thanks again and best wishes,
Andrew Sharpe
Reply/ Hi Andrew
They all have 5 dynamic levels.
Yours pianistically,
Graham Howard
—
"Will learning on a digital piano impair technique?"
Dear Graham,

Thank you so much for your excellent e-book. It is very generous of you to offer your knowledge and experience in this way.

My main reservation about digital pianos is whether they are likely to impair technique – e.g. if my daughter were to learn on a Yamaha CLP-430, would she fail to develop the technique she might acquire with an upright?
I don't mean to prey upon your generosity – this was intended primarily as a thank you – but if you do have any thoughts on this I'd be grateful for them.

Many thanks,

Tim Gay
Reply/ Hi Tim
It is, of course, always best to learn on a real piano.
But if you must get a digital one then I recommend
something that has fully-weighted keys with at least
4 levels of touch sensitivity.
The Yamaha CLP430 is a good one.
As a comparison I also recommend the Roland
RP301 and Classenti CDP1. Both these pianos
cost a lot less and would be just as good for her
to learn and progress on.
You can read more about these pianos here:
http://www.ukpianos.co.uk/roland-rp301.html
http://www.ukpianos.co.uk/classenti-cdp1.html
Yours pianistically,
Graham Howard
—
"Do 'toys' reduce the piano's sound quality?"
Hi Graham
We're replacing a technics
The "toys" like rhythms and sound effects are not essential but they can be fun
or useful. Is there a piano that includes this kind of features or does it mean a
significant reduction in the quality of the piano?
Many thanks
Nathan
Reply/ Hi Nathan
Having toys on a digital piano either means a
reduction in quality of the piano sound or, if
you want a decent piano sound, a big increase
in price.
There's no middle ground, unfortunately.
Yours pianistically,
Graham Howard
—
"Yamaha is not affordable, is the Classenti a good second best in my price range?"
I've just reluctantly sold my Yamaha upright ('real') piano as we just didn't have room in our little living room for it. I've been playing on and off since I was a child and studied music at university; I now play for pleasure (classical) and sometimes for performances, usually accompanying singers. So I'm looking for an electronic piano in about the £700 range that I can have upstairs (narrow steep stairs) in my study, and that would be fairly easy to bring downstairs and/or take in the car to a performance if possible. But I don't want a stage piano – I don't like the way the pedal creeps away along the carpet as you play! And I find most stage electric pianos that I use are really strange on my fingers – they always ache afterwards.
Ideally, I'd have a clavinova of some sort with the most responsive keyboard sampling the best kind of piano and with a sustaining pedal that is responsive to different pressure – yes, the Yamaha CLP (is it?) 440 or 470… but I can' afford it! And I think it's a bit too heavy.
Is the Classenti a good second best in my price range? I can't find information about the way the sustaining pedal works, and the kind of music that is played on the demos is not really impressing me very much.
Any suggestions? I'd be very grateful for some help!
Isobel Brown
Reply/ Hi Isobel
The Classenti CDP1 is about the best piano you can
get for around £700 – £800.
It has a nice, firm, fully-weighted key touch that
feels very close to an upright piano.
The sound isn't as good as the Yamaha Clavinovas,
but is still pretty good considering it only has
2 x 15 watt speakers.
The Classenti CDP1 has four levels of touch sensitivity
on each key. This is enough for quite advanced playing.
The sustain pedal is fixed in the wooden pedal board.
So you won't have to chase it around the room like
most of the portable-type pianos.
Yours pianistically,
Graham Howard
—
"I could eat baked beans on toast for 2 months, then I can afford the CLP430"
Hi Graham
First of all, I wanted to say thanks very much for the excellent and thorough advice that you have provided in '7 Things You MUST Know Before You Buy A Digital Piano', which I downloaded yesterday.
I am currently considering 'bidding' for a Kawai CA7 – (a predecessor to the CA71 which itself has been superseded by the current CA63 I believe).
I see that you rate the CA63 quite highly in terms of the overall rating at the back of your buyer's guide. Have you any thoughts on the CA7? I have viewed it together with an experienced pianist friend of mine who has owned and played a number of electric pianos before, and he says I should go for it, as the feel and action are excellent in his opinion. The seller claims it was £3000 new, but I'm a bit sceptical about that as the current (better?) CA63 seems to be about £1800. I'm not sure what a fair price would be for this instrument second hand (the condition is excellent) – any ideas?
I heed you advice however about buying an old Electronic Piano. It's clear that you are a huge fan of Yahama electric pianos, having read yours and other's reviews of the current Yamaha CLP430, I am very tempted to get one of those – a bit outside my price range (limit of £1,000 – but this could be stretched to £1300 at a push, especially if I just eat baked beans on toast for a couple of months). Is this likely to be better than the Kawai CA7 (in terms of responsiveness/touch) in your opinion?
Many Thanks
Dan
Reply/ Hi Dan
I do prefer the feel of the keys on the CLP430.
It just feels a bit firmer. More sure.
The Kawai has a good sound, but the softness
of the keys when they reach their lowest point
is a bit off putting.
By the way, Tesco has some good deals on
baked beans at the moment 😉
Yours pianistically,
Graham Howard
—
"If I want a quick measure of the realistic sound of the digital piano, which parameter should I be looking at?"
Graham,
I've completely read your report now, and, thanking you again for it, perhaps I could ask my question more clearly now. Is "realistic piano sound" then measured by the combination (excluding the touch parameters) of polyphony and brilliance? One thing I did not get from your work was the question of how "brilliant" the average acoustic piano is. Would you say that that the better the acoustic piano, the more brilliant? Or is brilliance something artificially available only through digitalization? My question is just, if I want a quick measure of the realistic sound of the digital piano, which parameter should I be looking at? Again, it would appear that polyphony and brilliance are the two relevant measures. Is this correct?
Thanks again.
Ken
Reply/ Hi Ken
The best sounds are natural. You should listen to
the pureness of the sound, and the natural decay.
Most of the cheap pianos have a synthetic,
unnatural sound. You can hear this quite clearly.
Yours pianistically,
Graham Howard
—
"Which model would you recommend?"
Dear Graham:
Could you please advise on a digital piano that is suitable for me:
Im diploma level but not a professional pianist.
I used to play yamaha/steinway grands at home but since im working in
the UK now so its not realistic for me to get one. Therefore im opting
for a DP.
Currently im using a Casio PX700, the touch of which, im sure you know
better than me, annoys me. So im looking for an upgrade.
Ive tried some yamaha CLP ones and they feel much better than the Casio
version, so im thinking about getting a Yamaha.
Which model would you recommend? I do not want all those bells
whistles because all Im interested in is the touch and sound that can
get as close to an acoustic piano as possible.
Thanks very much for your help!
Regards
Meng
Reply/ Hi Meng
Well, it really depends on how much you are
willing to spend on your piano…
The CLP320 is good value for money, but the
lightish key touch might not be firm enough
for your liking.
The CLP330 is better. The CLP340 is a leap
up in sound quality and touch.
Yours pianistically,
Graham Howard
—
"My brother rates it alot higher than the Yamaha's he uses at school"
If it was not enough that Graham had provided a comprehensive guide on the best digital pianos to buy and explaining all their selling features, I was even more pleased when Graham personally responded to my email providing further advice…
I told him I was on a budget and he suggested the 'classenti CDP1' stating that it was like owning a piano (non digital!) I later contacted him that I had a bigger budget and I found him honest and refreshing when he did not tell me to go for something more expensive and that in fact the classenti CDP1 was still recommended.
Susan Kumari
"My daughter wants to learn piano. Should I get her a keyboard just to get started?"
Dear Graham,
My daughter has expressed an interest in learning the piano so I've
enrolled her for beginner lessons. However, I am not sure whether this
is on a whim or a 'proper' interest so we've decided to give her six months
playing on a keyboard to ascertain that she truly enjoys learning, before
purchasing a digital piano. Do you have any suggestions for what keyboard we
should go for – one that is relatively inexpensive but has a decent touch, not
too unlike a real piano?
Thanks for your help!
Regards,
Ann
Reply/ Hi Ann
I don't advise your daughter to start out on a
keyboard…
Keyboards have a lightweight key touch. This
is likely to produce bad habits and will make
it very difficult for her to transfer to an
acoustic or digital piano later.
If you want to keep the budget under £500
then you might consider the Gear4Music 8826.
This piano isn't brilliant. But at least it has
weighted, touch sensitive keys. This would
be a hundred times better for a child to
learn on.
You can read more about the Gear4Music 8826 here:
Better still would be a digital piano in the
£600 – £700 price range.
The one I recommend for your daughter is the
Classenti CDP1.
This piano has the exact same key touch as an
acoustic piano. It also has a very real piano
sound.
You can get this piano on a Rent-to-Own
programme for only £45 per month.
You can read more details about this here:
http://www.ukpianos.co.uk/piano-rental.html
Let me know if you'd like more information.
You can call me on 020 8367 2080 anytime.
Yours pianistically,
Graham Howard

Free Digital Piano Buyer's Guide:
"7 Things You MUST Know Before Buying A Digital Piano", by Graham Howard

Click here to claim your free copy!
You get all this:
1) How to understand confusing terminology (Polyphony, graded hammer, etc.)
2) Common digital piano questions
3) The disadvantages of buying second hand versus new
4) 6 simple tests you can do in a piano store
5) The best digital piano brands: 1st) ? 2nd) ? 3rd) ?…
6) Top ten piano models: (a) under £500 (b) £500 to £1,000 (c) over £1000
7) Should you buy online or in a physical store?
Click here to claim your free copy!
Questions & Answers About
Portable Pianos
Secondhand Digital Pianos
Digital Piano Valuing
Digital Piano Dimensions
Digital Piano Assembling
Piano Keys
Digital Piano Rhythms
Progressive or Graded Hammer Action
Digital Grand Pianos
Maintaining Digital Pianos
Digital Conversions
Digital or Acoustic
Wooden or Plastic Mechanisms
Type Of Flooring Affects Sound
Piano Rental
Recording Questions
Terminology Questions
Technology Questions
Cheap Digital Pianos
Questions About Brands
Bentley
Casio
Daewoo
Diginova
Classenti
Gem
Kawai
Technics
Thomann
Valdesta
Yamaha
Browse
General questions about digital pianos
"If my cat jumps on the piano will it scratch it?"
Hi Graham,
After downloading and reading your informative book – I have decided to plumb for the Classenti CDP2.
I wish to order online today but I just have a query regarding the colour and hope you don't think it is silly.
I would love to pay the extra for the black polished ebony. However, I have a pet cat who I know for a fact will regularly hop onto the piano case inquisitively; and I'm wondering which would be the best surface if that happens. Is the ebony tougher material than satin? Will his jumping onto the instrument cause a lot of visible scratches to the ebony do you think?
Any feedback would be most helpful.
Regards,
Keith.
Reply/ Hi Keith
The polished ebony is a superior, high gloss,
mirror-type finish. It looks stunning!
But, scratches do show up more on this type
of finish. So maybe the satin finish is
more practical?
If you do decide to go for the nicer finish
then I advise covering it over with the
Classenti CKC5 (cat proof) dust cover 😉
You can get this for just £14.97 here:
http://www.ukpianos.co.uk/classenti-ckc5-keyboard-cover.html
Yours pianistically,
Graham Howard
—
"What do you recommend?"
Hi Graham,

Absolutely no problem with buying today or tomorrow, but it is more important to get absolutely the right piano. I need to narrow down the choice, even if it means stretching the budget a little.

I have a major concern over the Yamahas because my DGX630 or whatever has a very clunky keyboard, but if this is no longer a concern, I would like to go with them for the brighter sound.
I notice that both the Roland and the Classentis have a quieter action than the Yamaha in your shop (I went there Saturday morning).
For better or worse, if I'm paying out over around 1500+ I want all the sounds too.

What do you recommend for bright piano sound, lots of sounds, quiet keyboard, real piano pedals, compact build, suitable for Grade 6-8 studies? I know it's probably Roland or Yamaha.

Please get back as soon as you can. Thanks.

Best regards,
Reply/ Hi Graham
A piano that meets all your requirements is the
Roland HP302.
This piano has a very nice sound. The keys are
smooth and responsive, and it has a wide
variety of voices and features.
Also, it would be a good to practice on for
the higher piano grades.
Yours pianistically,
Graham Howard
—
"Yamaha or Classenti. Can you help me choose?"
Good morning Graham
Firstly, many thanks for producing your book 'Digital Piano Buyer's
Guide'. I have found it to be so full of information and relevant
explanations. I now feel I know so much more with regard to digital
pianos, whereas I knew absolutely nothing just a week ago.
I seem to be favouring the Classenti CDP2 but feel the Yamaha CLP320
is very close. So, here is where I am, hoping you might be able to
finalize this, with your considerable expertise and knowledge of the
particular pianos.
I played the piano, up to Grade 3, as a child on my fathers beautiful
and well-kept Bechstein upright and, although I have played little
since then (now aged 60 yrs) I seem to instinctively remembered the
feel of the keys. This piano had (and still has) a beautiful tone,
according to those who were accomplished musicians and pianists. I
certainly always liked to hear it being played.
So, I have recently (just a couple of months) been having weekly
piano lessons, having rekindled my interest by acquiring (free) a
Casio keyboard, which is what I am using at the moment. My piano
teacher has a very old piano which, to me is a bit 'clunky' (ie not
the lovely touch the Bechstein had). It has become very clear that
my Casio keyboard is far from suitable for learning the piano, hence
looking at digital pianos.
I don't want to over spend but I'm not so restricted in price. When
I buy something, I like to be sure it is 'up to the mark' and that I
am sure I have the best for what I need. I am not intending to go
for any grade exams. I just want to enjoy playing the piano, and
have good quality sound.
I'm put off the Yamaha CLP330 purely because of the extra weight. I
feel I that would need help to assemble it and help if I decided to
change the furniture around. Pricewise, it is a bit more than I feel
necessary for my needs, although not out of the question.
I appreciate Yamaha are much better known than Classenti but, I have
to say, I like what I've read about them. I think the main reason
for wanting a digital piano is for feel of an acoustic piano, but
also the sound of my father's beautiful Bechstein. Unfortunately,
there is no way I could accommodate the Bechstein as I live in a
terraced house so have to think of the neighbours. The walls aren't
very soundproof!!! Besides, a friend of mine from church, an
extremely accomplished pianist has bought the piano (parent's
situation changed and Dad in Care Home). Oh, she is so happy with it
and it will be so loved and treasured there. The best place for it,
really!
So, to sum up. Having read my requirements and situation, do you
have any feelings or intuition that would help me make the decision.
It's vaguely possible I might be able to get down to Enfield at some
stage, as live 35 miles east of Cambridge, so a decent route.
However, I might decide to buy 'blind' as it were but I will see
after I have heard from you.
Thanks very much
Sorry to be so 'verbose' – can't help my nature!!! 😉
Look forward to hearing from you
Julie
Reply/ Hi Julie
Well… Both the Yamaha CLP320 and Classenti CDP2
are good choices.
They both have a very nice piano sound.
The feel of the keys is slightly heavier on
the Classenti. This would feel closer to the
Bechstein piano you grew up with…
What's more, the Classenti has 5 levels of
touch sensitivity, and the Yamaha has only
4 levels.
Having said that, the Yamaha is more well
known, more popular, and has a slightly
higher resale value.
You're welcome to visit our showroom anytime.
Yours pianistically,
Graham Howard
—
"What is the most suitable piano for me and the kids for around £1,000"
Hi Graham,
Thanks for the copy of your digital pianos guide; it was a good read and well informed. I'm setting out on a voyage of discovery, both with learning the piano and learning music itself, aged 44! I bought a Yamaha PSR-233 after Christmas and have been receiving lessons since. I have to say I'm hooked; it is a real thrill when one starts making music that is both familiar and pleasant to listen too.
Whilst I'm enjoying the Yamaha keyboard, I feel that I would like to progress towards both a proper weighted keyboard and fuller piano sound. That said, the children love the range of sounds and songs on the Yamaha and I would be loathed to reduce their interest in music by going for a 'pure' digital piano. So I'm looking for compromise solution, that would prove a great tone and keyboard action for me to learn on, but also have the song and sound range that the children enjoy. My budget is up to £1,000.
I have noticed the Yamaha DGX-640, but they seem very similar to what I have already, except with a proper weighted keyboard. So my concern is that the electronics will be the same and hence the tone will be very similar, albeit for over £500! Do you have any suggestions? Am I wise to look for a compromise or will I ultimately be disappointed with the piano capability? If I had more space I would simply keep the Yamaha and buy a pure digital piano, but space is limited!
Any help would be welcome.
Regards
Jeremy Lewis
Reply/ Hi Jeremy
The Yamaha DGX640 has a heavier key touch
than your PSR-223, so this would feel a bit
closer to playing a real piano.
But the sound is still quite thin on the DGX.
A better option – whilst still keeping within your
£1,000 budget – would be the Casio AP420.
The Casio has a realistic key touch, larger
speakers (so a fuller sound) and many features,
voices, songs etc.
You can see this piano here:
http://www.ukpianos.co.uk/casio-ap420.html
Please call me on 020 8367 2080 if you would
like to place an order.
Yours pianistically,
Graham Howard
—
"What is the best 'singing all dancing' multi digi piano?"
Hi Graham Howard
I need some advice please?

What we wanted is the best 'singing all dancing' multi digi piano. That can be used as a top of the quality sound for use as a normal piano and also to let it be used for young people to synthesise as well. So it could be used in the 'pop music composition' and make quality sound as, say a flute or trumpet or percussion or other such instruments or all and any. We also need it to be bomb proof if poss! Do they still have all the needed extras too?

The best storage that is lockable would be good. Or do they have a secure system in the works? How easy would it be to transport? And when it goes wrong or if it has hard use, are the bits easily available to put it right? Our 'hall' colour is a deep claret other than the Finnish wood.

Please say if I am nuts, but I think youngsters under supervision could have their opportunities widened if we did. At this stage in the community it should have the widest
possible remit.

Cheers, David (Morgan)
Reply/ Hi David
Well, the Yamaha CVP pianos offer the
most versatility along with the best piano
sound and realistic key touch.
But (i) they are quite pricey and (ii) they
aren't available until early next year due
to Yamaha's production problems.
The Casio AP620 would be a good one
to look at…
This has a pretty good sound and feel and
also most the functions and features you
are looking for.
The current price is £999.
Let me know if you would like more info
on this.

—
"My daughter is used to a light key touch and finds it a struggle to play a digital piano"
Hi Graham
Not having any luck linking up on the live chat, so here's the question via email.
I'm looking for some clarification about renting digital pianos. My 16 yr old daughter is studying piano at Higher Grade (we are in North Scotland) and is becoming quite an accomplished player and composer. Ironically (and sadly) she does not read music too proficiently, being more of a natural "by ear", expressive person.
We currently have a Yamaha DGX 500 and an old, poorly Witton upright, that is badly out of tune and beyond repair due to poor storage before we inherited it, sadly.
She is "attuned" to the very light action of the DGX 500…and this is the problem now. We had opportunity to sample two Yams this weekend: the 141 and a 440..and she far preferred the 141 feel. (The 440 is too expensive for us anyway – it would be more likely to be a 430 unless we found a 340 somewhere)
However.. you previously advised me, and write extensively about, the CDP2. My question is (finally you say!) – if we were to rent a CDP2, to try to "convert" her to its heavier key action, but it didn't work out, would we be able to upgrade (downgrade?) to a 141 or similar in a month's time or so? The website indicates this is only an option for uprights?
Her preferred music style is in the general mould of Ludovico Einaudi: she is slightly built with long but very slender fingers.
The other alternative would be if you are able to tell us if anyone in the general Inverness area has bought a CDP2 from you, and would be willing to demo it?
I wish we could just nip in to your shop but you can appreciate the cost of the 600 miles or so journey is a slight deterrent, sadly….
Best wishes
Ian
Reply/ Hi Ian
Sorry for the delayed reply – I took my little boy
to Lands End for a few days…
If your daughter is used to the lighter key touch
then it would be a bit of an initial shock for her to
play on a Classenti digital piano or acoustic piano.
It would take her a few weeks to get used to the
heavier, firmer and more resistant feel of the keys.
But, this is a real benefit for her in the long run…
The heavier key touch will strengthen her finger
Muscles. In turn her technique improves, and
playing on an acoustic piano would be a much
easier transition for her later on.
You could, of course, try the Classenti out on our
Rent-to-Own programme, but, unfortunately,
you won't be able to change it for a different
digital piano later.
The Yamaha CLP430 is also a good option.
It also has a similar, heavy touch.
Yours pianistically,
Graham Howard
—
"We had a flood, and water poured over the keys"
Hi Graham,
Please can you help. We have a Yamaha Clavinova CLP-120 digital piano. We had a flood over Xmas. The piano lid was left open and water poured onto the keys and all over it. Today the damage control electrician pat tested all the items in the room and found that the piano was fine. My son played it and unbelievably it sounded fine. The keys were a bit sticky but I was told to clean them. I followed your guide , vinegar and warm water, damp cloth and it is now cleaner. I can't help thinking that there MUST be some damage considering the water was pouring on it overnight and for several hours before our neighbour switched off the mains.
Should I be looking for anything else? I am not a musician so even stating the obvious would be helpful for me.
Many thanks,
Marilyn
Reply/ Hi Marilyn
The main concern is the electronics. In particular the
contact boards under the keys.
But, if it's playing OK then maybe you were just lucky.
Yours pianistically,
Graham Howard
—
"Best digital piano for £2,000?"
Hi Graham
I am very interested in buying an electric piano. I have just passed my grade 1……at 41! And looking at grade 3. Both my daughters are taking lessons. We acquired an old piano which we have played to death and have decided on an electric for the neighbours sake. What do you suggest? I have read your booklet and still feel like a fish on a bicycle. The yamaha's look good, especially the £5k clavinova's. But I'm a gardener on a limited income with no aspirations of becoming a concert pianist. But I like the idea of attaching an i pod and downloading music.
Guess you need a budget figure? Say £2k. Do you do finance? I believe we can discount as the kids are taking lessons. Oh so many questions!
Kind regards
Steve
Reply/ Hi Steve
If you want a superb digital piano from the
outset (one you will never need to change)
then I recommend the Yamaha CLP470.
The CLP470 has the best sound you can get
around the £2,000 price range.
It also has a heavy, firm key touch that
feels just like you're playing a Steinway
grand – a smooth, silky feel to the keys.
You can read more about this piano here:
http://www.ukpianos.co.uk/yamaha-clp470.html
Yours pianistically,
Graham Howard
—
"Kawai CL26 or Classenti P1?"
Hi Graham,
I'm beginning to tickle the ivories once again on my piano, but even though we have a piano at home I'd prefer the security of wearing earphones while I struggle
through songs, what with a new child on the way to our home and being told off by the neighbours tonight that I was keeping their children awake!
I'm worried that if I buy something too expensive and don't stick at it that it will be a serious waste, but I want something that will leave me felling happy and
satisfied when I complete a song. I had heard a lot about the Yamaha P95S, but after reading your guide, it was clear that empty vessels make the loudest noise!
I have read good reviews about the Classenti P1, it seems to have a greater touch sensitivity (4), whereas the Yamaha P95S only has 3 levels.
You mentioned that this was the most important thing to base your choice on (apart from budget!).
The top 2 choices in your medium-priced range were:
Kawai CL26 (£650 – £750)
and
Classenti P1 (£610 inc delivery) – is there a stand included with this?
(What adds to the confusion is that Kawai is better ranked (2nd) among the top piano makes than Classenti (4th). I suppose it's hard to get the 'perfect' product!)
I couldn't find the Kawai CL26 on your site. Do you think I should settle for the Classenti or is there anything else you would recommend? I know there is the
Classenti CDP1, the next model up- it's much bulkier, but is the sound any better or worth the extra money?
I'm sorry for all the questions and hassle, it's just that I want to get the right product at a price that is reasonable for me.
The Classenti P1, with its good warranty, portability and decent touch sensitivity seems a good bet, but I'd be most grateful if you knew of others with as good/better
sensitivity. (I take it I'm on the right track with my focus on the sensitivity aspect rather than other parts of the piano. It also has an interesting 4×5 watts speaker
system – is this enough sound, would the fact that there is 4 add greater depth or quality to the sound, or perhaps shrill in my case?! :))
Anyway, I think I've tormented you enough at this stage, and I'd be most deeply grateful to you if you could answer even some of the questions above to at least put me
in some small way on the right track!
Your musically (relatively speaking) and pianistically!
Colm
Reply/ Hi Colm
You are certainly on the right track. Both the
Kawai CL26 and Classenti P1 are fine pianos.
For home use I would give the Kawai the edge.
This is because of its fixed wooden stand.
But the Classenti P1 is more portable and can be
easily stored away if you want to make some
space in a hurry.
You can buy a wooden stand for the Classenti P1
if you intend using it mainly at home.
If your budget is around £700 then the Classenti
CDP1 is the one I recommend…
The key touch is firmer than the Kawai. Especially
at the bottom of the downstroke. This helps you
to feel the resistance of the key, and gives you
more control.
Yours pianistically,
Graham Howard
—
Hello Graham,
Thanks a lot for your mail.
I am a complete beginner and planning to buy an electronic piano for my daughter (she is only 5 now but hoping she will learn at some point) and myself. I want to learn.
The main reason I am thinking to get an digital is the ability to practice and play in "silent mode" i.e. can play in the evening without disturbing family using a headphone, also I like the option to try/use other voices/sounds not just the piano sound.
I have been looking around which pianos to buy and thought to get one from these brands: Yamaha, Kawai or Roland. Again I am complete beginner so I am completely relying on reviews I read on the internet about these products. I have watched several videos on youtube and they all sounds very similar to me 🙂 Do you have any suggestion how should I choose? The ones I was looking at, and thought will serve me for many years are (in preferred order, note this selection is influenced by your book very much): CLP 470, 440 or 430, CN61, CN63, HP503.
Also I would have a few general questions if you don't mind:
– As probably most of the people, I am not planning to buy a piano every other year in fact I would like to keep it as long as possible (maybe forever?). Do you have any idea how long an electric piano lasts with normal use? Do I need to think now that I will I need to get it replaced after a few years anyway (in this case I would go for a cheaper model if it needs replacing let us say in 2-3 years time) is there any advantage buying an ordinary upright piano for longer lifetime? I am pretty sure about the digital due to the reason I mentioned above but still I am bit curious…
– I understand as technology advances, and digital pianos are relatively new, there are new models released now and then which come with the latest technology. Is there an option to upgrade sounds set/firmware of the old model so there will be no need to replace just because a new model one sounds better (assuming it is due to the recorded sounds and not changed mechanic or speakers)?
– This one is specific on yamaha models: I have read some negative reviews about the sound quality of the internal speakers for certain tones at certain volumes, have you noticed these as well, may I ask what is your opinion about these?
About your book. I think it is very useful it is a really good comprehensive writing. There is a lot of good explanation. I have a question and feedback below
– You mentioned that the Graded hammer action is not so important. Can you detail this why? I thought having weighted keys (and having them gradually lighter as towards the right) is an important thing, it sounds to me not having this can be easily noticed when playing (switching to) an ordinary upright piano? Is that not so noticeable?
Thanks a lot in advance,
Gabor
Reply/ Hi Gabor
The Yamaha CLP470 would be an excellent choice.
I love the way this piano plays.
A digital piano has a life of between 10 and 15 years.
This depends on how much it is played.
A good quality, ordinary piano would cost around
the £3,000 mark. Is this within your budget?
A good one I recommend is the Classenti UP-112.
You can see it here:
http://www.ukpianos.co.uk/classenti-up-112-polished-ebony.html
There isn't an option of upgrading the sound on
current digital pianos.
All digital pianos have sound problems on certain
notes. Some makes suffer from this more than
others. The Yamaha Clavinova range is a well
balanced piano. And the sound problems are minimal.
The graded hammer action is not important.
It is really difficult to tell the difference
even on a real piano.
Yours pianistically,
Graham Howard
—
"Casio AP620 versus Yamaha CVP501"
Hi,
Could you give me your opinion of the Casio AP620,a website compared it favourably with the
yamaha CVP501 although it is nearly half the price.
Regards
Paul Egington
Reply/ Hi Paul
The Casio AP620 is a decent piano. It has a
good piano sound and the keys feel similar
to an acoustic piano.
The AP620, much like the Yamaha CVP501, is
loaded with instrumental voices, drum kits
and preset songs.
But the Yamaha does have a richer, more
realistic piano sound. And also a firmer key
touch.
The Yamaha is a better machine all round,
of course – but value for money wise, the
Casio is excellent.
Let me know if you 'd like a price quote on
either piano. I can get you a very good deal.
Yours pianistically,
Graham Howard
—
"What improvements would I be likely to notice in a new Yamaha?"
Dear Graham,
Thank you for your emailed book which I find very informative.
I have had a Yamaha CLP-250 since 1989 and have been very pleased with its performance.
Has digital piano technology improved markedly since 1989 and if so, what improvements
would I be likely to notice in a new Yamaha ?
I realise that there have been so many advances in technology. My main concern to what
extent touch sensitivity has improved – there is no choice on my model.
Kind regards,
Barry
Reply/ Hi Barry
Digital pianos have improved an awful lot
since 1989!
Back then the key touch wasn't weighted
as much as now.
Today's digital pianos offer a much more
realistic key touch and sound.
The keys move up and down with a minimum
amount of noise – unlike the clunky keys of
the 80's and 90's.
What's more, some of those 80's pianos only
had one level of touch sensitivity – that means
you could only play at one volume level.
Modern digital pianos offer 3, 4 and sometimes
5 levels of touch sensitivity.
Here's some pianos to check out:
Yamaha YDP161 (3 levels)
Classenti CDP1 (4 levels)
Yamaha CLP430 (4 levels)
Kawai CN23 (4 levels)
Classenti CDP2 (5 levels)
Yamaha CLP440 (5 levels)
Let me know if you would some recommendations.
Yours pianistically,
Graham Howard
—
"As I am interested in buying a digital piano"
Graham
I recently subscribed to your excellent report about buying one, knowing very little about these instruments. Whilst I learnt piano many years ago (pre-digital age!) I cannot now pretend to be anything other than a beginner. However, the main driver behind buying one is that our 8 yr old daughter has just started to learn, and her teacher has recommended getting a proper piano at home (rather than the basic Yamaha keyboard which she currently uses) – she has recommended a Yamaha Clavinova. We've not got space for a traditional wooden piano, so it will need to be digital.
As space is quite tight, rather than a clavinova, and preferring white or black, I originally thought about a new Roland F110, but I'm rather drawn to the used Classenti CDP2 which you have available in polished ebony. Is your view that a used CDP2 would be a better bet than a new F110? There may be other pianos that are better still?
As for the CDP2, I note its 3 months old? Does that mean that there is still the best part of 5 yrs warranty remaining? Also, can it be dismantled at all? I ask because we plan to place it upstairs and I suspect that we won't get it upstairs if it has to remain in one piece!
Kind regards
Ian
Reply/ Hi Ian
I'm very sorry but the second hand Classenti CDP2
in polished ebony has now been sold.
Most digital pianos can be easily dismantled.
The Roland F110 is a decent piano. It doesn't have
as nice a sound or as heavy a feel as the Classenti,
but it will still be OK for your daughter up to
about grade 6.
Yours pianistically,
Graham Howard
—
"Pianos approved by the piano examination board"

I am considering either the Roland F110 (at £850) or Yamaha Arius YDP 141 (at £640) as a first piano for my 10 yr old daughter who is starting lessons. I don't play the piano.

I had settled on the Yamaha, but was told in a respected local music shop that sells both that, of the two, only the Roland was 'approved by the piano examination board'. I have assumed they mean the ABRSM.

Is this true and does it matter? With this in mind, what would you advise as a preferred choice?

Many thanks in advance for your help.

Frances Metcalfe
Reply/ Hi Frances
I didn't think that Piano exam boards 'approve'
certain digital pianos. I wouldn't worry about
that too much J
For your daughter starting out, here are the pianos
I recommend:
Classenti CDP1
Roland F110
Yamaha YDP135
Any of these would be good for her to learn and
progress on.
The Classenti has the firmest, most realistic key
touch. So this is the one I rate the highest for
learning on and also for long term use.
Yours pianistically,
Graham Howard
—
"Should I buy the CLP330, CLP340 or Kawai — or wait for the new Yamaha CLP430/CLP440?"
Hi Graham,

Thank you VERY much for your detailed guide and information. I actually found it after ordering an Aura CR303 – would you believe it – from The Netherlands (I am Dutch but live in France). The salesman rang me that he would not send it over here because the model had too many problems! It was a really good deal, so I am happy he told me honestly and after that call I was surfing the web and found your guide…

Needless to say, the budget I am now planning to spend has almost quadrupled… 😉

OK, after reading your guide I was tempted to buy the CDP2, or even the CDP3. But after reading more about the Yamaha CLP 330 and CLP 340 I decided I'd go and try those out in a shop near here, in Morges, Switzerland. The website of the shop said they had these in stock.
I went there this afternoon, only to find out that the 330 and 340 were NOT in stock anymore, and the salesman told me the new models would come out in about two weeks. He menationed the CLP 470 and the CLP 440.
The piano he tried to sell me was either the Kawai CA18 or the more expensive CA63. These both have wooden keys, which according to him, produced a way better sound than any plastic key. He said the sound of both these piano's was much better than that of the Yamaha CLP 330 / 340. I had to admit that the wooden keys sounded very good to me, comparing them to other models with plastic keys there (also Yamaha). He basically referred to these CLP 330 / 340 models as "obsolete" because they were 4 years old and the technical improvements in digital piano's go so fast.

May I ask for your expert opinion of the above?

Have you had the chance to test the CLP 440 yet, or any other of the new Yamaha models? I actually read a review somewhere and the guy reviewing the 440 compared to the 340 said he had expected more improvements, especially for the difference in price.

Hmm… I just went back to your guide and read some more on the wooden /plastic key difference, of which you say it makes no sense paying extra for wooden keys.
But I must say I really liked the feel and sound of the Kawai CA18 and CA63. But then, I did not get the chance yet to test any of the Yamaha CLP 320/330/340 models.

Don't you think these will devaluate quickly? The salesman said they will not sell these anymore in the future, because of the new models. Would you still recommend them, even though their "technique" is 4 years old?

Enough questions 🙂

Thank you very much in advance for your time and advice!

Kind regards,
Diane
Reply/ Hi Diane
The wooden keys physically can't make any
difference to the piano's sound.
The weight and solidness of the touch does
change slightly. And the feel of the sythnetic
ivory key tops is nice and smooth.
But, all in all, I rate the Yamaha CLP330
and CLP340 above the Kawai CA18 and CA63.
I find the Yamaha has a richer, warmer piano
sound. The Yamaha's key touch (especially on
the CLP340) is more solid.
If you could stretch your budget a little
more, then the Yamaha CLP370 is the piano
I recommend for you.
The CLP370 has a slightly heavier touch then
CLP340. It has the synthetic ivory key tops
and wooden sided keys.
The CLP370 also has a richer, fuller, more
vibrant piano sound.
This piano feels the closest to an acoustic.
I wouldn't wait for the CLP400 series. There
really are no significant improvements.
Yours pianistically,
Graham Howard
—
Hi Graham
I have downloaded your buyers guide and am deciding what to buy
I want something to play with- taking up piano again with retirement looming or at least going part time
It will be for own enjoyment with kids coming/going with mp3°s and laptops. Not Looking for a piece of furniture but maybe somewhat portable
I am thinking of Yamaha dgx650 as a starter. ĪI checked out YouTube reviews and seems good but lots of bells and whistles, quite literally but88 weighted keys an d 3 prep pedal option. I got to grade 5 so starting again won't be a problem
Have thought about Roland hp503 range. Local dealer pushing Casio and other customers 2nd hand gear but want new and reliable brand with warranty
Just my ramblings whilst studying the market
Regards
Paul
Reply/ Hi Paul
The Yamaha DGX650 certainly has lots of features.
Good if you think you will need them.
Otherwise, as a piano, the Roland HP503 would
be a much better choice.
The HP503 has a far superior sound, and a weightier,
more responsive key touch. It feels much more like
playing the real thing than the DGX650.
For long term use and superior performance I
recommend the Roland HP503.
Yours pianistically,
Graham Howard