Kawai CA95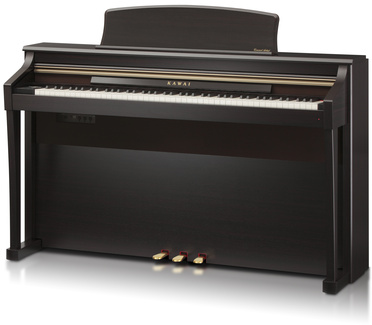 Price: Not available
Equivalents: Yamaha CLP575, Roland HP506
Top 3 Rated:
1st) Roland HP506 (77.70 out of 100)
2nd) Yamaha CLP575 (? out of 100)
3rd) Kawai CA95 (70.20 out of 100)


"The rating system for digital pianos", more info
>> Call UK Pianos on 020 8367 2080

Do you have a question about the CA95?
Click the live chat link below for an immediate response:


FREE Digital Piano Buyer's Guide, by Graham Howard.

Click here to claim your free copy!
Available Colours

Rosewood


Black Satin
>> Call 020 8367 2080 to order
You also get:
30 day money back guarantee
3 year UK warranty (any faults will be repaired in your home or the piano collected and replaced)
Free delivery
Kawai CA95 Digital Piano, Grand Feel Action with 88 wooden keys and "Ivory Touch " key tops, let off, 80 Sounds with Harmonic Imaging XL technology with neu Upright Piano Sound, virtual technician features, physical modelling resonances and amp simulator, HQ reverb and effects, LCD Display 128 x 64, 4 hand mode, split mode, dual mode, metronome, 2-track recorder with 90.000 notes, 256 voices polyphone, 37 internal songs, reverb, chorus, delay, string resonance, key-off-effect, fold away key cover, 3 pedals with Grand Feel action, 2 headphone outputs, Stereo Line In/Out, MIDI In/Out, USB to Host, USB to Device, speakers with new soundboard 2 x 45 Watt + 45 Watt transducer, dimensions in mm : 1465 x 475 x 930, weight: 87 kg
Reviews
Questions and Comments
Just tried the CA65 down at RoseMorris – well let me just
say I'd rather spend my money on the CA13.

CA63 much much better feel, quess they won't be around
for much longer now – do you still have the CA63 for sale ?

Mark (22/08/2012)
—
"Kawai CA95 or Yamaha NU1?"
Hello Graham,
I'm still working through you book but have found it helpful for clarifying the descriptions of digital pianos. I'm an experienced pianist with a somewhat limited budget shopping for a decent digital and wondered if you could offer an opinion on the Kawai CA95 vs the Yamaha NU1. I prefer the sound of the CA95 (has a true soundboard, while the Yamaha is too bright and that's not adjustable) and the touch of the NU1 (true mechanical action that provides a wider dynamic range). I tried a couple of Rolands and didn't prefer the sound or touch of them over these two.
Thank you,
Jonathan
Reply/ Hi Jonathan
The Yamaha NU1 has a superior feel to the keys
than the Kawai CA95. It plays exactly like a real
piano (this is because it has the same action
(minus the hammers) as a real acoustic Yamaha
piano.
As far as sound goes, I also prefer the clear and
rich tones of the Yamaha.
There really is no comparison.
Yours pianistically,
Graham Howard
Useful Resources
1) Click here to read the report: "Which Digital Piano To Buy" by piano advisor, Graham Howard
2) Check out the 'ever expanding' piano questions section on this site .
3) Click here to read the report: "7 Things You MUST Know Before You Buy A Digital Piano"