Kawai CL26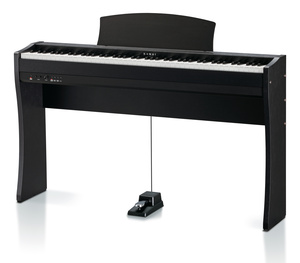 Not sold by UK Pianos.
Buy from www.thomann.de


"The rating system for digital pianos" – Check this piano's rating out of 100 and compare other makes, more info

FREE Digital Piano Buyer's Guide, by Graham Howard.

Click here to claim your free copy!
Alternatives to the Kawai CL26:

Do you have a question about the CL26?
Click the live chat link below for an immediate response:

Delivery
Free delivery to UK, Ireland and most European Countries.
Kawai CL26 Reviews
I only got it on Friday so I don't know it too well, But I like what I have seen so far. It is very compact, which was one of my reasons for choosing it as I don't have much room for one. It has a nice sound. I really like the weighted keys as they make it feel like a "real" piano.
It is quite simple, but that is what I wanted. I would have bought a traditional piano if it had been practical, so the simplicity is fine for me. So far I am loving it. My son is also loving it (at the expense of his flute, which he is supposed to be practicing!)
Review by Naomi Rose (24/04/2012)
Read more reviews of the Kawai CL26

Click here to write a review
Questions and Comments (Email your questions to grahamhoward@ukpianos.co.uk)
"Kawai CL26 or Yamaha P105?"
Hi Sir,
I am really confused between the above mentioned digital piano models. Could you please assist me in deciding which one to go for. Good piano sound, touch and feel is all I am looking for.
Though I haven't been able to get a hand onto P-105, I have tried P35 and P95. I feel Kawai CL26 sounds better than both of them.
Regards,
Abhijit
Reply/ Hi Abhijit
The Kawai CL26 and Yamaha P105 have an
equally good piano tone.
If you want the key touch to feel like a real
piano then the P105 is the better choice…
The Yamaha key touch is a lot nicer than the
Kawai… it better replicates the weight of
touch on the key's down stroke and feels
more natural when the key returns.
What's more, the P105 has a firmer, more
solid feel to it… you can control the keys a
lot better, and you put more expression into
your music. The CL26 has a soft, mushy feel
when the keys are pressed down to the bottom.
Yours pianistically,
Graham Howard
Useful Resources
1) Click here to read the report: "Which Digital Piano To Buy" by piano advisor, Graham Howard
2) Read all Kawai digital piano reviews
3) Check out the 'ever expanding' piano questions section on this site.
4) The world's first and only dedicated digital piano forum. Check it out here
5) Click here to read the report: "7 Things You MUST Know Before You Buy A Digital Piano"
Have You Heard Of Piano Rental?
Not sure if your child will take to playing the piano?
Are you worried about the initial investment?…
Then check out our 'rent-to-own' programme!
Click here for details.
Browse similar pianos to the Kawai CL26: More Kawai digital pianos