Kawai CL36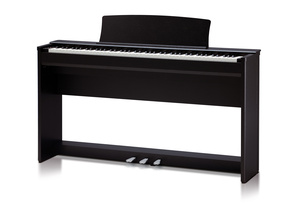 >> Buy from Gear4Music
Always in stock | Next day delivery
Finance available | Lowest Price


"The rating system for digital pianos" – Check this piano's rating out of 100 and compare other makes, more info

FREE Digital Piano Buyer's Guide, by Graham Howard.

Click here to claim your free copy!
Alternatives to the Kawai CL36:

Do you have a question about the CL36?
Click the live chat link below for an immediate response:

Description
Pedal, MIDI In/Out
Colour: black satin or white satin
Keys: 88
Key mechanics: Ivory Touch
Power: 2 x 15 watts
Polyphony: 96
Key cover: No
Dimensions: (WxDxH) 1368 x 295 x 766 mm
Weight: 37 kg
Delivery
Free delivery to UK, Ireland and most European Countries.
Kawai CL36 Reviews
1) "The main piano sounds on the CL36 were impressive"
I compared the Kawai CL36 against its smaller (and about £100 cheaper) CL26, and the more expensive Yamaha YDP S51. What set the CL36 apart from the start was the vastly better keyboard action and response.
The 'Ivory touch' key surface makes for a far better, less plasticky feel in general, and the Yamaha key speed felt more 'stoggy' than it could have. Now I'm the first to admit that keyboard feel is a very personal matter but there comes a point where you just have to say 'this keyboard is better, period' and that's how the CL36 felt to me.
It's not just that Ivory touch is something you don't often see at this price level, the overall response in different playing styles, comfort and general playabililty were in a different, and better, league. I should confess, I've never been a fan of 'graded action' where the lower keys are heavier than the higher ones, as this seems to me to be imitating one of the main drawbacks of a grand piano. Uprights tend to have a much more even key action, and most of us learn on uprights.
It seems to me that some digital manufacturers over emphasise the graded effect and end up with a bass end that's just harder to play than it need be. The Yamaha seemed to be guilty of this, the Kawai far less so, but there were plenty of other reasons to prefer the CL36 keyboard, not just my pet hates.

The main piano sounds on the CL36 (I won't bother with the ten or so other sounds in this review) were impressive, with very little obvious difference between Pianos 1 and 2, and though the Yamaha had a marginally
deeper and more potent bass response (presumably due to a much bigger internal amplifier) the Kawai bass was more than adequate. Higher up, there was little in it soundwise between the Yamaha and the CL36, though the cheaper Kawai CL26 lacked a percussive edge and some detail present in the more expensive pair.
The acid test for me is always the few notes around the C two octaves above middle C. These are often a disappointment, giving away the digital nature of the instrument. Here the Kawai, though still not perfect, performed well, with plenty of percussion and detail, though the Yamaha was no slouch either. Digitals are getting better all the time (I'm old enough to remember the first Kurzweil digital in 1984/5, a snip at £10,000 and it'd only play 8 notes simultaneously!) but there's still some way to go. But the CL36, at around £100 less than the Yamaha seemed to me to be a real step forward and terrific value, unless a lid is a particular requirement, which it lacks.
Review by Richard Hodgson, Manchester, United Kingdom (14/06/2013)
Read more reviews of the Kawai CL36

Click here to write a review
Questions and Comments (Email your questions to grahamhoward@ukpianos.co.uk)
None yet
Useful Resources
1) Click here to read the report: "Which Digital Piano To Buy" by piano advisor, Graham Howard
2) Read all Kawai digital piano reviews
3) Check out the 'ever expanding' piano questions section on this site.
4) Click here to read the report: "7 Things You MUST Know Before You Buy A Digital Piano"
Have You Heard Of Piano Rental?
Not sure if your child will take to playing the piano?
Are you worried about the initial investment?…
Then check out our 'rent-to-own' programme!
Click here for details.
Browse similar pianos to the Kawai CL36: More Kawai digital pianos