Kawai CN23 – Dark Rosewood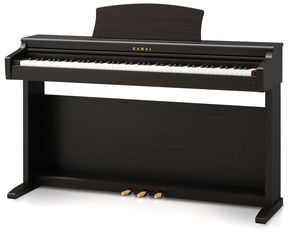 ?, more info
"The rating system for digital pianos"
Discontinued September 2012, replaced by Kawai CN24

Call 020 8367 2080 for information and advice.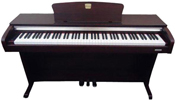 >>> Compare with the Classenti CDP2

Ask me a question online…
"Graham Howard,
Piano Advisor"

FREE Digital Piano Buyer's Guide, by Graham Howard.

Click here to claim your free copy!
You also get:
30 day money back guarantee

3 year UK and European warranty (any faults will be repaired in your home or the piano collected and replaced)

Free delivery
Delivery
Free delivery to UK, Ireland and most European Countries.
Kawai CN23 Digital Piano – 88x Responsive hammer keys with ivory touch feel, with 15x sounds, 96-note polyphony, reverb and chorus effects, dual function, metronome, transpose function, 15x demo songs, 1-track sequencer (one song), key cover, 3x pedals, 2x headphone jacks, MIDI in/out, 2x 20W speaker system. Dimensions: 1370 x 407 x 843mm. Weight: 42kg.
Other finishes:

Kawai CN23 SB (Satin black)

Kawai CN23 M (Cherry)

Kawai CN23 M (Mahogany)
Reviews
"The sound is great, and the keys are responsive"
I bought a Kawai CN23. Compared to my old keyboard it was a true revelation! The sound is
great (although digital), the keys are responsive almost as on the acoustic piano, my
playing is much more expressive – I can even play piano staccato notes. And of course
there's the pedal (three actually) which adds even more richness to my playing.
And it looks good, too 🙂
I've had it for over a month now and I belive my playing has improved considerably.
Review by Brigita Zivec, Slovenia (03/06/2011)
Useful Resources
1) Click here to read the report: "Which Digital Piano To Buy" by piano advisor, Graham Howard
2) Check out the 'ever expanding' piano questions section on this site .
3) The world's first and only dedicated digital piano forum. Check it out here
4) Click here to read the report: "7 Things You MUST Know Before You Buy A Digital Piano"