Kawai CS7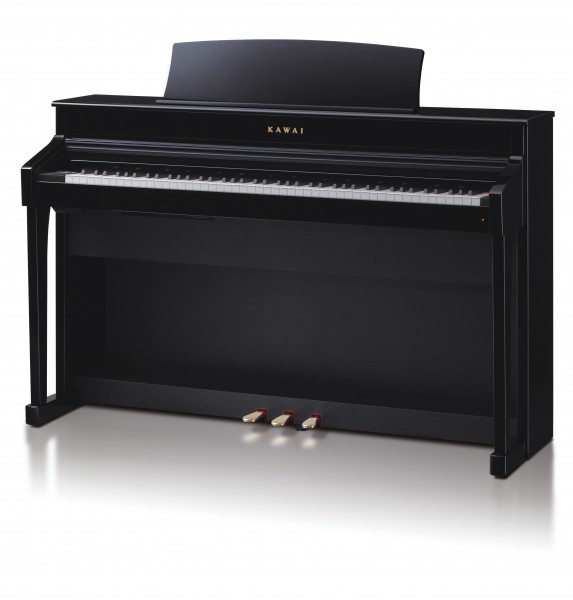 Colour: Polished ebony
Not sold by UK Pianos
Buy from Thomann Cyberstore


"The rating system for digital pianos" – Check this piano's rating out of 100 and compare other makes, more info

Do you have a question about the CS7?
Click the live chat link below for an immediate response:

Delivery
Free delivery to UK, Ireland and most European Countries.
Kawai CS7 Reviews
None yet

Click here to write a review
Questions and Comments (Email your questions to grahamhoward@ukpianos.co.uk)
"Yamaha CLPS406 or Kawai CS7?"
Dear Graham
I've found your piano guide most useful and the reviews which you collate.
I am considering a Yamaha CLPS406 or Kawai CS7.
I'd welcome your advice.
Thanks
Joe Abbott
Reply/ Hi Joe
The Yamaha CLP-S406 is the better of the two pianos.
But only just.
The CLP-S406 has a slightly more responsive key action.
This is important when playing technically challenging
pieces. I also prefer its firmer key touch. The Yamaha
has a more solid feel at the bottom of the key stroke.
The Kawai feels softer.
Sound wise they are both very good.
If anything the CLP-S406 has a bit more depth to it.
This is because of the large acoustic box and cabinet.
Overall the CLP-S406 scores 73.60 out of 100 on the
Howard Score. The CS7 scores 69.45.
Yours pianistically,
Graham Howard
Useful Resources
1) Click here to read the report: "Which Digital Piano To Buy" by piano advisor, Graham Howard
2) Read all Kawai digital piano reviews
3) Check out the 'ever expanding' piano questions section on this site.
4) Click here to read the report: "7 Things You MUST Know Before You Buy A Digital Piano"
Have You Heard Of Piano Rental?
Not sure if your child will take to playing the piano?
Are you worried about the initial investment?…
Then check out our 'rent-to-own' programme!
Click here for details.
Browse similar pianos to the Kawai CS7: More Kawai digital pianos