Roland FP7 Reviews


"The following reviews are from owners of the Roland FP7. The most
recent review is at the bottom of this page", Graham Howard, Piano Advisor
1) "One feature that I've used really stands out already, and that's the 'Session Partner'."
Hi Graham,
I got a Roland FP7 through my local Professional Music Technology store – I've bought a lot of stuff from them in the past and would have felt very disloyal going anywhere else. I haven't had a great deal of time to get to know it yet, but one feature that I've used really stands out already, and that's the "Session Partner". The way the display shows what chord is playing, what chord is going to come next, and highlights the next chord a beat before the change seems a really well thought-out idea, enabling you to improvise much more securely till you get used to the pattern aurally.
This was one of the pianos you rated. Thanks very much indeed for all your comments and advice – much appreciated.
Reviewed by Stephen Dunstone, UK
2) "The FP7 is simpler for those not involved in complicated stage work and recording"
I was able to spend two hours in a Roland Planet where there was a really helpful demonstrator on hand and to compare it with the other options both Roland and Yamaha (and a couple of others). Definitely the FP7 is simpler for those not involved in complicated stage work and recording and who basically want the best portable options on top of feel and sound quality.
It is amazing but I hear that a slightly more updated model is around the corner and that is possibly why they wanted to clear their stock. The internal amps are very good indeed and although I bought an amp for playing at larger venues, I will be surprised if it will be needed for many!
The instruction booklet is very well done for those who are inexperienced or non-technical and well worth working though slowly. The realism of the various sounds is incredible, especially the double base accompaniments.
Reviewed by Paul Hewitt, Edinburgh, Scotland (09/09/2010)
3) "The keys weren't as noisy as some"
The main reasons I bought a Roland FP7 were the feel of the keys with the graded hammer action and they weren't as noisy as some with the volume turned down, a tip I picked up from Graham Howard of ukpianos.co.uk, it has avery good sound and the added advantage of being able to plug in an audio system and play along with my favourite tracks.
I bought an ex demonstration model and managed to get nearly £400 off the retail price.
Another reason for chosing the roland was the size originally I was thinking of getting the Yamaha Arius but the cabinet was too big for my room and the Roland fits perfectly
Reviewed by David Gear, Eastbourne (23/11/2010)
4) "The feel of the keyboard is the best part of this piano"
It has the so called "escapement" keybed- I know from your article that you
consider this un-necessary and its hardly appropriate to have an escapement
mechanism on a non mechanical piano- but if you press a key very gently you
do feel the slight bump sensation as if the escapement has dis-engaged. It
does add realism to the touch although I'm not sure if its worth the extra
money.
The keys are nice as they are replica ivory so have a dull surface and from
the side they look like wood- but it is just wood coloured plastic- a Roland
illusion !
The feel of the keyboard is the best part of this piano. It is loaded with
various features I do not really need like auto accompaniments for jamming,
and a vocal harmoniser if you wish to plug in a microphone- again –
irrelevant to myself- so how did the FP7F get on my shortlist?- well it has
the new Roland Supernatural sound- which is the computer modelling to fill
in the gaps between the 4 layer samples. Thats why I tried it out.It may
sound better with external amplification as some pianos sound different when
you can stand back from the sound rather than hear it close up.
After playing it for 2 hours- I just did not think that it sounded good
enough,a very nice piano sound and superb action but it did not give me "The
Thrill" of playing a Grand Piano. So thats why I walked out of the shop
without it.
Reviewed by David Spencer (10/01/2011)
Pianos to compare with Roland FP7: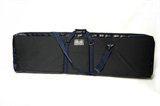 Get a carry bag for the Roland FP7 >> More details


"Read my free digital piano buyer's guide for a list of:"
The top ten digital pianos
Recommended (and the most trustworthy) internet retailers
Recommended high street piano shops


Free Digital Piano Buyer's Guide
"7 Things You MUST Know Before Buying A Digital Piano", by Graham Howard…
You get all this:
1) How to understand confusing terminology (Polyphony, graded hammer, etc.)
2) Common digital piano questions
3) The disadvantages of buying second hand versus new
4) 6 simple tests you can do in a piano store
5) The best digital piano brands: 1st) ? 2nd) ? 3rd) ? 4th) ?…
6) Top ten piano models: (a) under £500 (b) £500 to £1,000 (c) over £1000
7) Should you buy online or in a physical store?

>> "Click here to claim your free copy!"

Read more digital piano reviews or see all piano reviews


To write a review of your Roland FP7, Click here