Yamaha CP5 Reviews

Call Graham Howard for piano advice: 020 8367 2080

"The following reviews are from owners of the Yamaha CP5. The most
recent review is at the bottom of this page", Graham Howard, Piano Advisor
1) "The keyboard action makes me happy every time I play"
I went on the internet and looked for some digital pianos and came across your guide. It shifted my focus on the Clavinova series. Based on looks I liked the CLP S 308PE. It has a modern appearance and as I understood the NW GH3 action.
However it is clearly not portable. So I still had some doubts.
I went to the biggest Yamaha shop in Bangkok where they have nearly the complete Yamaha program. So I spent hours and hours comparing pianos (including the acoustic U1 piano).
Some pianos like the modus series are very impressive but insanely expensive.
I still had the major conflict with portability so I tried the CP series as well and straight away I was positively impressed by the keyboard action of the CP1 and CP5 but not so much by CP50, CP155
However they do not have speakers inbuild so comparing was tricky.
So up to this point I was getting closer to buying the CLP S 308PE. 2 things made me hesitant: price and lack of portability.
Last Tuesday I decided to make a decision. I went back to the shop and this time I used headphones to check the CP1 an CP5. And I instantly knew that the CP5 is the answer to my dilemma. The keys feel very 'real' and the piano sounds are lightyears ahead of the P95. I dare to say that the electronics of the CP5 and the Clavinova are identical or similar. So the sound the pianos produce is ultimately defined by the speakers. I plan to use my hifi stereo system anyway at home so I decided not to trust the comparison between the sounds generated by the Clavinova's wooden body and a pair of headphones.
I sat down and made a list of factors that influence my ultimate decision. Here it is:
– portabilty -> CP5 wins
– sound -> similar when using a good stereo system with the CP5
– key action -> on paper the Clavinova wins as it has 'graded hammer action' which the CP5 does not have but the CP5s wooden weighted keys feel just great to me. I have tried real acoustic pianos (Heinrich, Yamaha) and there is a similarity there which is very pleasing. So maybe it's a close call here between both pianos and as I said the Clavinova wins on paper.
– price -> the CP5 is expensive but so is the Clavinova (substantially more so).
In summary the CP5 won based on my view that the quality of both pianos is similar but the CP5 is cheaper and portable and so I bought it.
I have played it now for 5 days and here is my first review:
– portability needs some muscle but is fine
– sound with my 250W high end stereo system is stunning (Dynaudio/Symphonic Line) but I use it with a two channel 70W Marantz / Yamaha set which is still great.
– keyboard action makes me happy every time I play.
I have spent more time on the internet and found that most people prefer the Roland 700NX over the CP5 but this is professionals talking about marginal differences (I believe at least). There is talk about Yamaha using inferior electronic components in the stage pianos over the Clavinovas and about the inferiority of the S6 piano sound (can be tweaked) but I fully believe that this is a lost fight. It's a bit like comparing 24bit sampling of CDs over a traditional analog record. The analog processing will always win and so will the acoustic piano.
I am confident that until the day I start looking for an acoustic piano I am happy with the CP5 – with all it is and with all it is not (an acoustic piano).
Reviewed by Axel Muench, Bangkok, Thailand (03/01/2011)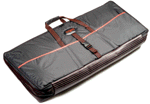 Get a carry bag for the Yamaha CP5 >> More details
Where to buy your piano?


"Read my free digital piano buyer's guide for a list of:"
The top ten digital pianos
Recommended (and the most trustworthy) internet retailers
Recommended high street piano shops


Free Digital Piano Buyer's Guide
"7 Things You MUST Know Before Buying A Digital Piano", by Graham Howard…
You get all this:
1) How to understand confusing terminology (Polyphony, graded hammer, etc.)
2) Common digital piano questions
3) The disadvantages of buying second hand versus new
4) 6 simple tests you can do in a piano store
5) The best digital piano brands: 1st) ? 2nd) ? 3rd) ? 4th) ?…
6) Top ten piano models: (a) under £500 (b) £500 to £1,000 (c) over £1000
7) Should you buy online or in a physical store?

>> "Click here to claim your free copy!"

Read more digital piano reviews or see all piano reviews


To write a review of your Yamaha CP5, Click here