Yamaha CVP601
Yamaha CVP601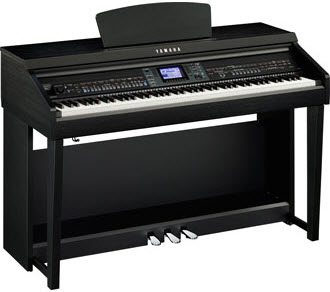 5 Year Home Warranty included (for anywhere in the UK and Europe)
All parts & labour covered – we come to your home, read more
Availability: Discontinued, replaced by new model CVP701

Colour: Black Walnut | Item Code: CVP-601B

Includes: piano music & 5 year UK & Europe home warranty
Other Colours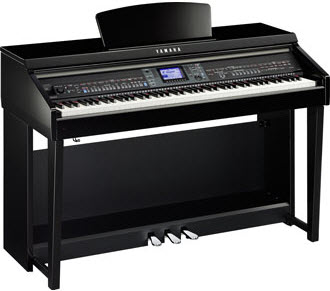 Polished Ebony
CVP-601PE
Discontinued, replaced by new model CVP701
> Come and see a range of Yamaha digital pianos in our North London store…
– Address: 83 Southbury Road, Enfield, EN1 1PJ (8 parking spaces available).

This piano has a

rating of 69.20, more info
You Get:

FREE UK and Europe Delivery (We deliver anywhere in the UK and most of Europe for free)


FREE 5 Year UK and Europe Home Warranty (all parts and labour covered – local Yamaha technician comes to your home for repairs anywhere in the UK and Europe)


60 Day Trial Period (If it isn't as good as you expected, we collect the piano at our cost and give you a full refund)


Book of 50 Classical Piano Pieces (Mozart, Bach, Beethoven, Chopin…)


Safe Shopping (UK Pianos are an authorised UK Yamaha main dealer, check here)


Peace of Mind (see reviews of UK Pianos shop on TrustPilot: the number 1 review site)


Owner's Manual (Operating guide in English and other languages, assembly instructions, computer related operations, how to use MIDI, Yamaha Music Soft Downloader)
Alternatives to the Yamaha CVP601

Do you have a question about the CVP601?
Click the image below to talk with a piano adviser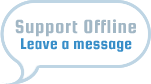 >> Alternatively, Call 020 8367 2080 or email grahamhoward@ukpianos.co.uk
Delivery
Free delivery anywhere in the UK.
Assembly
The piano comes flat-packed and is easy to assemble (instructions in English provided). The keyboard, electronics and cables are all fixed in – all you need to do is assemble the base. There are four screws that fix the base to the keyboard, four to fix the base together and a few smaller screws to fit the back board. The screw holes are already made and no gluing is required. Even the screw driver is provided! We do advise two people to do the job though – purely because of the keyboard's weight – It's heavy and safer to have a helping hand when lifting it on to the base.
If you would like us to assemble the piano then please call 020 8367 2080.
---
Included:

Book of classical pieces (50 greats for the piano) – view list of pieces here


5 year UK and European parts and labour home warranty. This means wherever you live, we send a local Yamaha technician to your home for repairs. There is no cost to you, and you'll never have to send your piano anywhere, read more
---
Yamaha CVP601 Reviews
1) "This is the very best piano I have ever played"
We bought a Yamaha (not my first one), the new model CVP601. It has proved to be perfect for my purposes. But not without a fight.
1. The CVP601 didn't need to be tuned regularly – a very important thing in our relatively isolated new-ish home. I had to buy a digital piano, but not a problem in itself. I had had two or three digital pianos in the last couple of decades.
2. However, my musical interests had changed vastly since 1960 when we left Britain. I've even started to enjoy modern (as opposed to classical) music and have worked hard on learning to play by ear. I particularly love playing as accompanist either for a singer or instrumentalist of some kind.
3. From my months of research and long drives to our nearest town to look at what was offering, I gained enough information to learn that the Clavinova CVP601 could greatly reduce the need for a live singer or instrumentalist in the sense that it could be programmed!!! to act as such. In additional I could have a virtual orchestra if I really wanted that! And I could compose straight onto my new toy. This information came to my attention from the suggestive information provided by Yamaha on UTube, my primary website for many days.
Just after its arrival things did not turn out well. I had serious difficulties with two huge manuals (containing many diagrams which I had difficulty in reading). I longed for short descriptive statement relating to each diagram (this could be put on the web for beginners). Some simplified printed diagrams would have been very helpful too. Whoever wrote the manuals certainly reached for the skies! But first of all it would have been nice to see something simple amongst all the detail. Actually, I now see a more useful perspective in terms of thinking of the piano as computer in disguise (in this case the Yamaha 601 may be magical but customer's needs into that translated into "machine language".
In conclusion, however, I have to admit that this is the very best piano I have ever played (some of my music teachers also had grand pianos. My Mum had two Steinways, old ones – but they did form my tastes.
Thank you so much for all that information, that lovely new piano of mine is just a joy – regardless of its rather painful introduction to our leisure life!
Review by Claire Toynbee, New Zealand (21/04/2013)
Read more reviews of the Yamaha CVP601

Click here to write a review

FREE Digital Piano Buyer's Guide, by Graham Howard.

Click here to claim your free copy!
Questions and Comments (Email your questions to grahamhoward@ukpianos.co.uk)
>> Or call UK Pianos for advice on 020 8367 2080
"I very much like the idea of buying the new Yamaha CVP601"
Hi Graham
I am most grateful for your digi-book setting out the hazards of buying digital pianos. I very much like the idea of buying the new Yamaha CVP601 which is just now being released in NZ – looks like there's considerable local aclaim judging by the enthusiasm of local piano-sellers. I live in a fairly remote part of NZ and that particular digital piano is very expensive for people who are not professional musicians and can write it off to some extent through income tax. I want mine for the pure pleasure of hearing
I had the great pleasure of using my grand-daughter's new Clavinova (no other details available) well over a year ago in The Hague, and I owned a digital Yamaha for about ten years before my present Technics.
The CVP601 looks just what I'm looking for but I haven't been able to try one so far. I'm happy to wait for it, and will let you know what happens. In the meantime, I'll get the latest edition of your book – not just a handy list but a very helpful manual for people who hardly know the difference between all the different types of 'piano' available today. Good on yu' as we say in New Zealand.
Cheers, Claire
—
"How does the Classenti CDP3i stack up in comparison to the CVP601"
Hi Graham and thanks for your speedy reply.
The reason I was interested in the clavinova is my piano tutor highly recomended one as it is as close as you will get to a real grand piano however
after reading around your Classenti range the CDP3i seems interesting and i assume is a direct upgrade from CDP3 and im also assuming the voice
recordings have been taken from CDP3 but with the added real wood soundboard and ribs.
How does this stack up in comparison to the cvp601 as theres only a couple of hundread pounds between them?
Also for the rental programme do you deliver to scotland or is there a larger charge?
Many Thanks Again
Robin
Reply/ Hi Robin
The Classenti CDP3i is a lovely piano.
The soundboard and ribs certainly add depth
and resonance to its tone.
The CDP3i's sound has also been upgraded from
the previous model CDP3: Note decay is longer,
the tone is purer and more natural, and its larger
speakers give it more power, sustain and control.
If you want something that feels, sounds and
looks like a real piano then I highly recommend
this piano.
The delivery for the CDP3i is £65. This also covers
Scotland.
Yours pianistically,
Graham Howard
—
"Which is the right piano for my son?"
I received the Howard score & studied it together with other reviews. The challenge is to get my son (studying grade 5 currently) to come to the shop to consider whether a digital piano is worthwhile. Yamaha CVP501s are on offer at present as superceded by the 601 range, and as he is into computers and the like I thought that he might value the extra gadgetry. However he has suggested that a real piano might be his preference; currently we have a zero-value upright that is adequate but from the non-players point of view is annoyingly tall and heavy. So the smaller pianos like the Kemble might be of interest.

However the Yamaha CLP470 sounds like it might be a good match as the digital piano ability to use headphones might be popular, and you give the keys touch a high rating. I guess what the 'score' does not show is how various 'real' pianos match up, including old zero-value uprights like ours.

Anyhow, as noted the challenge is to get the player to the shop. We only live near Ware so it is no distance. I note the comment that digital pianos devalue rapidly, and that real pianos unless 'known brand' tend also to have negligible value, and cost in terms of removals & tuning.

William
Reply/ Hi William
Your son has already reached quite a high standard,
and he needs a good digital piano to help him
progress through the higher piano grades.
The CVP601 isn't the right piano for him.
The key touch is not heavy enough or responsive
enough for more demanding pieces.
However, you mentioned the CLP470. Now that
IS a really good one. This will take him easily
up to grade 8 and beyond. I recommend this
piano for him.
Would you like to bring him down to try it?
Yours pianistically,
Graham Howard
—
"CLP470 or CVP601? Which do you recommend?"
Hi Graham
I have been comparing the CLP470 and the CVP601- which would you most recommend? (Still keen on the CLP 470, but have seen some demos of the CVP model)
Many thanks
John
Reply/ Hi John
There is a vast difference in tone and key feel
between the CLP470 and CVP601.
The CLP470 has a smoother, more resistant
key touch. It feels much closer to playing a
real piano.
Also, the CLP470 has a fuller, richer and more
vibrant piano tone than the CVP601. This is due
to the sampling and larger speaker sizes.
The only advantage of the CVP601 is the additional
features it has (bells and whistles). But you pay
a lot more for this functionality.
With the CLP470 the money is invested in
authenticity of tone and key feel.
So, do you want a piano to feel and sound as
close as possible to the real thing? Or is it more
important for you to have the extra instrumental
voices etc.
This should help you decide which one to buy.
Yours pianistically,
Graham Howard
—
"CLP440 or CVP601?"
Hi Graham,
Thanks for the Digital Piano Buyer Guide, and all the useful information on your website.
At first after studying the piano guide, I went to store and my decision came to CLP440. CVP500 series is not attractive at all with the prices v specs. But the new CVP601 is amazing! I was amazed by the features, such as the super articulation sounds, styles, piano rooms.
I basically play for piano sounds only, CLP440 offers ivory keytop & has a bigger watt for speakers, but yet CVP601 with its price is very attractive to me!
Shall I go for the CVP601? Can I have you advice?
Thanks.
Wong from Malaysia
Reply/ Hi Wong
The Yamaha CVP601 would be the right choice
if you think you'll be making use of all its features…
The CVP601 has 387 voices and 257 accompaniment
styles… it also has an in-built teaching system
where you can learn the notes by following lights
on the keys. And much more…
But… and it's a big but… the piano tone is only
marginally better than the CLP430… and the key
touch is exactly the same as the CLP430. So, in
that respect, it's quite a basic piano compared
to the CLP440 and up.
The CLP440 has a firmer, more resistant key
touch that feels a lot closer to playing a real
piano.
The tone of the CLP440 is so much better than
the CVP601. It has a big, resonant sound that
would fill any room in your house. The CVP601
sounds muffled and weak in comparison.
So, you just have to choose whether you want
a mediocre piano with a whole array of bells
and whistles, or you mainly want a good piano
sound and realistic key touch.
Yours pianistically,
Graham Howard
Useful Resources
1) Click here to read the report: "Which Digital Piano To Buy" by piano advisor, Graham Howard
2) Read all Yamaha digital piano reviews
3) Check out the 'ever expanding' piano questions section on this site
4) Click here to read the report: "7 Things You MUST Know Before You Buy A Digital Piano"
Alternatives to compare:
Casio AP650
Broadway B3
Classenti CDP3i
More Yamaha CVP Pianos
Yamaha CVP601
Yamaha CVP605
Yamaha CVP609
Yamaha CVP609GP
Browse similar pianos to the Yamaha CVP601: More Yamaha digital pianos
Specifications
Description
Specs:
The Yamaha CVP601 uses the RGE Sound Engine for powerful expressive capabilities and the GH3 keyboard to provide grand piano touch. It includes a full complement of core piano functions that facilitate true piano performance.
Accompaniment Styles let you play along with virtual bands in numerous genres including rock and jazz. Change the Style and you can perform the same piece with a completely different mood. It also features Guide Lamps that show you the next key to play while displaying the music on the screen. The CVP601 makes things easy, even if you are playing piano for the first time.
Control Interface
Keyboard Number of Keys 88
Type Graded Hammer 3 (GH3) Keyboard
Touch Sensitivity Hard2/Hard1/Medium/Soft1/Soft2
Pedal Number of Pedals 3
Half Pedal Yes
Functions Sustain, Sostenuto, Soft, Glide, Song Play/Pause, Style Start/Stop, Volume, etc.
Display Type Monochrome LCD
Size 4.6 inch (320 x 240 dots QVGA )
Colour Monochrome
Score Display Function Yes
Lyrics Display Function Yes
Language English, Japanese, German, French, Spanish, Italian
Panel Language English
Key Cover Style Sliding
Music Rest Yes
VoicesTone Generation Piano Sound RGE (Real Grand Expression)
Stereo Sustain Samples Yes
Key-off Samples Yes
String Resonance Yes
Smooth Release Yes
Damper Resonance Yes
Polyphony Number of Polyphony (Max.) 128
Preset Number of Voices 387 Voices + 22 Drum/SFX Kits + 480 XG Voices + GM2 + GS (for GS Song Playback)
Featured Voices 12 Super Articulation Voices, 9 Mega Voices, 6 Natural! Voices, 12 Sweet! Voices, 24 Cool! Voices, 25 Live! Voices, 10 Organ Flutes! Voices
Custom Voice Edit Yes
Compatibility XG, XF, GS(for Song Playback), GM, GM2
EffectsTypes Reverb 44 Preset + 3 User
Chorus 71 Preset + 3User
DSP DSP 1: 295 Preset + 3 User DSP 2-4: 130 Preset + 10 User
Master EQ 5 Preset + 2 User
Part EQ 27 Parts
Accompaniment Styles
Preset Number of Preset Styles 257
Featured Styles 204 Pro Styles, 17 Session Styles, 36 Pianist Styles
Fingering Single Finger, Fingered, Fingered On Bass, Multi Finger, AI Fingered, Full Keyboard, AI Full Keyboard
Style Control INTRO x 3, MAIN VARIATION x 4, FILL x 4, BREAK, ENDING x 3
Custom Style Creator Yes
Other Features Music Finder 1,200 Records
One Touch Setting (OTS) 4 for each Style
Style Recommender Yes
File Format Style File Format GE (Guitar Edition)
SongsPreset Number of Preset Songs 65
Recording Number of Tracks 16
Data Capacity approx. 300KB/Song
Recording Function Yes
Compatible Data Format Playback SMF (Format 0 & 1), ESEQ, XF
Recording SMF (Format 0)
FunctionsDemo Yes
Registration Number of Buttons 8
Control Registration Sequence, Freeze
Lesson/Guide Lesson/Guide Follow Lights, Any Key, Karao-Key, Your Tempo
Guide Lamp Yes
Performance Assistant Technology (PAT) Yes
Piano Room Yes
USB Audio Recorder Playback .wav
Recording .wav
Miscellaneous Dual/Layers Yes
Split Yes
Metronome Yes
Tempo Range 5 – 500, Tap Tempo
Transpose -12 – 0 – +12
Tuning 414.8 – 440 – 466.8 Hz
Scale Type 9
Intelligent Acoustic Control (IAC) Yes
Storage and Connectivity
Storage Internal Memory approx. 2.8 MB
External Drives Optional USB Flash Memory (via USB to DEVICE)
Connectivity Headphones × 2
MIDI In/Out/Thru
AUX IN Stereo Mini
AUX OUT (R, L/L + R)
AUX Pedal Yes
USB TO DEVICE Yes
USB TO HOST Yes
Amplifiers and Speakers
Amplifiers 25 W x 2
Speakers 16 cm x 2
Acoustic Optimizer Yes
Power SupplyPower Consumption 20 W
Size/Weight
Dimensions Width 1352 mm (53-1/4") | polished finish: 1355 mm (53-3/8")
Height 918 mm (36-1/8") | polished finish: 921 mm (36-1/4")
Depth 595 mm (23-7/16") | polished finish: 596 mm (23-7/16")
Weight Weight 58 kg (127 lbs., 14 oz.) | polished finish: 61 kg (134 lbs., 8 oz.)
> Come and see a range of Yamaha digital pianos in our North London store…
Address: 83 Southbury Road, Enfield, EN1 1PJ, see map
Opening times: Monday to Saturday 10am to 7pm
Telephone: 020 8367 2080 | Email: admin@ukpianos.co.uk

Do you have a question about the CVP601?
Click the image below to talk with a piano adviser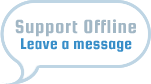 >> Alternatively, Call 020 8367 2080 or email grahamhoward@ukpianos.co.uk

FREE Digital Piano Buyer's Guide, by Graham Howard.

Click here to get it!
> Come and see a range of Yamaha digital pianos in our North London store…
– Address: 83 Southbury Road, Enfield, EN1 1PJ (8 parking spaces available).