Keyboards cover a wide range of instruments. Most beginners learn to play on a portable electronic keyboard before progressing to a digital or acoustic piano.
If you meant to look for digital  pianos, you can see them here
1. Come and view a large range of pianos in our North London or Northamptonshire stores




Or/
2. Try at Home Before You Buy
UK Pianos will bring any digital piano to your home to try out
(there's no commitment and no charge for this service)
— To book a date, call 020 8367 5107 or email admin@ukpianos.co.uk
Best Selling portable piano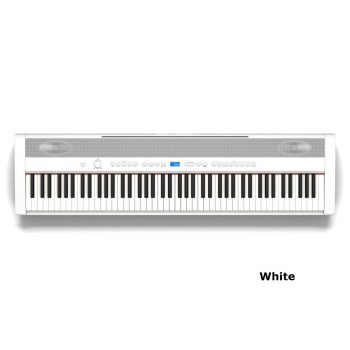 Second hand keyboards for sale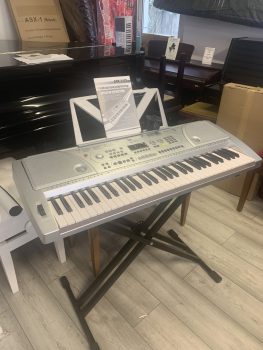 Ark model 2173 keyboard
61 touch sensitive keys
(Includes mains adapter and owner's manual)
Price £99.99

Call to order: 020 8367 5107
—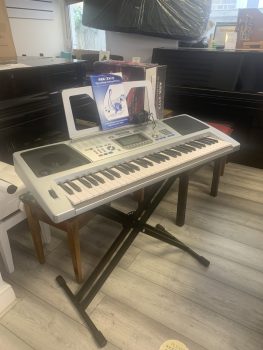 Ark model 2175 keyboard
61 keys
(Includes mains adapter and owner's manual)
Price £89.99
Call to order: 020 8367 5107
—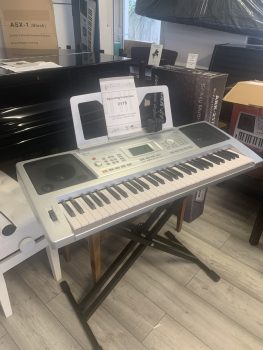 Ark model 2178 keyboard
61 keys
(Includes mains adapter and owner's manual)
Price £89.99
Call to order: 020 8367 5107
Main Keyboard brands
Yamaha, Roland, Casio, Hadley, Korg, Kurzweil
Advantages of the Electronic keyboard
lightweight and easy to carry around
much cheaper than a digital or acoustic piano
easier to pick up with help from functions such as key lighting
can learn chords and play along with background music
Different types of Electronic Keyboards
beginner's keyboards
synthesizers
professional keyboards
midi keyboards
workstations
The most popular electronic keyboards have 61 touch sensitive keys and a host of different musical instrument sounds, percussion sounds and many other features.
If you are just starting out, then you need to start looking in the beginner's keyboard section where you will find a wide range of electronic keyboards starting from below £100. When you become a more proficient player you will probably want to consider upgrading your keyboard to one of the professional models, or a synthesizer, midi keyboard or workstation if you are in to certain styles of music.
The correct terminology for this instrument is the "electronic keyboard", but just to let you know in case you are confused, there are other names that are commonly used online: music keyboard, musical keyboard, piano keyboard, electric keyboard and digital keyboard. Why not take a look at the piano and keyboard accessories section as well. You can find prices, more information and a complete range of keyboards by following the links under the brand logos below.
Questions
Question/ Are there weighted keyboard's which can be used instead of piano till grade8 ? Do you sell them?
Answer/ Hi Roopali
The only decent one in the lower price range
is the Hadley S1.
This has 88 fully-weighted keys and has an
overall weight of just 12 kg… so it's
really easy to carry around.
You can see it here:
www.ukpianos.co.uk/hadley-s1
Graham Howard
—
Hi Graham,
Many thanks for your digital piano bible, I've found it most interesting and informative.
I'm would welcome any recommendations you have for a complete musical beginner, who isn't quite sure if this is likely to develop into a full fledged hobby but is keen to give it the best chance possible. I also have two young children and would like something they can grow up with and enjoy should they show an interest.
I've gone from initially looking at portable pianos (e.g. Yamaha P-45/P-125 and the Roland FP-30) to upright pianos such as the Yamaha CLP635 and Roland HP603A as I'm thinking that uprights are likely to be less likely to get knocked over in a home with children around. I also note your recommendations around the lesser known brands such as Broadway, although I must admit to having a preference to purchasing a more well known brand & the availability of apps for Android make Roland particularly attractive.
My budget started off around £800 – £1000, but I could persuade myself to spend more if I thought it was the right choice (and equally less if the extra quality is going to be wasted on a beginner). I live in Enfield so was planning on perhaps visiting your store there on Saturday to have an actual look at some of them & see if that helps with the decision-making process.
Your guide has been enormously helpful, any further advice appreciated.
Hi Steve
Portable pianos generally don't offer the same weight
of touch as a standard upright digital. Their sound quality
is also lacking due to the smaller speakers, less number
of speakers and reduced size acoustic piano body for
the sound to resonate in.
It's a much less enjoyable experience playing a portable
type piano.
The Yamaha CLP635 and Roland HP603A are both
worth considering.
They're good pianos for the price and suitable for
you and your children to learn and on.
However, it's really more than you really need to
spend on a first piano…
There's several pianos that offer a fully-weighted,
realistic key feel and good sound to take them through
all the piano grades.
The two I recommend for you are the Broadway BW1
and Kurzweil MP120.
The Broadway BW1 has a nice, full tone. And the
key touch is fully-weighted. It also feels smooth
and responsive under the fingers, like a real
acoustic piano.
Also, the cabinet is really compact in depth
(from front to back), so it takes up less space
than other digital pianos.
What's more, it's a good piano to learn and progress
on. Your finger strength and technique will develop
in the correct way. And you'll find it easy to transfer
to an upright or grand piano later.
This is my first choice out of all pianos between
£800 and £1200. And it's our best-selling piano.
If you can stretch your budget a couple of hundred
pounds, then the next step up is the Kurzweil MP120.
The MP120 has a fully-weighted key touch that
feels even closer to playing a real acoustic piano…
It feels nicer to play than the Broadway. The touch
is more even and better weighted.
It has one extra dynamic level, which means you
can play an extra volume level on each note.
It's nice to have when you are learning, and even
more useful for the higher piano grades or advanced
playing, because it allows you to put more expression
into your music.
Also, its sound is pure and natural. This is because
of its larger speakers and the way the sound was
originally sampled.
You can see the Kurzweil here
Please call me on 020 8367 5107 if you would
like more information or to place an order.
Yours pianistically
Graham Howard
—
Hello,
I was wondering if you had a music stand to fit a Yamaha PSR 262 keyboard, or knew where I could get one? I can't seem to find one anywhere!
Thank you.
Reply/ Hi Natalie
Your local music shop is your best bet.
Failing that, go to www.yamaha-europe.com and send them an email.
Regards,
Graham Howard
Question/ Hi Graham,
How long does a keyboard last? Does it mean that a Yamaha would last longer than a Casio? Which keyboard lasts the longest? Just when I thought that, since I will be migrating, I will give this keyboard to my mother, it stopped playing.
I thank you very much for your help. Even though I will investigate from one of the local dealers the cost of repairing it, I rather buy a new one. I have proven over the years that most of the repairers here tend to repair things to last for a short period of time, because they make more money by repairing the same thing more than once.
I will be taking the keyboard out of its storage area, give it two whacks, blow in it to see if dust is inside, then plug the adaptor in the electrical outlet. If it does not make a sound when I turn it on, I am going to sing, 'Meet Me By the River Someday' or some other funeral songs, then place it back in the storage area.
Anyway, take care.
Answer/ Hi Patricia
Yamaha and Casio keyboards are of the same quality in my opinion. I hope your keyboard magically starts working again so your mother can start playing soon.
Regards
Graham Howard