Roland Digital Pianos

Low prices, fast delivery, free accessories and 5 year warranty on the complete range of Roland digital pianos from HP series, F, DP, RP, FP stage pianos and RG grands.
Also see comparisons, customer reviews, questions and answers about any Roland digital piano.
Do You Want Advice Buying a Roland Digital Piano?…

"The most important thing you need from a digital piano when you're learning is a realistic touch.
A good piano sound and minimum of 4 dynamic levels (p, mp, mf and f) are also important.
Things like dimensions, weight, colour and 'bells and whistles' shouldn't really be the deciding
factor in your purchase", Graham Howard, Piano Advisor.
Most Popular Roland Pianos






FP-80 RP301 HP503 F120 — SEE MORE ROLAND PIANOS BELOW


Free Digital Piano Buyer's Guide:
"7 Things You MUST Know Before Buying A Digital Piano", by Graham Howard

Click here to claim your free copy!

Need advice on digital pianos? Send an email to grahamhoward@ukpianos.co.uk or call 020 8367 2080.
UK Pianos Shop in Enfield, North London, EN1 1PJ - Call 020 8367 2080
Open Monday to Saturday 10am to 7pm, Sunday 11am to 4pm (8 parking spaces)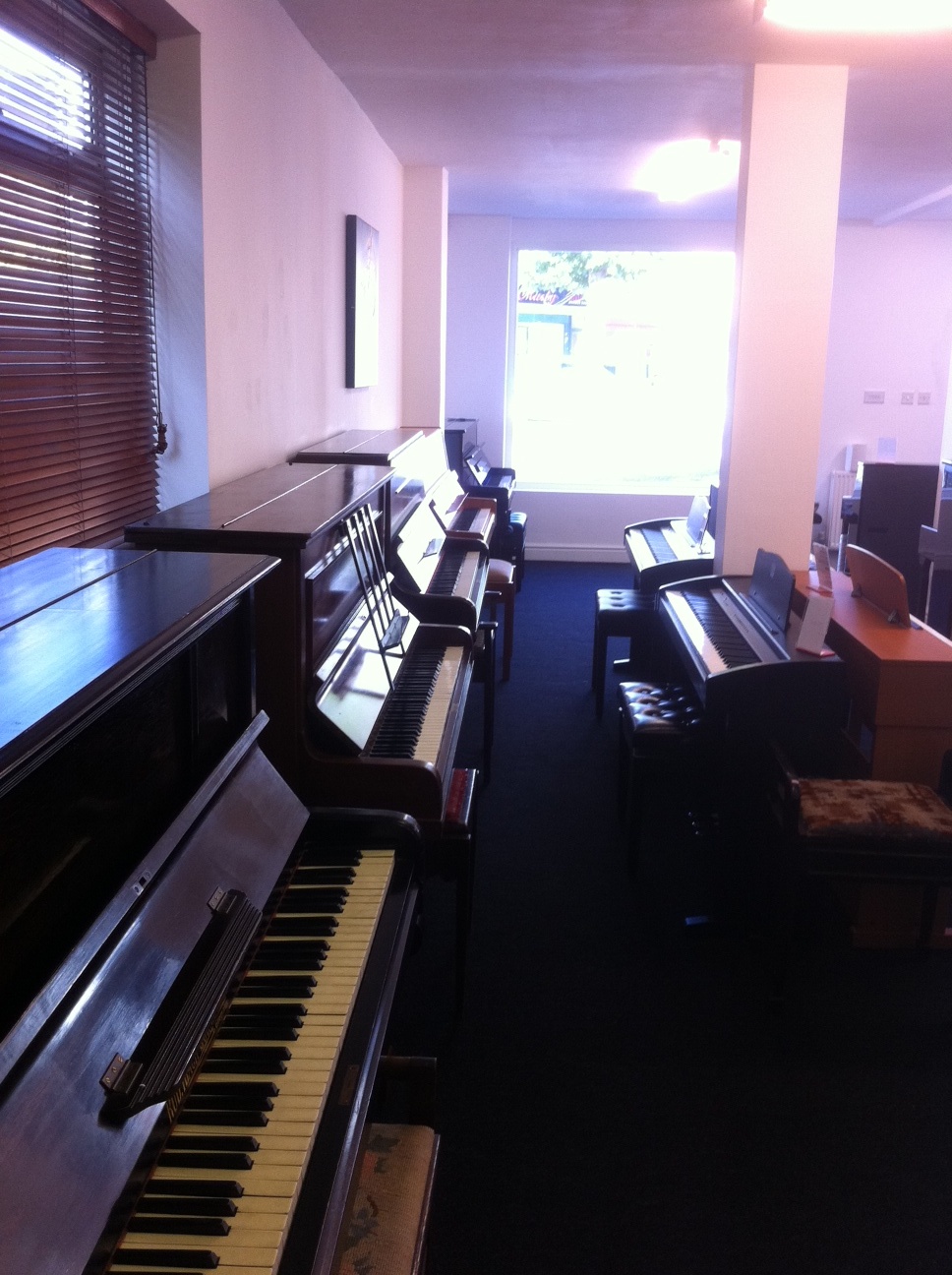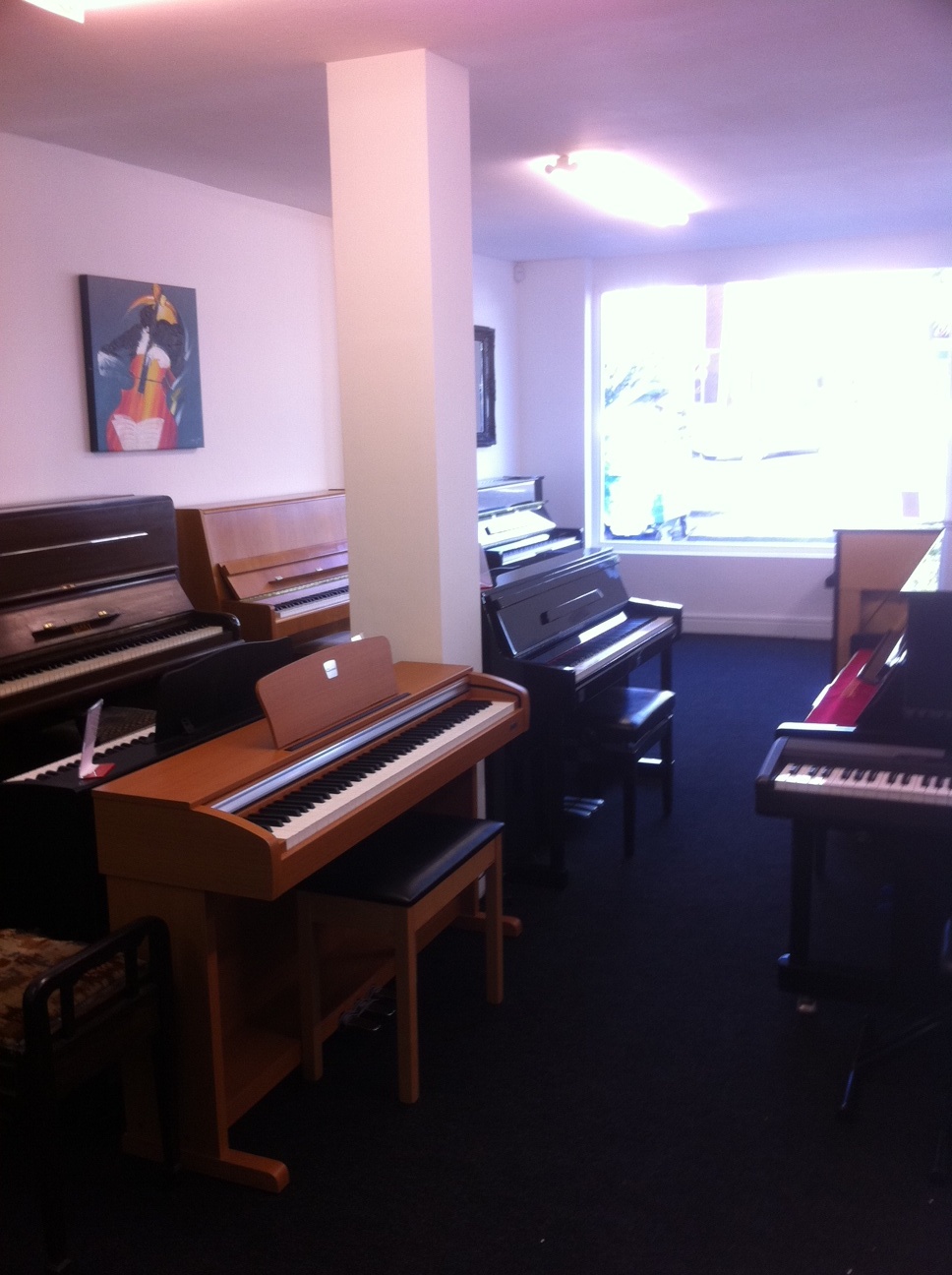 … Digital Pianos For Sale | New & Used | Piano Rental | 0% Finance | Piano Lessons
Have You Heard Of Piano Rental?
Not sure if your child will take to playing the piano? Are you worried about the initial investment?…
Then check out our 'rent-to-own' programme! Click here for details.


Interest free finance available on selected digital pianos. Click here to see the range.
Click here to read the report 'which digital piano to buy' by piano advisor, Graham Howard
Further Reading
7 Things You MUST Know Before Buying A Digital Piano
Should I Buy a Digital Piano or an Upright Piano?

All Roland digital pianos bought through ukpianos.co.uk come with a 5 year 'on-site' warranty… This means a technician will come to your home for repairs. You won't have to send it anywhere.
Roland digital piano models (HP Series)


—



—



—

Roland's starter digital piano with touch sensitive keys, full back board and three pedals. Read more
Roland digital piano (RP)
Roland digital piano (F)
This is a lovely, compact piano that also looks very stylish. Read more
—
—
Brand new for 2013. Read more
Roland digital piano (LX)

Roland digital grand piano (RG)

—

Start by reading this first: 'Which digital piano brand should I buy?'
Roland portable/stage piano models (FP, RD)


—


—

The Roland RD-300NX is better, lighter and meaner than the previous GX model. Read more…
—

The very best stage piano under £2,000. Read more…
—
The Roland digital compact piano models are designed for the home when space is an issue
Roland Pianos (DP)



Pricey, but nicey! The DP-990F looks absolutely stunning in any modern home. Read more…
—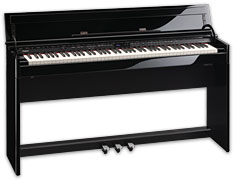 Links to other Roland websites:


Roland digital pianos UK
Check out the resources below for other digital pianos similar to Roland.
Discontinued Models



Discontinued. Replaced by HP505 (March 2012)
Roland HP305
Roland HP-305 digital piano, 88 keys (PHA II-ivory feel keyboard), 337 sounds, 128 voices polyphony, dual mode, split mode, twin piano mode, transposer.
—



Discontinued. Replaced by HP507 (March 2012)
Roland HP307
Roland HP-307 SB Super Natural Piano, 88 keys (PHA II-ivory feel keyboard), 337 sounds, 128 voices polyphony, dual mode, split mode, twin piano mode, transposer.

Discontinued. Replaced by LX-15 (March 2012)
Roland LX-10F (SuperNATURAL)
Upright piano look. The Roland LX-10 is a beautiful piece of furniture.
Roland HP201
Want a better sound and touch than the HP101? Or maybe you prefer the lighter colour. Check out Roland's HP201 available in either dark rosewood or maple.
—
The perfect piano for a musical family. The Roland HP203 offers a realistic piano touch and sound, and offers the option of hundreds of different instrument sounds.
Roland HP203
—
Roland HP204
Superb sound and a choice of light oak or dark rosewood.
—
Roland's very best digital piano. If you are a competent pianist looking for the closest thing to an acoustic piano then the Roland HP207 has what you need. You are paying for the quality of sound and touch rather than the functions (gimmicks) you get with the cheaper digital pianos.
Roland HP207
—
Roland HPi6
—
For beginners and seasoned players alike, the Roland HP103 digital piano is the ideal blend of craftsmanship and technology.
Roland HP103
—
The Roland HP107ERW digital piano is amazing! Its fine piano tones and advanced sound features provide the rich and astonishingly realistic sound of a Steinway piano. Top of the range.
Roland HP107
The Roland HP stage piano models are designed for the travelling musician
RP101, RP201, HP101, HP102, HP302, F110, F30, F50, FP2, FP4, FP5, FP7, DP900, DP970, EP760, EP880, RD300SX, RD700GX, RD700SX, KF7, KR103,
Question

Do you want to ask Graham Howard a question? Just send an email.
Hi Graham,

Since you seem like a Roland expert, and no one can help me choose between the fp7-f and the DP-990 in the music stores in my home town, i was hoping you could give me some advice! I've always been playing a real piano but since I'm moving out I need a digital one. I'm aware that the fp-7f is officially a stage piano but it seems to have a lot of nice options. I like the Dp-990 cause it looks nice but I'm not sure if it has enough to offer. Can you tell me the main differences? Thanks!

Best regards,

Lizanne
Reply/ Hi Lizanne
THeir really isn't much difference in sound
or feel between the two pianos.
If anything, the DP990 (with its larger
cabinet) does have a slightly fuller,
more rounded sound). Although the DP990 and
FP7F have the same speaker wattage, the
larger cabinet and speaker enclosure does
alter the sound for the better.
So the deciding factor really is between
1) sound 2) looks 3) portability
Yours pianistically,
Graham Howard
–
"Roland LX15 versus HP507"
Hi Graham
Thank you for your guide.
I have been pondering a new digital piano purchase for some months now. I am an owner of a Roland digital piano purchased 13 years ago and want to upgrade in terms of feel, sound, touch and look.
I have been into three suppliers and each one has said that Roland is in a league of its own and that Yamaha are still playing 'catch up' to Roland's current technology.
Your scoring rates Roland's HP507 better than their LX15. This can't be correct as they are essentially the same piano spec, the difference being price in terms of look and sound so I cannot agree w
ith your assessment here. In both show rooms where I have tried both pianos the LX15 was amazing in sound and look.
I find myself in a dilemma as I was interested in purchasing the HP507 to begin with and had the budget for this but have been drawn to the LX15 in terms of its look and sound is so vastly superior,
ok this comes at a price! I just have to find the budget to pay for it! Do you think you have mixed these two up in your scoring below as the LX15 has a superior sound to the HP507 yet you rank
the latter with better sound?
Reply/ Hi Carolyn
There's really very little to choose between
the HP507 and LX15.
The keyboard is the same. The speaker sizes the same.
And the sampling is the same.
There's only two minor differences.
The LX15 has larger secondary speaker wattage.
It has (60 watts x 2, 20 watts x 2) versus
(60 watts x 2, 10 watts x 2) on the HP507.
This adds a bit more depth to its tone, especially
in the bass.
The HP507 has a deeper cabinet. This enlarges
the volume of its acoustic box. The result is a
beefier, crisper tone with more clarity.
And that's the reason it scores 1 point more
for its sound.
But, don't forget, these are both top-rated
digital pianos. They're among the best you
can buy. The difference we are talking about
is only very slight.
Yours pianistically,
Graham Howard
–
"Roland HP503 or HP505?"
Hi,
I have been playing yamaha ydp s51 for a while and i like it but I am considering getting either a roland hp 503 or even hp 505.
Could you please help me with the decision? Do you think hp 505 is worth the money or maybe hp 503 is going to be enough? I am not a professional but I can feel that yamaha ydp s51 has some disadvanteges. Do you think I will be satisfied with sound quality and touch with roland?
Thank you very much!
JGV
Reply/ Hi JGV
There are two main differences between the
Roland HP503 and HP505:
The HP505 has Roland's latest PHA III ivory-
feel keyboard with escapement… this a
superior key touch to the one that's in
the HP503…
The HP505 has more resistance and reacts
more sensitively to the fingers which allows
easier playing of technical pieces, makes
a wider range of dynamics possible and
results in a closer feeling to a real piano.
Another difference in the key touch is the key
tops. In the HP503 they're standard plastic.
The HP505 has synthetic ivory tops… these
feel smoother and silkier. Also, synthetic
ivory absorbs sweat, which means your fingers
won't slip from the keys.
The HP505 has bigger speakers (2 x 30 watts
versus 2 x 12 watts on the HP503). This gives
more power and a richer, more resonant piano
tone.
The HP505 is a wonderful piano. It's sound
is sampled on a Steinway concert grand piano.
And you can hear the deep, richness of tone.
What's more, its key touch is ultra-responsive.
This make technical passages and music that
requires a wide range of dynamics easier
to express.
Yours pianistically,
Graham Howard
–
Hi Graham,

I have read your books about the digital pianos. Now, I am focus on Roland F-120 and RP-301. I want to know what's the difference between the two. Could you give me some recommendation?

Thanks
cc
Reply/ Hi cc
The Roland F120 and RP301 are actually quite
similar pianos.
The RP301 has a clearer, more resonant sound.
This is mainly due to its larger cabinet and
speaker placement.
The RP301 also has ivory-feel keys. This is a
much smoother, silkier feel than the plastic
keys on the RP301.
Yours pianistically,
Graham Howard
–
I belong to a small church–building a new church–our pipe organ is
too expensive to fix and move–
We are going to look at a digital piano that can produce organ sounds—also
we have to pay an organist–to play our pipe organ-there are several piano
players in the congregation–so it all seems to be the reasonable thing to
do.
My neighbor plays a digital Roland that is about 10 years old—only had one
repair–and the sound fills her huge Catholic church beautifully
She is a piano teacher and music teacher and feels good about her Roland
A music store near says that Roland has too many repair problems of late.
Do you have a comment on that?
WE were thinking of a Roland in the KR 105 or 107 range.

Thanks for you help
Connie
Reply/ Hi Connie
The Roland is the most reliable piano at the moment.

From the recent reports I've been getting from digital
piano technicians the Roland digital pianos have the
lowest 'failure' rate out.
The Roland KR105 or KR107 would be both be excellent
choices for your church.
Yours pianistically,
Graham Howard
–
Hi Graham
Thanks for the buyers guide. I am interested in purchasing the Roland f110 or the dp990. I am a beginner but I want a good quality piano that I will never have to upgrade. Can you please let me know why the dp990 is so much more expensive than the f110 and is there a great difference in sound quality between the two. I am a bit of a novice so your advice will be greatly appreciated.
Thanks
Jen
Reply/ Hi Jen
The Roland DP990 has a nicer piano sound than
the F110. It is richer and fuller (less tinny).
The key touch is also more realistic on the
DP990. It's a little firmer and feels closer
to a real piano.
But… you are paying more for the escapement
feature on the DP990.
This features isn't neccessary. It doesn't
give you any extra benefit.
The DP990's cabinet is also superior. It is
sturdier and looks a lot nicer.
Is it the worth the extra money?
Personally I wouldn't spend double the money
to get the DP990 anyway.
You can get nicer pianos for less money in
the Yamaha range.
Let me know if you'd like my recommendations.
Yours pianistically,
Graham Howard
–
Please can you explain the difference between RP101, RP101RW and RP101ERW pianos?
Many thanks, Steph Carter
Reply/
Hi Steph
This is called 'Roland madness'. We are talking about the same piano here.
The Roland RP101 is also called RP101RW and RP101ERW.
The RW means rosewood. The E (I have no idea why this has been added). It's all very mind boggling… I wish manufacturers would just name their products simply like: RP101!
Yours pianistically,
Graham Howard
UK Pianos
–
"What's your opinion of the Roland SuperNatural HP range of pianos?"
Hi Graham
Firstly, thanks for your digital piano purchasing guide. Very informative and may have prevented me making at least one mistake!
Would you mind telling me what your opinion of the Roland SuperNatural HP range of pianos is? Is the sound as good as Roland would have us believe?
Thanks in advance, Peter.
Reply/ Hi Peter
Well, the Roland sound is good. There is no doubt.
I find it warmer than Yamaha and Kawai.
All digital pianos sound too tinny to me. They lack
resonance and sustain. They're really just dead plastic
boxes (well, MDF with plastic veneer, to be precise)
full of circuit boards and cables.
Having said that, Roland pianos are the best
sounding digital pianos.
They're sampled from a German concert grand.
This is the main reason for their warmer tone
compared to bright sounding Yamahas and Kawais.
Let me know if you would like some recommendations.
Yours pianistically,
Graham Howard
–
Hi Graham,

I've been looking through your website, and it has a lot of useful information which has helped me in my search for a digital piano. But I have one remaining question.

I have narrowed my search, on the basis of a number of factors, for a digital piano down to a Roland HP201, but I've just come across the Roland RP101. I see there is quite a big price difference between them, but I can't seem to find what the real differences are. Can you help?

Regards,

Susan Lennie
Reply/ Hi Susan
There is not a great difference between the RP101 and HP201.
There are a few more instrumental voices on the HP201, 128
polyphony instead of 64 polyphony (this is not really important)
and a slightly different cabinet design.
The sound and touch is better on the HP201. So if you can afford
to go for this, then it is a better choice. But also don't worry about
the sound and touch of the RP101 — it is good enough for beginners
up to around grade 7.
Yours pianistically,
Graham Howard
UK Pianos
Further/ Hi Graham,
Thanks for your help, I've decided to go for the HP201, and placed an order through your recommendation of Thomann. Sound and touch is important to me, but to be honest, so is the cabinet design. I've been able to see the HP201 in a local shop, but the shop weren't very helpful with my other questions – instead, they just tried to persuade me to buy a Casio Privia – certainly not what I was looking for in cabinet design!.
I certainly benefitted from reading the questions and answers to other people.
Thank you.
Susan Lennie
---
Question/
Please could you advise me on the best quality portable digital pianos available. The instrument must be portable for taking to concerts, and be of the best possible quality for use in CD recordings, and also have midi facility. I have used the Roland FP5 on occasions, but wonder if there is anything with better quality sound available. Please also advise on price and necessary extras to accompany each product.
Answer/
I recommend either the Roland RD300SX or RD700SX. They are both ideal for transporting to gigs and have everything you require.
---

I am looking forward to buy a stage piano. What would you recommend. It may be a some way off but I am looking a the FP7 or the CP300.

Thanks

Alfred
Reply/ Hi Alfred
The FP7 or the RD700SX would be my choice.
With the RD700SX you will need to buy a decent amplifier
such as the Roland KC150.
I prefer the sound of the RD700SX but the FP7 comes close behind
and has the added advantage of built-in speakers.
You can read more information about these models here:
FP7: http://www.ukpianos.co.uk/roland-fp7.html
RD700SX: http://www.ukpianos.co.uk/roland-rd700sx.html
Regards,
Graham Howard
UK Pianos
---
I am wondering if you can help. I am a music therapists working in schools in Cambridge. we currently have a Roland EP760 which is excellent but are now missing the volume knob. Do you supply spare parts and if so how much would this knob cost. With thanks
Hi Kathryn. We don't sell spare parts but you can get them from Roland UK.
Just give them a call on 01792 702701.
Regards,
Graham Howard
UK Pianos
—
Previous models: EP-760, HP-101, HP-102, HP-103, HP-107, HP-201, HP-203, HP-204, HP-207, DP-900, HPi-5, HP-i7, HP-i50, HP-302, HP-305, HP-307, KF-7, F-30, F-50, FP-2, FP-4, FP-5, FP-7, RD-700, RD-300SX, RD-700SX, RD-700GX, RP-101, RP-201
Current models: HP-503, HP-505, HP-507, HPi-6, HPi-7, DP-990, FP-50, FP-80, RD-300NX, RD-700NX, LX-15, RG-1, RG-3
Useful Resources
1) Click here to read the report: "Which Digital Piano To Buy" by piano advisor, Graham Howard
2) For Roland digital piano reviews, Click here
3) Check out the piano questions section on this site .
4) Click here to read the report: "7 Things You MUST Know Before You Buy A Digital Piano"
More Digital Pianos
Yamaha digital pianos
Casio digital pianos
Korg digital pianos
Kawai digital pianos
Classenti digital pianos
Broadway digital pianos
Browse
All digital pianos