Digital Piano, Upright & Grand Pianos For Sale, Rent-to-Buy and Interest Free
UKPianos is the number 1 specialist piano retailer in the UK with a large range of digital pianos, upright, grand and keyboards for sale. Brand new and second hand.
Digital Pianos

Brand new Yamaha, Clavinova, Roland, Kurzweil, Casio, Broadway, Hadley and more…
Get a free copy of Graham Howard's digital piano buyer's guide here

Best Sellers
UKPianos Shop
Enfield 020 8367 2080 (large range covering most brands)
Open Monday to Saturday 10am to 6pm (Free parking)
Buy online, over the phone, or visit our Enfield shop (see list of models on display)
Brand new Uprights, Grands, & Digital For Sale | Also Second Hand | Rent-to-Own | Interest Free Finance
Most Popular information on this site
Digital Pianos – Which Brand Should I Buy?
7 Things You MUST Know Before You Buy A Digital Piano
The Howard Score: Rating System
What does the UKPianos website offer?
All types of pianos for sale in the UK and the very best deals on the web. Uprights, grand, digitals, new, second hand, rental, hire… Also a huge amount of information, articles, reviews and comparisons.


Do you have a question? – email admin@ukpianos.co.uk or call 020 8367 2080 for advice.
Graham Howard, Adviser
News
~ Latest Models: Broadway MK11 Self-Playing, Broadway BG2 digital baby grand


Hejran's Piano Method Beginner's Book 1 — An excellent method for children or adults that want to learn… "At last! A straightforward, easy to follow, beginner's book", Graham Howard
Digital Pianos


Most popular:
1) Yamaha – The worldwide leader. Also known as 'Yamaha Clavinova' – Yamaha's famous brand
2) Roland – Warm and resonant tone. Roland's HP models are amongst the very best
3) Casio – Privia and Celviano models. Attractively priced
4) Broadway – Digital pianos starting below £500 (6 models to choose) – ideal for anyone learning
5) Kurzweil – A range of digital, baby grand and stage/portable that sound and feel close to the real thing
6) Hadley – Amazing value! Good quality, reliable – for anyone on a budget
… More
Read over 490 reviews
Top 3 Recommendations:

Special Offer £499

Price £699

Price £1099


>> FREE Buyer's Guide:
The Digital Piano Bible – "7 Things You MUST Know Before You Buy", by Graham Howard


Click here to get it for free!

Digital pianos are also commonly called electric or electronic pianos. There are over 100 brands in existence. Here's some that don't make the most popular list:
Aura, Alesis, Amason, Axus, Baldwin, Behringer, Berkeley, Cool, Cranes, Delson, Dexibell, Digiano, Eagletone, Ensoniq, Farfisa, Fujiyama, Galileo, Gear4Music, Gewa, Hammond, H.Star, Kaino, Ketron, Kingston, Kobrat, M-Audio, Melodic, Minster, Nord, Orla, Pianonova, Rikter, Ringway, Robertson, Samick, Sejung, Studiologic, Valdesta, Viscount, Williams, Winchester, Worlde, Wyman

… Check out the rating system for all digital pianos
Upright Pianos


Most popular:
1) Yamaha – The most popular in the world. Yamaha have been making uprights for over 100 years
2) Broadway – Range of upright, grand (acoustic and digital), self-playing and silent pianos with German hammers and strings – good quality at an affordable price
… More
Uprights are also commonly called vertical or traditional pianos. Old or antique uprights are straight strung and over damped, sometimes they have a wooden frame. Modern versions are overstrung, under damped and have a cast iron frame. See all upright pianos.
Grand Pianos


Most popular:
1) Yamaha – Japanese built. Fantastically popular worldwide. The Yamaha grands have been in production for over 100 years.
2) Classenti – Some of the best entry level grands. Definitely worth considering if you have a smaller budget
3) Broadway – Baby grand pianos only. Great value!
4) Kurzweil – Digital baby grand only – Produced in South Korea by Young Chang Corporation
Grands come in various different lengths, the baby grand being the smallest. Other names used are boudoir, horizontal, conservatory or concert grands.
Baby Grand Digital Pianos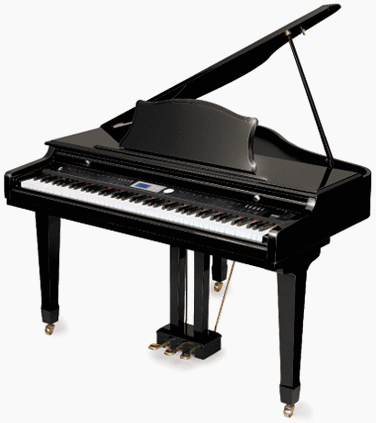 Baby grands for sale or rent-to-buy
Used Pianos


Popular used and second hand pianos often available:
Yamaha U1 and U3, Kemble, Kawai, Chappell, Bentley, Broadwood, Welmar, Knight, Berry, Monington & Weston, Samick, Reid-Sohn, Waldstein, Eavestaff, Brinsmead, Weinbach, Barratt & Robinson, Collard & Collard, Richter, Danemann, Zimmerman, Zender and Boyd, see all used
Keyboards

Yamaha – The leading producer of electronic music keyboards -number one choice of teachers and music schools
Casio – Makes a range of low to mid range, also key lighting. A cheaper alternative to Yamaha
Hadley – Our most popular models for beginners.
Customer Comments…
"Among all the information on the web, your digital pianos ratings, buyer's guide, articles and Top 10 best list were the most useful. Thank you so much for translating all that technical terminology", Elaine Centea
—
"Your web site and advice has been invaluable!!! Cannot recommend high enough"
Best wishes, Barry
—
"Dear Graham, I have been racking my brains about buying a digital piano for my 9 year old son who has just started learning and you have given me an insight on what to look for. I really appreciate the abundance of information in its simplest form has helped me tremendously and I cannot thank you enough"
Warmest regards, Seema
—
"Hello Graham,
I've just spent an enjoyable hour reading other people's questions. How marvellous that you do this for folk all over the world!"
Anne, Brisbane, Australia
—
"I went to UKPIANOS last saturday afternoon. I am very pleased with the very good service provided. After talking through my past experience and my desire of coming back to lessons, I took the rent to buy plan on a Broadway B1. It arrived well packed on the arranged delivery day and time. However, the piano stool was missing and as soon as I acknowledged to them it arrived immediately the day after"
Corina Arroyo, Putney, South London