UK Pianos is the number 1 piano retailer in the UK – online since 1999.

Hundreds of pianos for sale, reviews, articles, comments, questions and answers
DEAL OF THE MONTH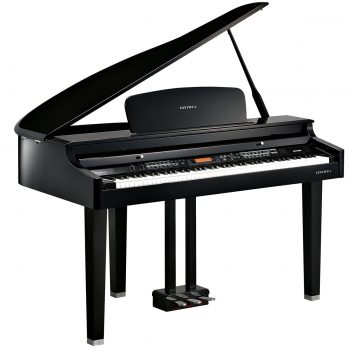 (Rent to Buy £149 per month)
Sales – UKPianos sells uprights, grands, digital pianos, new and secondhand. Massive range covering most major brands. We deliver anywhere in mainland UK
Rental – a selection of digital pianos (rent to own) – see here
~ Buy online, over the phone, or in our showrooms
Our stores: Enfield (Freephone 020 8367 5107)  |  Northamptonshire (01327 300 016)
Piano Lessons – in Enfield and Finchley (UK Pianos Music School) – see here
Read the article: Which digital piano to buy
Start Here…
Choose the type of piano you want to purchase or r3
Upright Pianos
Also called traditional or acoustic pianos. Older uprights can be straight strung and over damped. Modern versions are overstrung, under damped and have an iron frame
Digital Pianos
Digital pianos are an electronic version of a real piano. They don't need tuning or maintenance and can be easily moved around. You can play silently with headphones, connect to a computer, play instrument sounds such as organ, electric piano, etc.
Grand Pianos
Grands come in various different lengths, baby grands are the smallest. Digital grand pianos are shorter than acoustic grands in length, and can connect to a computer
Second Hand Pianos
Used acoustic and digital pianos, ex-demos and display models available. Yamaha U1, U3, Kemble, Kawai, Zender, Waldstein, Clavinova, Roland, Casio, Korg, Gewa, Kurzweil etc.
Upright Pianos (Acoustic and silent)
1) Yamaha – The most popular in the world. Yamaha have been manufacturing uprights for over 100 years
2) Broadway – Nice range of upright and silent pianos with German hammers and strings – affordable

See all upright pianos
Check out reviews
Grand Pianos (Acoustic, baby grand & digital)
1) Yamaha – Popular worldwide. The Yamaha grands have been in production for over 110 years
2) Broadway – Baby grand pianos only. Self-playing, silent models, and digital baby grands
3) Kurzweil – Small digital baby grand pianos (different sizes and lengths). Great sound!
"Among all the information on the web, your digital pianos ratings, buyer's guide, articles and Top 10 best list were the most useful. Thank you so much for translating all that technical terminology"
"Your web site and advice has been invaluable!!! Cannot recommend high enough" Best wishes, Barry
"Dear Graham, I have been racking my brains about buying a digital piano for my 9 year old son who has just started learning and you have given me an insight on what to look for. I really appreciate the abundance of information in its simplest form has helped me tremendously and I cannot thank you enough" Warmest regards, Seema
"I went to UKPIANOS last saturday afternoon. I am very pleased with the very good service provided. After talking through my past experience and my desire of coming back to lessons, I took the rent to buy plan on a Broadway B1. It arrived well packed on the arranged delivery day and time. However, the piano stool was missing and as soon as I acknowledged to them it arrived immediately the day after"